Canton – a Great Fall Getaway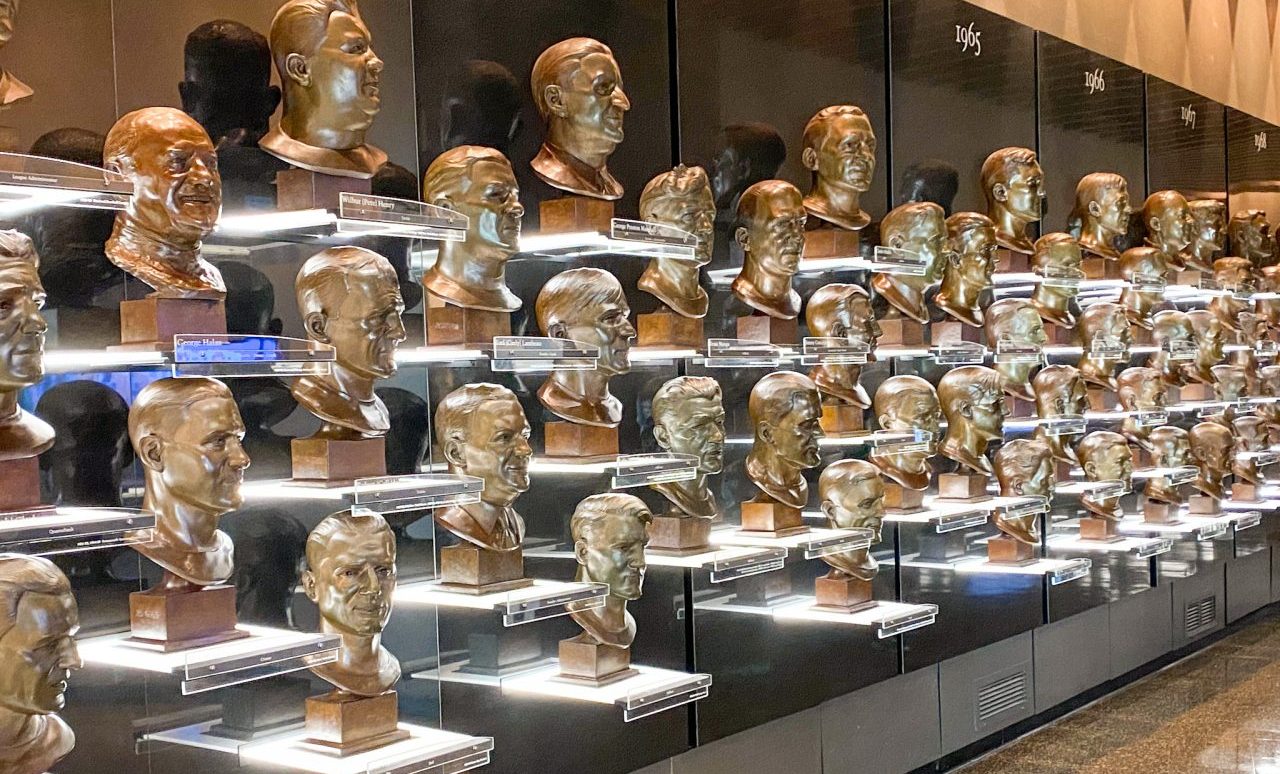 November 9, 2022
For most Pittsburghers, canton, Ohio is synonymous with the Pro Football Hall of Fame. And why not? Thirty-two of the 362 enshrined members are Steeler-related. But the birthplace of the National Football League (originally the American Professional Football Association in 1920), has more to offer than football.



Founded in 1963 with two rooms, the Hall seems to be ever-expanding. A two-story exhibit dedicated to the NFL's First Century prominently features the Steelers and Rooney family. The Pro Football Today Gallery exhibits memorabilia from contemporary teams and players, while the Hall of Fame Gallery displays busts of each player enshrined in the Hall.
The Black College Football Hall of Fame is located within the Hall, as well. One exhibit has all of the Super Bowl rings ever presented, as well as the Vince Lombardi Trophy, ready for the next Super Bowl winner. Other exhibits include interactive displays such as EA Sports Madden Football and videos, including the "Immaculate Reception." An extensive area is dedicated to research and preservation, displaying a fraction of the Hall's artifacts and documents. The store features jerseys, clothing and gifts from all 32 NFL teams, including throwback jerseys of enshrined players. The café serves stadium-style foods (but, thankfully, not at stadium prices).
The Hall's mission is to "Honor the Heroes of the Game, Preserve its History, Promote its Values and Celebrate Excellence Together." And visitors can do that through self-guided or guided tours, as well as Insider's Museum Tours and VIP "Behind-the-Scenes" Tours. The Hall's event and conference center hosts weddings, field trips, camps and motivational programs, and an on-site football stadium hosts the annual Hall of Fame game, scrimmages and camps.
GERVASI VINEYARD
In the two hours you would wait for an international flight, you can drive to the family-run and -owned Gervasi Vineyard and have a taste of Italy, stateside. The Tuscan-themed winery is the place to stay in Canton. Founded by Ted Swaldo as a retirement project in 2009 and given his mother's maiden name, the manicured 55-acre estate is beautifully designed with numerous lodging, dining and entertainment options.
From the moment you check in, you'll feel pampered and relaxed. Gervasi has three lodging options: The Villas comprise six units of four Tuscan-themed suites each, with common living, dining and patio areas. These twice have been named the Best Wine Country Hotel by USA Today. The Casa is a boutique hotel with 24 king-bed suites, each of which opens to a private patio facing a sparkling lake. Like The Villas, luxury abounds with similar amenities — plush robes, heated towel bars, a complementary stocked refrigerator, and heated (in season) tile floors. Also included is an amazing breakfast, which can be eaten at the restaurant or delivered to your suite in a lidded wine box carved with your room number. Finally, The Farmhouse is a restored 1830 building with vintage charm and modern amenities that accommodates 7-8 guests — perfect for a family.
Whether you want an upscale, rustic Italian meal in The Bistro, an historic, renovated barn, American contemporary cuisine and a wine bar vibe at The Crush House, lighter fare, coffee and cocktails in The Still House, or to dine al fresco on the patio at The Piazza, the emphasis is always on quality and freshness.
Gervasi offers a wide variety of award-winning wines made from their own grapes, as well as those from other vineyards across the country, and also serves 10 imported, private-label Italian wines that are crafted for them. At their distillery, they produce small-batch vodka, rosé vodka, several bourbons, rum, a small-batch gin and liqueurs, including one infused with local blueberries.
The Marketplace boutique gift shop is the place to purchase Gervasi wine, spirits, and a dizzying array of gifts, including flavored olive oils and vinegars, wine-themed items, jewelry and accessories, olive wood objects, candles, gourmet snacks and more.
Tuesdays through Sundays during the warmer months and through the fall feature live music on The Piazza. Summers include a ticketed Summer Concert Series. Reservations can be made for Sunday Distillery Tasting Tours or Saturday Premium Winery Pairings Tours, in which four wines are paired with small bites. There are popular demonstration cooking classes, lawn games, a cigar room, yoga, and in-room massages. Construction is under way for a wine cave that will offer daily tastings and a 5,000-square-foot spa.
Walking paths have thoughtfully placed chairs and tables so you can enjoy a bottle of wine and relax under a weeping willow by the spring-fed lake or cozy up by a toasty outdoor fireplace.
CANTON JEWELS
If you can pull yourself away from your Italian retreat, Downtown Canton has become a vibrant place, in part due to the recently dedicated Centennial Plaza, a two-acre, football-themed park with a performance pavilion, event lawn, play areas, and social gardens. The Canton Arts District hosts First Fridays the first Friday of each month, year-round. With a focus on art, live music and great food, it is always a crowded event. The vibrant arts scene includes everything from the Canton Museum of Art to galleries such as The Hub Art Factory.
For a truly fascinating experience, visit Blue Water Majesty Museum — and don't be fooled by the unassuming exterior. Retired contractor Larry Pulka has been building miniature (3/16-inch to ¼-inch exact scale) model ships for over 30 years. He gets the blueprints from places such as the Smithsonian Institution and the National Maritime Museum in Greenwich, London, and painstakingly crafts the primarily 18th century ships from over 100 different types of exotic wood, from Acacia to Zebrawood, selecting them for their color since he uses no paints or stains. A single rib of a ship can take up to 77 pieces of wood, and larger models can contain 150,000 handmade pieces. The wooden nails that he makes are no thicker than a sewing needle. He has made a ship in as little as 22 days, but the more elaborate vessels can take up to three years. The tiny cannons on the deck are less than two centimeters, and include six kinds of wood and 51 pieces. Some ships are made of cow bones and ebony.
Another Canton "find" is Main St. Modern. Owner Adam Hoover developed a love for auctions and estate sales by buying $1 boxes and hoping for treasures as he tagged along with his dad as a kid. He earned a degree in finance, but ultimately opened what is thought to be the largest warehouse of Mid-Century Modern furniture and decorative arts. The 40,000-square-foot facility has everything from museum-quality pieces by Milo Baughman, Adrian Pearsall and Charles and Ray Eames to funky, affordable pieces that are perfect for a first apartment. Sister company Laubacher Upholstery can recover anything with a wide selection of appropriate fabrics. You might have seen some of their goods — Main St. Modern is the go-to place for film and television companies seeking props with the MCM, clean design aesthetic. Located within the warehouse is Lost Thread Vintage, an upscale clothing boutique of pre-2000s men's and women's items.
The McKinley Presidential Library and Museum includes a gallery dedicated to the 25th president, as well as a small science museum, planetarium, historical street of shops, history museum and more. Also on the property is the McKinley National Memorial, where President McKinley and his family are interred.
There are some must-visit food stops, including Taggart's Ice Cream. Founded in 1926, it's an old-fashioned restaurant and homemade ice cream parlor that still has the old wooden booths and tile floors. Be sure to try The Bittner — ¾ of a pound of vanilla ice cream blended with house-made chocolate syrup and topped with lots of double-buttered, double-salted pecans and whipped cream. Yum! Also popular is Heggy's Nut Shop, which has been around since the early 1920s. One location makes and sells chocolates and roasts nuts; the other also serves homemade premium ice cream and meals (including buttered fries!). And, for good, old-fashioned donuts, be sure to stop at Johnnie's Bakery, a Canton favorite.
With so much to see, do and eat, Canton is the perfect place for a fall getaway.