A Different Kind of Pharmacy
Photo of Susan Merenstein: Drew Maks. Mortar and pestle photo: Adobe Stock Photo.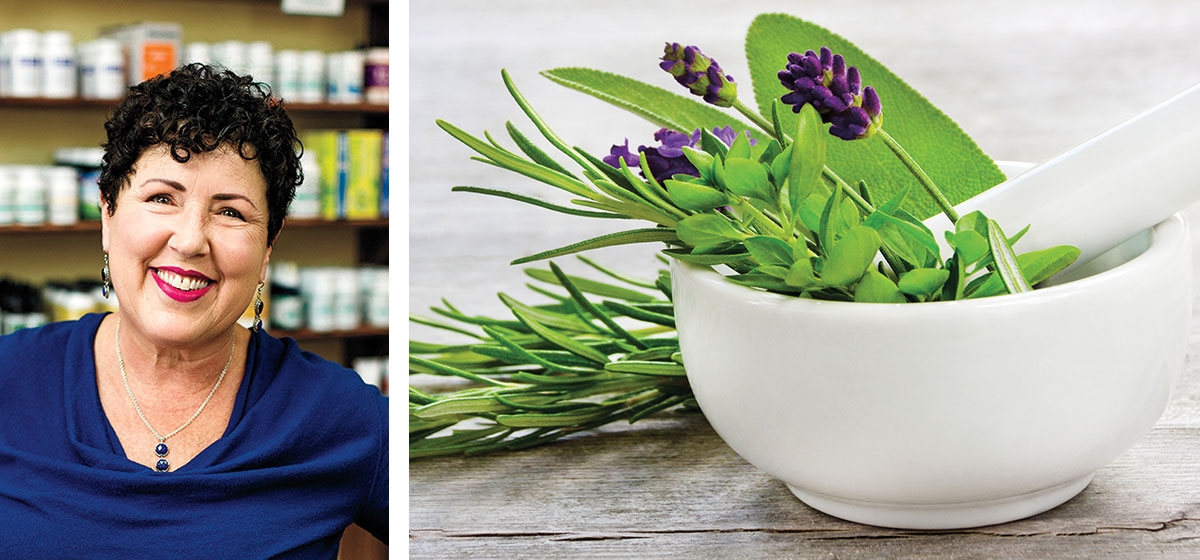 April 12, 2019
Susan Merenstein tells people that she has "pharmacy" in her blood. Her late father ran Drug Lane, a Washington, D.C. drugstore, and she spent lots of time there, working the cigar and candy counter at age 10 and, ultimately, being a technician. She attended the University of Pittsburgh and became a registered pharmacist, working at three independent operations for years, but became disillusioned when she felt her job was filling bottles and affixing labels in the one-size-fits-all pharmacy world instead of being more individualized and patient-centered. She began focusing on compounding, which is the creation of pharmaceutical products specific to the needs or issues of a patient and opened a compounding pharmacy boutique, Murray Avenue Apothecary (MAA), in Greenfield in 2007.
MAA is unusual in the personalized care and products it provides. Its mission, "to create a triad of holistic health between the physician, pharmacist and patient" while providing "individualized compounded medication solutions and wellness services to meet the specific needs of each patient," shows how different it is from big box pharmacies. The formulations, dosages and compositions of its medications are custom-created.
MAA provides services, products and supplements including private consultations, hormone restoration therapy, topical balms for pain and neuropathy, nontoxic skincare and hair regrowth treatments, products for people with chronic health issues and pet products. They also carry a full line of CBD products, created in-house.
Cannabidiol (CBD) is a derivative of hemp. Marijuana and hemp are both members of the Cannabis sativa family, but hemp is very low (0.3% or less) in tetrahydrocannabinol (THC), the psychoactive ingredient that appears in concentrations up to 80% in marijuana, and which produces the "high." The raw hemp oil that Merenstein uses comes with a certificate of analysis guaranteeing that it contains zero THC, and it is tested two additional times by an outside lab before the finished product is sold. It is available in several formulations such as capsules, balms and gum, and is available without a prescription.
When the U.S. farm bill was passed in December, hemp was removed from the Schedule I Controlled Substance designation and categorized as an ordinary agricultural commodity. Merenstein is a frequent speaker on the subject and has consulted with local law enforcement officials to explain the differences between it and marijuana.
While not proven, some patients find CBD products used for anxiety, pain, neuropathy and chronic health conditions more effective and natural than traditional options. MAA's in-house brand, LabNaturals, includes everything from CBD products to a skin care line.
MAA formulates CBD products for dogs and cats, and carries vitamins, probiotics, thyroid treatments and more, customized for pets.
The FDA does not require testing of vitamins and supplements, but Merenstein has all of the active ingredients she uses in hers thoroughly tested for strength and purity, unlike many commercially available products.
MAA offers private consultation where clients complete saliva and blood tests and have specific protocols designed to address hormone issues or deficiencies. Merenstein will also work with clients' physicians.
MAA claims to be the only green pharmacy in Pittsburgh. Non-VOC paint, window treatments that reduce utility bills, recyclable vials, emailed receipts and supplements that do not contain allergens such as dairy, soy or gluten are some of the ways it attempts to protect the environment and the health of its clients.
The goal of MAA is to provide solutions to create an optimal quality of life and health for its clientele, many of whom have exhausted traditional options. Taking care of clients in an individualized way, Murray Avenue Apothecary is an exceptional destination for health.
Murray Avenue Apothecary, 4227 Murray Ave., Pittsburgh, PA 15217, 412-421-4996, www.maapgh.com