Meadowcroft—Western Pennsylvania's time machine
images courtesy of Meadowcroft Rockshelter and Historic Village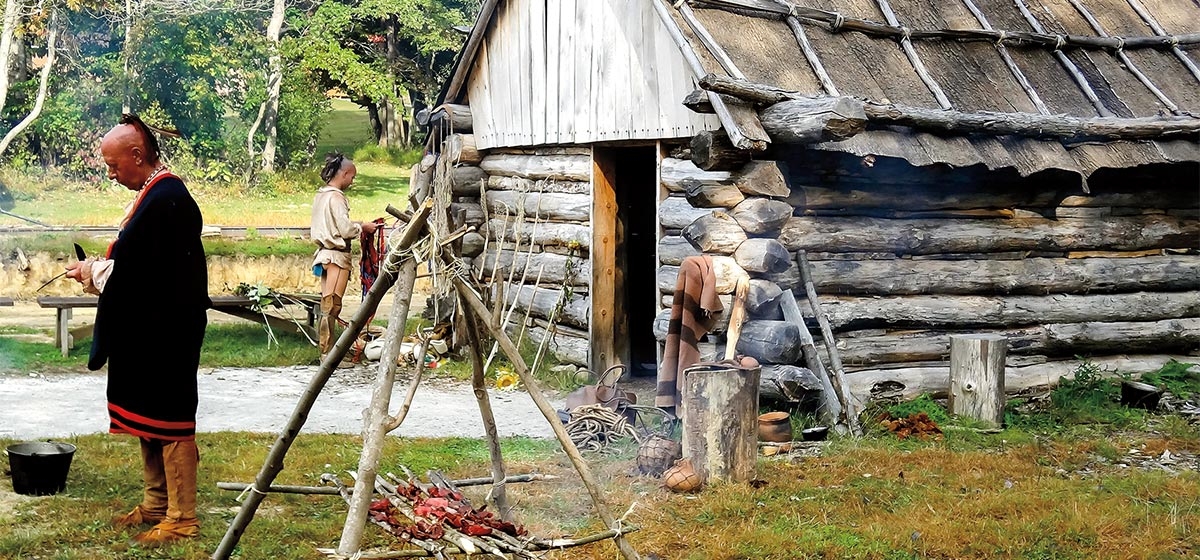 October 15, 2018
Most people are aware of western Pennsylvania's rich history, but few know just how far back that history reaches. A trip to Meadowcroft Rockshelter and Historic Village in Avella in Washington County indicates how significant our region is.

Meadowcroft comprises 275 acres on part of the former Miller farm, and is celebrating its 50th season this year as a tourist and educational destination. The Millers bought the farm in 1795 after emigrating from Ireland. By the 1950s it was run by two brothers, Delvin and Albert. Delvin was a renowned Hall of Fame harness racer, who remains the only professional athlete to compete over an eight-decade career. He trained and raced horses, including the famed Adios, on six continents and founded The Meadows racetrack. His brother, Albert, raised many of his horses, but was also a noted conservationist, photographer and historian. (Part of the farm was owned by a coal company for a time, and Albert got a grant through a state mine reclamation program so that they could plant 250,000 trees to create a wildlife habitat and stabilize the soil. This was one of the earliest known examples of private reclamation and restoration of a coal site.) In 1955, Albert saw some flint and bone fragments by a groundhog burrow, and after examining the area a bit more, he suspected that it might be important. Albert then started looking for someone who might be interested in what he had found.
It took until 1973, but he made the perfect match. Archaeologist James Adovasio was teaching and researching at the University of Pittsburgh when he visited the site and agreed to start excavating and tagging remains with students. The results were astounding. Previously, it was believed that the oldest human inhabitants in North America lived around 11,500 years ago. Radiocarbon dating of the artifacts discovered at Meadowcroft were at least 16,000 years old, making the site the continent's oldest. While there are a few skeptics who debate the pre-Clovis dating, it is the general consensus that the testing was accurate.
The rock shelter roof collapsed 13,000–14,000 years ago, preserving the remains of early humans. Adovasio and his team collected approximately 50 whole or nearly complete hand tools and cataloged more than 960,000 animal bones, 10,000 artifacts, 1.4 million plant remnants, and 2,000 soil samples, all of which have lent great insight into the life of these early, hunter-gatherer, Paleo-Indians whose food choices inspired today's "Paleo" diet.
Albert Miler created a history and nature camp at the farm, started acquiring or recreating historic buildings, and established a foundation in 1968. Today, Meadowcroft Rockshelter and Historic Village is part of the Senator John Heinz History Center with affiliation with the Smithsonian Institution, and has historic, interpretive villages spread over the grassy and wooded area that represent several time periods that show turning points in human civilization. They have received numerous historical designations.
The oldest period represented is the rock shelter. The next is a 1570s Monongahela Eastern Woodland Indian Village recreation which shows native habitat in a post-agricultural, pre-European society. Because they had learned how to farm and didn't have to forage as much, they could have more permanent homes, wigwams. Yet, they still didn't have things that would be introduced by the Europeans, especially iron, steel and brass.
The next area depicts a 1770 trading post. With the influence of the Europeans, the Native Americans started trading and interacting with outsiders, incorporating metal tools and cookware into their lives, and developing a fur trapping industry. The rustic trading post shows where many of their transactions would have taken place.
The final area, reached by crossing an 1871 covered bridge moved from Greene County, is an 1890s town showing settled rural life in the post-Industrial Revolution America in the Upper Ohio Valley. Among the buildings are the actual one-room schoolhouse attended by the Miller brothers, a church, blacksmith's shop and a typical home.
All of the areas have either docents or costumed re-enactors who can answer questions or encourage hands-on activities such as corn grinding or atlatl (spear) throwing. There is also a museum displaying early farm implements, carriages, a Smithsonian Institution history of barns and an exhibit dedicated to Delvin Miller and his harness racing. Additionally, there is a charming visitors center and a picnic pavilion. Hours are limited and vary by season. The Meadowcroft tab on the website, www.heinzhistorycenter.org, has visitor information about hours and special programs that are held during the season.