History, Charm and Vitality
A drive to Saxonburg

Photos courtesy of Saxonburg Museum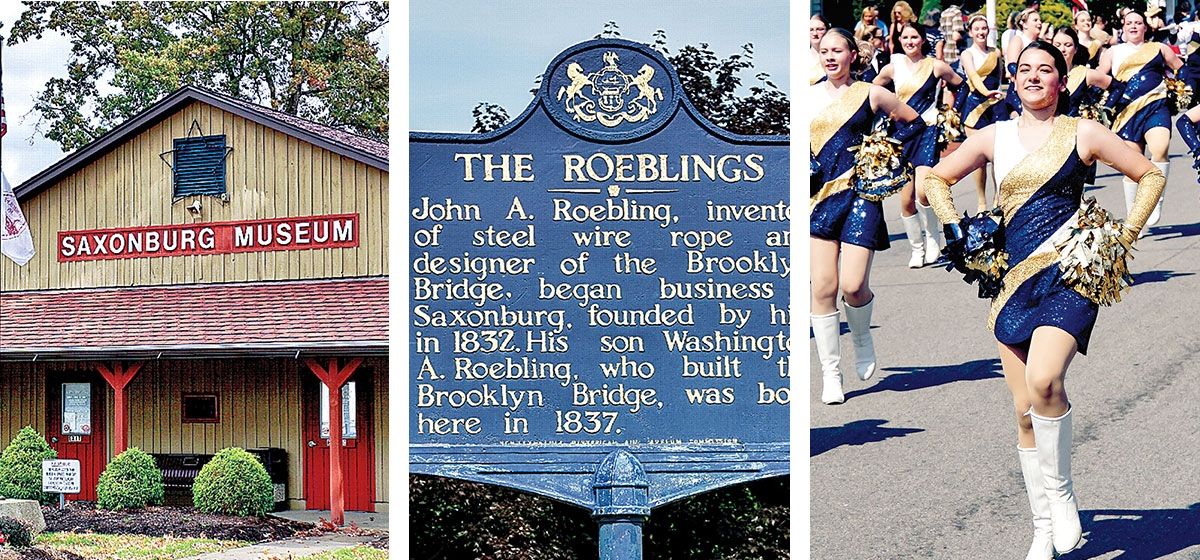 July 15, 2019
Saxonburg was founded as a German farming settlement in 1832 by brothers Friedrich C. and John A. Roebling, immigrants from Mühlhausen, Prussia, who purchased 1,582 acres. Destined to become history's most famous Saxonburg resident, John had studied surveying, engineering, architecture and hydraulics in Europe. He soon lost interest in farming and began developing a crucial innovation in civil engineering.

In 1837, hemp rope was generally used for everything from canals to the transportation of boats and train cars over the Allegheny Mountains for the Allegheny Portage Railroad. Hemp ropes, however, wore out and were relatively expensive. By 1841, Roebling had perfected steel cable. By braiding seven wires into single strands up to 2,500 feet long, he created a product that was thinner, more durable and cost effective. He produced wire rope in Saxonburg until 1848, when he moved operations to New Jersey. Roebling's product had numerous applications including in his most famous design, the Brooklyn Bridge.
Unfortunately, in 1869, a ferry at the Brooklyn site crushed his foot, requiring his toes to be amputated (Roebling refused anesthesia, biting on a leather belt instead). He believed in hydrotherapy, and rather than treat his injuries with medicine, he poured water over them. In 24 days, he died of tetanus.
The southern Butler County town Roebling founded 187 years ago is a great blend of history and vibrant modern-day destinations. The 6,000-square-foot Saxonburg Museum is rimmed with a dozen smaller areas depicting aspects of bygone everyday life, including an 1891 one-room schoolhouse, a parlor with a pump organ and framed, German sayings on the wall, a typical bedroom, a post office from the 1930–50s era, a telephone switchboard, a blacksmith, sports memorabilia, a military section, gas and oil well equipment and history, farming implements, a laundry room, kitchen and store. Displays reflect the development of everything from washing machines to military uniforms, typewriters, radios and televisions. A display of intricately carved wooden pieces depicts structures such as the Eiffel Tower, a castle and a working Ferris wheel. The museum is open seasonally, with curator Fred Caesar or one of their docents available for tours. Adjoining the museum are the John Roebling House and Shop (where much of his work was executed), as well as a replica of the Brooklyn Bridge and Roebling Park.
Other nods to Saxonburg's history are the numerous buildings bearing historical designation plaques, streetlights resembling gaslights, and brick-paved sidewalks. But the 560-acre borough also has delightful visitor destinations. The Speckled Hen Chocolate Company has a staggering array of gourmet sweets, created in-house in small batches. Owners Valerie and Matt Cannon and their team focus on quality ingredients and innovative combinations and flavors (the caramel/pretzel/sea salt bite is amazing). In addition to hand-dipped chocolates, they create dipped fruits, fudge, truffles, and custom candies for corporate gifts, favors or decorations. A newly opened space is available for chocolate-themed classes and private parties.
Batch Homegrown + Handmade is filled with in-house and locally sourced foods, gifts and art. It's especially known for jellies and jams (try the "Black, Blue and Bourbon" jam on everything from toast to barbecue), homemade soups, daily fresh bread and quiche on Saturdays, which sells out quickly.
Visit Three Rivers Art Glass to create an affordable fused glass or seasonal piece, or take workshops in jewelry making and stained, kiln-formed or etched glass. Artisan jewelry, giftware and decorative glass are available for purchase.
Stop in Saxonburg Coffee & Tea for a bit of refreshment in a renovated 1877 summer kitchen, including their six daily specialty brew coffees, 25 bulk teas, 24 latte flavors, smoothies, baked treats, candies and ice cream. Wired Coffee Ice Cream combines their Wired Blend coffee with premium ice cream for the best of both.
Since 1945, Thoma Meat Market has been butchering and processing local beef, chicken and pork products. Everything from slaughtering to smoking occurs on-site. From a side of beef to a pound of lunchmeat, as well as jarred goods, cheeses, their famous ring bologna, candies and prepared soups and entrees, Thoma is recognized for having fresh, quality products.
And if you're looking for lunch, dinner or lodging in a late 1800s, antique furnished room, the Hotel Saxonburg is the place to go. The American-inspired, locally sourced meals are served in one of the dining rooms or the cozy bar of the circa 1832 building.
Today, Saxonburg continues to exude the strong sense of community established by its founders. Merchants recommend fellow proprietors. "Mingle on Main" is held the third Thursday each month with food and craft vendors, music and dining tables set up in the middle of Main Street. Between May and October, there are four themed, progressive dinners, where diners stroll to each of six establishments. July 16–20 is the annual Fireman's Carnival including what claims to be the largest fireman's parade east of the Mississippi, rides, games, a pet parade, food and a pageant. September offers an arts festival and a sportsman's fest, with prizes raffled off under tents every few minutes. Saxonburg holds parades for most holidays and crowds line the streets to celebrate local sports teams returning from championship games.
No matter the time of year, if you want small town charm, Saxonburg is worth the drive!