A Trip to Corning and the Southern Finger Lakes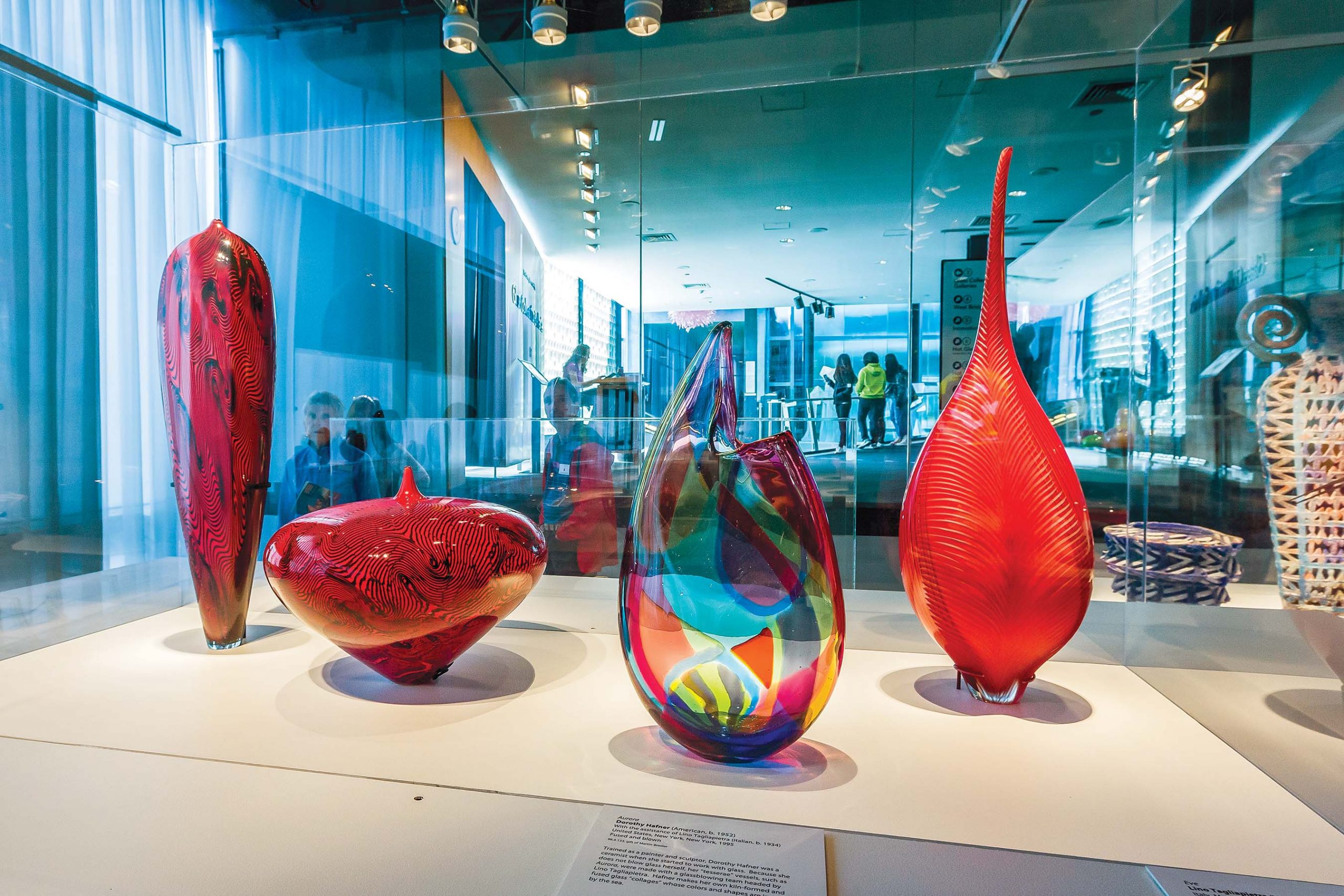 October 4, 2021
With fall approaching, who isn't itching to hit the road? No matter your age or interests, Corning, N.Y. and the Southern Finger Lakes region might provide the perfect escape. Much of the 4 1/2-hour drive goes through beautiful tree-filled valleys that will be exploding with autumn color.
Charming, walkable Corning sits along the Chemung River in Steuben County, which offers museums, wineries, outdoor activities, cideries, restaurants, distilleries and more, all immersed in a rich and interesting history.
Established in 1951, the Corning Museum of Glass (CMOG) collection has grown to include over 50,000 objects ranging from glass found in nature to pieces from the ancient world to contemporary art. Throughout the day, artisans demonstrate glassblowing and flameworking techniques using a 4,000-degree torch for a variety of creations. Visitors can sign up in advance for the "Make Your Own Glass" experience, making sculptures, ornaments, wind chimes, frames and other beautiful pieces with staff help.
In the Innovation Galleries, visitors learn about the science and developments in glass technology for everything from Pyrex to fiber optics to windshields on everything from cars to space shuttles. Current special exhibits include "Fire and Vine: The Story of Glass and Wine," "In Sparkling Company: Glass and the Costs of Social Life in Britain During the 1700s," "Dish It! Corelle at 50" and "Blown Away Season 2," showcasing glassworks created for the Netflix hit show. The extensive gift shop covers 18,000 square feet of the museum's first floor, offering souvenir magnets, artisan jewelry, handmade art glass, Steuben Glass, books and home goods, with prices for every budget.
Another popular Corning destination is the Smithsonian-affiliated Rockwell Museum in the restored 1893 City Hall. The western pieces of Frederic Remington and Charles Marion Russell are especially striking. The museum owns Andy Warhol's entire "Cowboys and Indians" series and displays the 10 prints on a rotating basis.
Both museums are free for kids under 17, and both offer options such as scavenger hunts and hands-on activities to engage children. Kids Rockwell Art Lab is a separate facility where children of all ages can participate at an interactive family studio, creating and exploring in an imaginative environment. With so much to do at these museums, it's great that tickets are good for two days.
Be sure to check out the Heritage Village of the Southern Finger Lakes where history comes alive during guided tours of several buildings, including the 1796 Benjamin Patterson Inn, the oldest frame building in the region. The site also includes buildings such as a one-room schoolhouse (used from 1878–1955), a log cabin and a blacksmith shop. Docent-led tours encourage hands-on investigation and immersion in a bygone era.
After the museums, stroll the red brick sidewalks of the Gaffer District where restaurants, stores, galleries and salons abound, many in beautifully restored, historic buildings.
Among the many excellent restaurants, some stand out. The Butcher's Son is a combination butcher shop-burger joint with sandwiches and salads, but locally sourced, freshly ground beef burgers on hearty rolls steal the show. There are a bunch, but who can resist the three best sellers — The Father, The Son or The Ghost, which features two quarter-pound patties topped with candied jalapenos, basil jalapeno pickles, bacon, provolone and BBQ sauce? For dinner, head to The Cellar for an inventive meal, creative cocktails and an extensive wine selection. The food emphasizes what's locally raised and grown, and most entrees are available in half portions with vegan, vegetarian or gluten-free versions. Menu highlights include Chicken and Waffles and Kobe Gold Label Beef. At Dippity Do Dahs Homemade Ice Cream, you can't go wrong with their creamy confections.
No matter what you're craving, there is a "trail" to guide you to the best in each category, whether it is wine, craft beer, ice cream, burgers or chocolate. That's the kind of exploring that some people can really embrace! For something more physical, head out of town where activities abound in water, air and on land. Keuka Lake (the closest of the Finger Lakes), nearby rivers, small lakes, ponds and creeks all provide opportunities for swimming, boating, fishing and other water sports. You can also explore the area by seaplane, or hike any of the hundreds of miles of trails through the numerous state parks and gorges. There are plenty of places for biking and camping, and guides are available for many activities.
Runners will be thrilled with Wineglass Weekend, Oct. 2–3, 2021. It starts with the family-friendly Corelle 5K on Saturday and culminates with the 40th annual Guthrie Wineglass Marathon, which starts in Bath, N.Y. and ends on Market Street in Corning.
As much fun as Corning is, there is plenty to do about 30 minutes away in several directions. The Finger Lakes have dozens of wineries available for tours and tastings. What started with some vines planted in Hammondsport by the Rev. William Bostwick in 1829 has grown to over 11,000 acres today. The Pleasant Valley Wine Company was the first bonded winery in America, and starting in 1962, the work of Dr. Konstantin Frank proved that European Vinifera grapes could grow in the cold New York climate. That started what became known as the Vinifera Revolution that had a profound effect on regional winemaking. You can learn more about this and see some of the oldest vines in the country at the family-operated Dr. Konstantin Frank Winery.
Also notable is Bully Hill Vineyards, on land formerly owned by the Taylor Wine Company. After Walter Taylor spoke out against questionable practices in the industry (including at his own company) he was fired and changed the name of his family winery to Bully Hill Vineyards. Then, when Coca-Cola bought Taylor Wines, they filed an injunction preventing him from using his own last name on anything related to his vineyard, despite the fact that his family had founded Taylor Wines. Undeterred, he claimed that the one thing that they didn't get was "his goat," and that became the Bully Hill logo. The locals say that Bully Hill is the place for a great lunch when you are touring the wineries, so check it out.
Transportation aficionados will revel in the Glenn H. Curtiss Museum in Hammondsport. Curtiss was a pioneer in the fields of motorcycles and aviation and is considered a founder of the American aircraft industry. Despite having only an eighth-grade education, he built bicycles, motorcycles, airplanes and the engine for the first successful dirigible in America, created seaplanes and amphibious aircraft for the Navy and then provided training for the pilots.
He has been called the "Father of U.S. Naval Aviation." After going 136.4 miles per hour on a self-built V-8 motorcycle, he was dubbed "The Fastest Man on Earth." Curtiss set land and air speed and endurance records in America and Europe, often ending up in court with the Wright brothers who fought to prevent others from advancing aviation. He started schools for pilots and, in a show of true diversity, accepted the first woman, African American, Cuban, Muslim and Indian, as well as other races and nationalities that would not have been accepted elsewhere.
All of this is represented at the museum along with an eclectic collection of bicycles, cars and planes. There is an area where they are actively restoring planes, and the current special exhibit, "Art at War," features the actual squadron insignias that were painted on warplanes. This exhibit is striking in both its artistry and its historical significance. If you thought that everything started with the Wright brothers, this museum will change your mind about the history of aviation. Then, swing by the Finger Lakes Boating Museum to learn more about the heritage of boating from canoes to hydroplanes to sailboats in the Finger Lakes.
Fans of Mark Twain can drive east to nearby Elmira where he spent 20 summers at his sister-in-law's home. There, he had a study where he wrote parts of some of his more famous books. The study has been moved to the grounds of Elmira College where it can be toured during the summer months. You can also visit his grave at Woodlawn Cemetery in Elmira.
MacKenzie-Childs collectors might want to make the 1 ½-hour drive to Aurora, N.Y. where they have an outlet filled with their signature black-and-white-checked tableware, furniture and décor.
Whether you have a weekend or a week, Corning and the Southern Finger Lakes will keep you entertained no matter what your age or interests.
For more information on the region, visit www.corningfingerlakes.com.