A Farm for All Seasons
Photo courtesy of Port Farms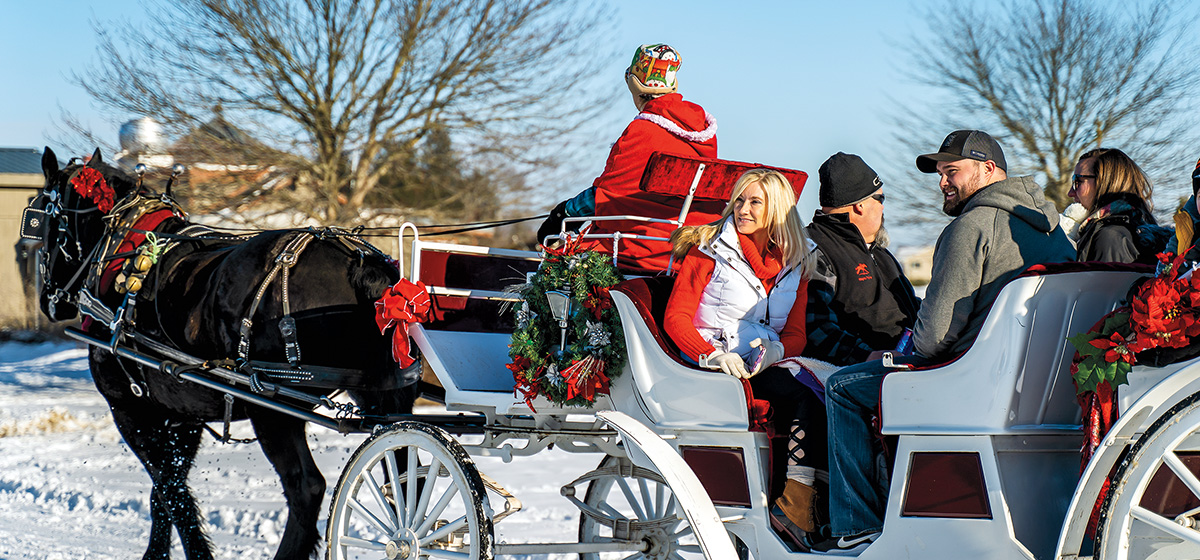 December 14, 2020
With so many events being held virtually, who isn't craving a "real" holiday experience? One can be had only a few hours north of Pittsburgh in Erie County, near Waterford, Pa.
Port Farms has been a working farm since 1897. In 2003, fourth-generation owners Kelly and Jerry Port began a transformation of the 200-acre property, not just to continue the tradition of growing crops such as soybeans and oats, but to add pumpkins, Christmas trees and sunflowers.
They also added an educational component so school groups on field trips could learn the connection between farms and the food on their plates. Building on this access to the farm, the Ports have created an inviting destination with affordable appeal and engaging events.
For winter, they offer all sorts of activities guaranteed to get you into the holiday spirit. Starting the Friday after Thanksgiving, Santa's Workshop will be open on weekends in the beautifully decorated Events Barn. There, kids of all ages can decorate a craft or cookie for a small fee. A fire will be roaring in the fireplace, a three-piece jazz ensemble will be filling the air with music and hot cocoa and cappuccino will be available, as well as a holiday gift boutique. There will be a mailbox for children to send their letters to Santa (who will write back). While he usually attends on weekends, it is unclear if he will be able to travel from the North Pole this year.
Also available on weekends are horse-drawn wagon and private sleigh and carriage rides that accommodate 5–16 riders and well-behaved dogs. The Percheron horses will provide you with a smooth ride around the farm that will transport you back to another time. Each vehicle is also fitted with wheels, so they may be operated even if there is not an abundance of snow. Reservations are highly recommended, as is calling the day of your ride to confirm that weather conditions are favorable.
Wednesday through Sunday, the Harvest Barn will be open for you to purchase holiday décor, wreaths (and watch wreath-making), fresh-baked goods and hot beverages. For the full farm experience, this is where you can hop on a wagon and ride out to the tree plantation to pick the perfect tree. Port Farms has Fraser Fir, Concolor Fir, Blue Spruce and White Pine trees that you can cut down with provided handsaws. If you're not feeling your inner Paul Bunyan, they will harvest your tree for you. Trees will be shaken, baled and ready for you to take home!
The fun doesn't end in winter. Starting each spring, the Events Barn is available for corporate events. While meetings are held and farm fresh meals are served in the barn, the farm has all sorts of team-building activities that will provide a great bonding experience for companies.
Port Farms is also a popular wedding and event destination in the summer. The Events Barn has the perfect combination of rustic charm and modern amenities that makes it sought after by many couples. Tempting, made-from-scratch meals like open pit chicken and slow-roasted beef are one of the hallmarks of Port Farms.
Finally, in the autumn, the farm comes alive with its annual Fall Harvest. From mid-September through the end of October, Port Farms is open Tuesday through Sunday and provides a family-friendly opportunity to get some fresh air and celebrate autumn.
There are around 40 activities available with admission, including a hay wagon ride, pedal carts, an adventure course, an eight-acre cornstalk maze, loads of giant games (Jenga, Connect Four), tug-of-war, jumping pillows and more. There are special areas for toddlers and loads of things to keep everyone from kids through adults engaged for hours. If all of this activity makes you hungry, there are delicious foods from pulled pork and kid-friendly chicken tenders to fresh baked goods as well as an assortment of sweets. The reasonably priced gift shop has all kinds of items including Port Farms souvenirs, snacks, baskets of crisp apples, books and even sunscreen for forgetful guests. And, of course, there are pumpkins of every shape and size.
No matter what the season, Port Farms will enhance it for you. While they have an abundance of safety precautions in place, be sure to visit their website before you go as some times or offerings may change due to COVID-19 restrictions.