You Can Do Lots at Doolittle
Photo courtesy of Doolittle Station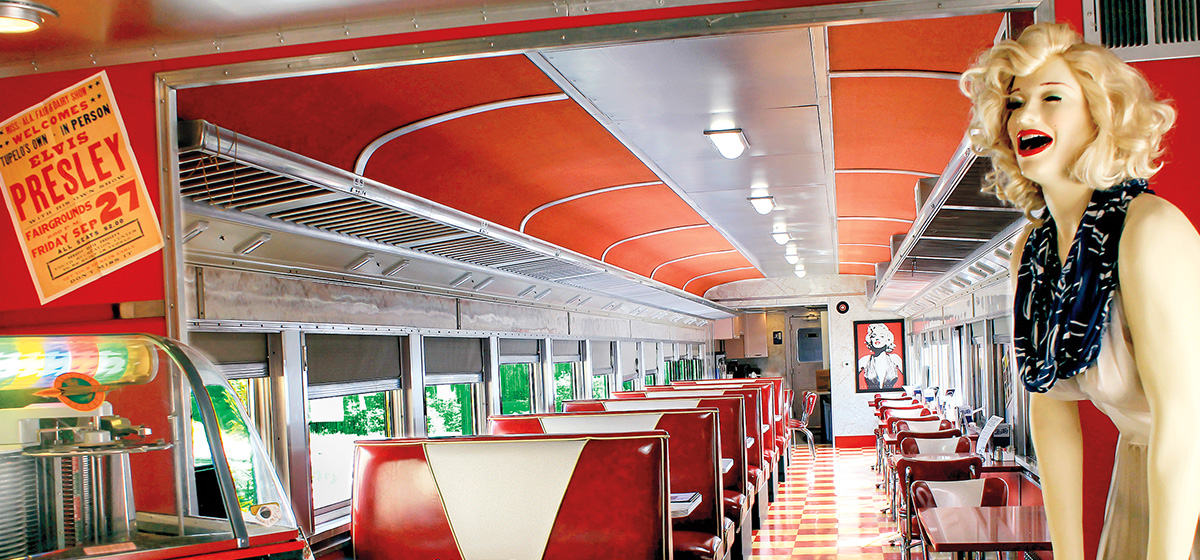 October 5, 2020
After months of practicing social distancing, people are itching for fun, and Doolittle Station in DuBois has something for most everyone. Since 2014, local oral maxillofacial surgeon Dr. Jeffrey Rice has incorporated many of his collections into an ever-growing complex filled with history and memorabilia as well as modern amenities. From trains, food, craft beer, museums, dinosaurs and dragons to spending the night on a train, you will be entertained in a plethora of ways.
There are over 20 train cars spread on the five-acre site, but start in The Depot, a recreated B&O railroad station. It was built using blueprints from the 1800s, with antique architectural elements including wood trim, stained glass windows and a ceiling fixture imported from Belgium that is one of the first electrified lights ever made. There is a small museum displaying historic railroad memorabilia and a gift shop.
Adjoining train cars include a fully restored 1913 Pullman Parlor car with inlaid mahogany and paneled walls. There were only four of this model built, and here in the fine-dining Parlor Car, guests can enjoy a farm-to-table dinner with choices like lobster bisque and harissa-spiced roasted salmon. The Boardroom, with a table that seats up to 18, can be reserved for private dinner parties.
For a more relaxed meal, there is The Diner Car, a WWII-era Pullman passenger car that was used to transport troops. Today, it has a 1950s diner theme with everything from meatloaf and duck fat fries to the "BB3," a mushroom and beef blend burger with porcini powder, zucchini pickles and a fontina cheese and parmesan aioli, along with hand-crafted milkshakes.
Even more casual is the Roadside Café & Creamery, which carries treats ranging from hot dogs and burgers to the famous Penn State Creamery ice cream.
Another tempting option is Railcar Pizza, where custom pizzas are freshly made in a stone oven on traditional, gluten-free or brewer's spent grain crusts with a variety of sauces, cheeses and over 20 topping options.
Boxcar Brew Works is composed of several more rail cars, and includes an artisan nano-brewery, taproom, seating area and outdoor deck. With a "beer is about community" philosophy, master brewer/co-owner John Frampton engages regularly with local, commercial and home brewers and has an impressive 20 taps that include stouts, porters, ales, a hard seltzer, local cider (Good Intent), mead (Laurel Highlands) and a rum cocktail created by Maggie's Farm. Non-alcoholic options are a cold-pressed coffee, fruit soda and root beer, all made in-house. There is a pub menu with a delicious lobster roll and much more, and Railcar Pizza is also available there.
No matter where you dine at Doolittle Station, Executive Chef Tara Tyger has created inventive menus that use fresh, quality ingredients that will please any palate with gourmet cuisine, comfort foods, gluten-free, vegetarian and vegan options. There is even the Little Caring Caboose, a dining car where families with special-needs children or adults with dementia can pre-order meals to eliminate waiting, and then eat in a private car specially designed to provide a relaxing experience for the entire family.
Activities abound, with mini golf, laser tag, axe throwing, goat viewing and an interactive model railroad museum, which is supported by local enthusiasts.
And then, there are the Doolittle Dinosaurs. Over 24 lifelike, animatronic dinosaurs move, roar and seemingly breathe as guests walk through the large exhibit. Kids of all ages will see a replicated dinosaur skeleton and can dig for fossils or even ride a T-Rex! New additions include fierce dragons and a Dinosaur Café.
If all of this seems exhausting, you can plan a unique bed and breakfast experience in one of four refurbished cabooses, or in a 1901 Presidential Pullman car that was used by Teddy Roosevelt. The large, beautifully appointed car has many original furnishings, several rooms and can sleep from four to six people. There is a modern bathroom attached, and all B&B stays include a continental breakfast with house-made granola and breakfast pastries. Refurbishing is nearly completed on two Barnum & Bailey Circus cars for overnight stays, as well.
Doolittle Station is a veritable "Where's Waldo" when it comes to finding interesting collections or elements, and the more you look, the more you'll find. Original documents, vintage Tom Mix photographs, a genuine Tiffany lamp, circus costumes, rail-themed artwork, antique light fixtures and dinosaur teeth are some of the many Dr. Rice collections to be discovered. Rice and Frampton have repurposed countless items from a Conestoga wagon jack and coal mine rails to a luggage cart in the brewery. It's fun just guessing what the intended purpose was for everything, from table bases to decorations.
Doolittle Station is a fun destination for everyone, and the affordable pricing makes it family-friendly. Days and hours vary for each restaurant and attraction, and catering, special events and private functions are also available. Visit doolittlestation.com for more information.