Mister Rogers' Real Neighborhood
Photo by Alexander Byers/Saint Vincent College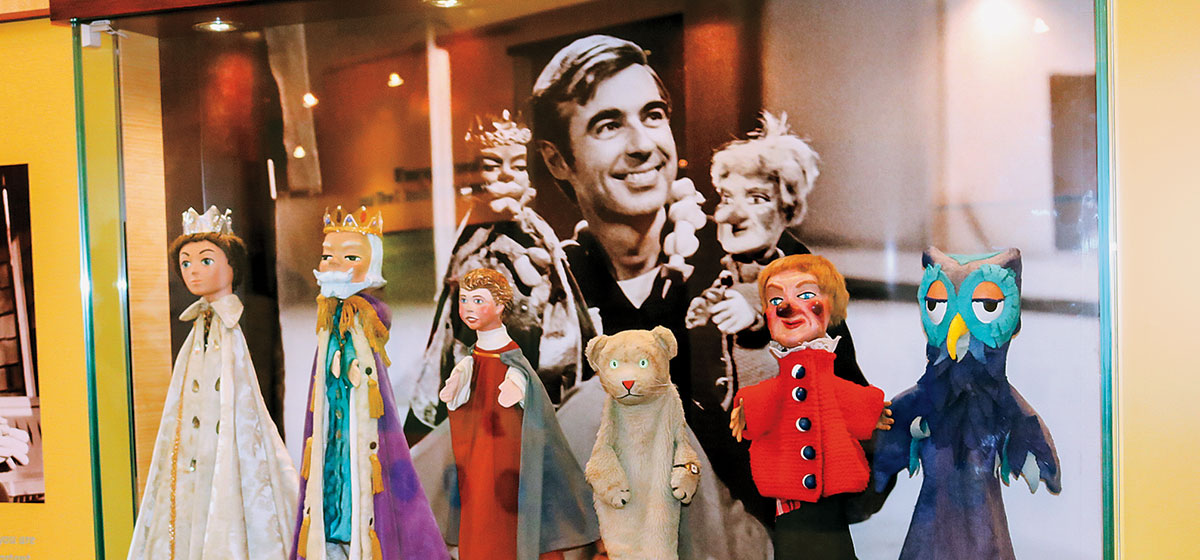 April 29, 2020
With the recently released film and documentary about Fred Rogers, the national spotlight is shining on the man who changed the face of children's television. He was known internationally, but since he resided in Pittsburgh and created "Mister Rogers' Neighborhood" here at WQED, he is often associated with the city. However, his roots are less than an hour away, in Latrobe, Pa.

You can drive past his childhood home in Latrobe at 737 Weldon Street or visit his burial site at the Given Family mausoleum at Unity Cemetery. You can also sit next to a statue of him on a bench at James H. Rogers Park (named for his father). In Idlewild Park, you can ride on a trolley through Daniel Tiger's Neighborhood. The Latrobe Area Historical Society has an area dedicated to Rogers memorabilia, including early puppets and photographs.
A trip to the Fred Rogers Center at St. Vincent College is a great way to connect with Rogers and witness his lasting impact. He was involved in the design and mission of the center, and the plans included a living space with a bathroom and kitchen where he could spend a few days a week. Unfortunately, he passed away in 2003, before the 2008 completion of the 36,000-square-foot building.
With core values including respect and empathy, the center is dedicated to research and practice-based child development and carrying on Rogers' vision. Much of this work is done through the Fred Rogers Center for Early Learning and Children's Media, and includes Incubator 143, an early childhood research and development program for undergraduates. (143 was Mister Rogers' favorite number because it numerically reflected the letters in the words "I love you," and was his consistent weight as an adult.)
An interactive, multimedia Rogers exhibit is located on the top floor of the center, where visitors can see memorabilia including his iconic sweaters and tennis shoes, the original puppets, a trolley, photographs and all sorts of items that tell the story of Rogers and his show. There is even a "Speedy Delivery" area where visitors may write letters.
You can see the range of people who were featured on the program, from cellist Yo-Yo Ma (who exposed viewers to classical music) to Lou Ferrigno, the Incredible Hulk (who showed how his makeup was applied, demystifying a scary character by revealing that he was just an actor under all of that green paint). Rogers believed in and emphasized numerous qualities including patience, inclusiveness, kindness, and acceptance, and his spirit shines through this free exhibit.
The lower floor of the center houses the Fred Rogers Archive. Just as Andy Warhol had his Time Capsules, the archive is filled, floor to ceiling, with hundreds of boxes containing everything from scripts to personal correspondence. Archivist Emily Uhrin has worked for over a decade organizing and cataloging these items, and there are hundreds more boxes yet to be inspected. While the archives are not open to the public, viewing windows allow a peek.
Also housed at the center is the Foster and Muriel McCarl Coverlet Collection, which claims to be "the largest collection of 19th century American 'figured and fancy' hand-woven coverlets in the world." The exhibit shows the evolution of coverlets, from hand-woven to machine-made, as well as some of the equipment used to create them.
While on the campus, it is worthwhile to make a few more stops. St. Vincent Archabbey and College was founded in 1846 by Boniface Wimmer, a Bavarian monk. It includes the Archabbey Monastery, a seminary, a parish and a private Benedictine college with nearly 2,000 students. It was the first Benedictine monastery, seminary and college in the North America and is the largest Benedictine archabbey in the world.
The industrious and self-sufficient monks built the Rhenish Romanesque-style Basilica at the turn of the 20th century, a gargantuan endeavor as they cut the lumber, built the pews, crafted the bricks, etc. onsite with a combination of approximately 75 monks and 70 lay craftsmen. Stained glass windows including three rose windows, a marble altar and floors, a carved lectern and polished granite columns create a sense of awe at the beauty and the workmanship of the immigrants who brought their crafts to this country. The imposing basilica is 230 feet long and 68 feet high and dominates the landscape. Docent-led tours are available.
Nearby, there is an 1854 gristmill built by the monks to grind their own flour. Today, the four-story building houses the working gristmill run by monks that is visible through a glass wall, a display of historical items and a general store. Shoppers can purchase various types of St. Vincent flour, locally baked St. Vincent bread that is made using a generations-old recipe, gift baskets and coffee, jams, sauces and other items made for St. Vincent's or by other monasteries, such as the famous Trappist preserves.
While many people associate it with the Pittsburgh Steelers' training camp that is held there each August, St. Vincent's has much more to offer.
If you would like to spend a day in Mister Rogers' childhood neighborhood, Latrobe, Pa. is worth the drive.