Bring on the Meat!
Butcher shops thrive with new demand and specialty offerings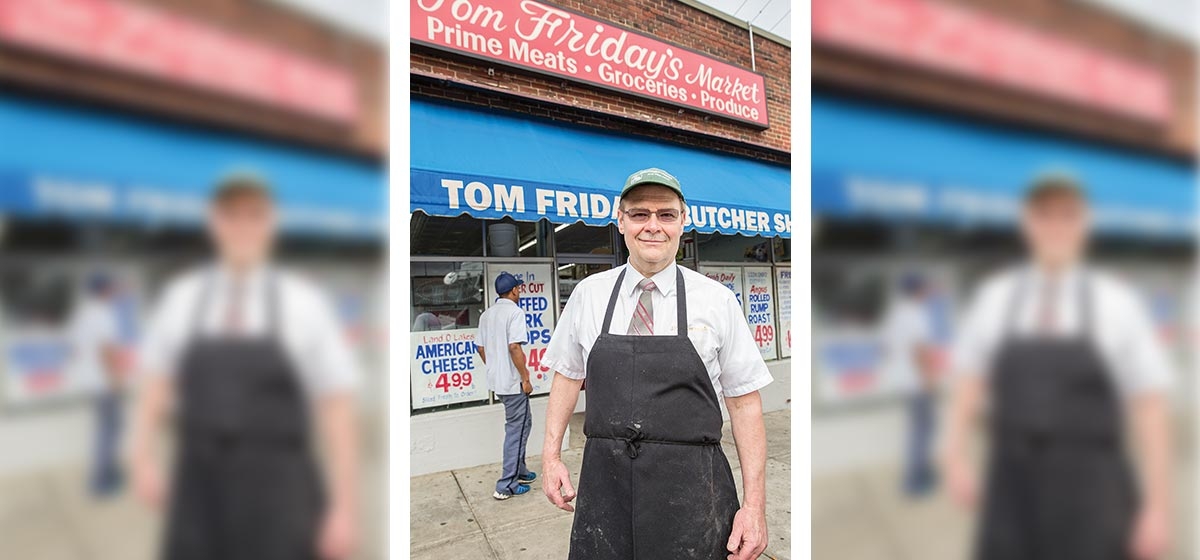 May 20, 2017
Years ago, the Sunday roast inevitably came from the neighborhood butcher. The relationship between the homemaker and butcher was once so significant, that the television series "The Brady Bunch" included "Sam the Butcher," who was both meat purveyor and love interest for housekeeper Alice. This was before mega-grocery stores and warehouse clubs with inhouse butchers, prepackaged meat and bulk purchasing.
Today, however, stand-alone butcher shops are experiencing a renaissance, and Pittsburgh is peppered with shops specializing in custom cuts of high-quality meats. Some have flourished for generations. Others are newer. The common thread is a commitment to customer service, greater selection, a willingness to discuss cuts of meat and provide recipes, true custom cutting of meats and a better shopping experience.
With the overabundance of grocery and box stores, you might wonder if it is worth the effort to go to a specialty butcher. If you are picky about the thickness of your bacon, want your roast trimmed a special way, love locally smoked and crafted sausage and kielbasa, or want to have a personalized working relationship with a butcher who knows your taste, then a butcher shop is the way to go.
Tom Friday's Market in Brighton Heights has been serving quality cuts of beef, pork, chicken, veal and lamb since 1955, claiming to be the last store in Pittsburgh to carry fresh, hanging sides of beef. They try to locally source their products, and even know the animals' diet and "lifestyle." Popular items include housesmoked kielbasa, hot and sweet sausage and deli meats, as well as produce, party and cookie trays. Their website provides education on the various meats, and they deliver to selected areas. Owner Tom Friday has seen a surge in sales in recent years, with a renewed interest in natural beef, without antibiotics and steroids.
Drive to Thoma Meat Market in Saxonburg, and you'll likely pass grazing cattle that will end up in their store. This is the butcher's butcher. Most everything is locally sourced; even the spices in their sausage come from Con-Yeager in Zelienople. They emphasize fresh rather than frozen, Old World recipes for their sausages and smoked meats and services ranging from delivery and set-up of pig roasts to processing, curing or smoking birds, game or fish harvested by gamesmen.
Weiss Brothers Meats in Pleasant Hills has been operated by three generations of the Weiss family since 1948. They, too, focus on quality and selection and boast a three-state clientele. Their beef, pork, veal, lamb, poultry and seafood are complemented by a deli and grocery section, and excellent customer service has kept them in business for almost 70 years.
If your tastes are more eclectic, Strip District Meats in the Strip has an astounding selection of meat and poultry, including specialty and exotic products: beef lips, duck hearts, goat, mountain oysters, rabbit, camel, llama, kangaroo, yak, alligator and wild boar.
While not technically a butcher, Parma Sausage Products, also in the Strip, carries all sorts of smoked and drycured Italian pork products. Especially popular are their hot capicola, prosciutto, chorizo, salami rustico and bacon. After a few years of selling sausage out of their home, the Spinabelli family from Parma, Italy, officially established the business in 1954, and it's had a devoted clientele ever since.
There are several newcomers to the "meatwagon," demonstrating the industry's resurgence. Mt. Lebanon's Block 292 is one. Owner Brooks Broadhurst (formerly a senior vice president at his family's Eat'n Park Restaurants) opened the butcher shop/market/ restaurant in 2016 with a goal of serving local, sustainable foods like meat from Jamison Farms. Head butcher Max McCarty enjoys the creativity afforded him and his team when doing whole animal butchery versus the boxed meats that most grocery stores use. You can sign up to learn about the whole animal butchery process with a guided breakdown of a whole hog. McCarty has seen a trend of rebranding cuts of beef for marketing purposes. (Remember in 2012 when flat iron steaks became the rage? For years, they were called "top blade," and languished in the meat case.) The North Carolina native's favorite cut of meat is a chuck eye, and his favorite barbecue sauce is the vinegar-based East Carolina version. Block 292 also has a great restaurant that features its meat, and a market with both unique items and the basics necessary to put together a fabulous meal.
Another more recent addition is DJ's Butcher Block in Bloomfield, which features over 20 all-natural sausages using proprietor and Culinary Institute of America grad DJ Smulick's recipes. Creative flavor combinations like blueberry jalapeno maple and chipotle raspberry chicken are popular sausage favorites. With a goal of providing local and natural meats (grass-fed beef, free-range chicken), breads, cheeses, eggs and more, Smulick serves healthy, reasonably priced products. And, if you're too lazy to cook, DJ's has a sandwich shop a few doors away. Whether you get the chicken chorizo and egg tacos for breakfast or the wild boar chili, you can't go wrong.
Numerous other butchers abound in the region. From sausage and Italian meats at Henry Grasso in Larimer (Pittsburgh's former "Little Italy") to Stumpf's Meats in Etna to Joe's Butcher Shop in Pitcairn, there are lots of local options. But before you fire up your Big Green Egg (a favorite of grilling aficionados), check out the prime cuts at your local butcher. A word of advice: since these are not megastores, they can sell out of popular items, especially on Saturdays or around the holidays, so order ahead! Freshly butchered meat—it's worth the drive!