A Passion for Cheese
Photo courtesy of Chantal's Cheese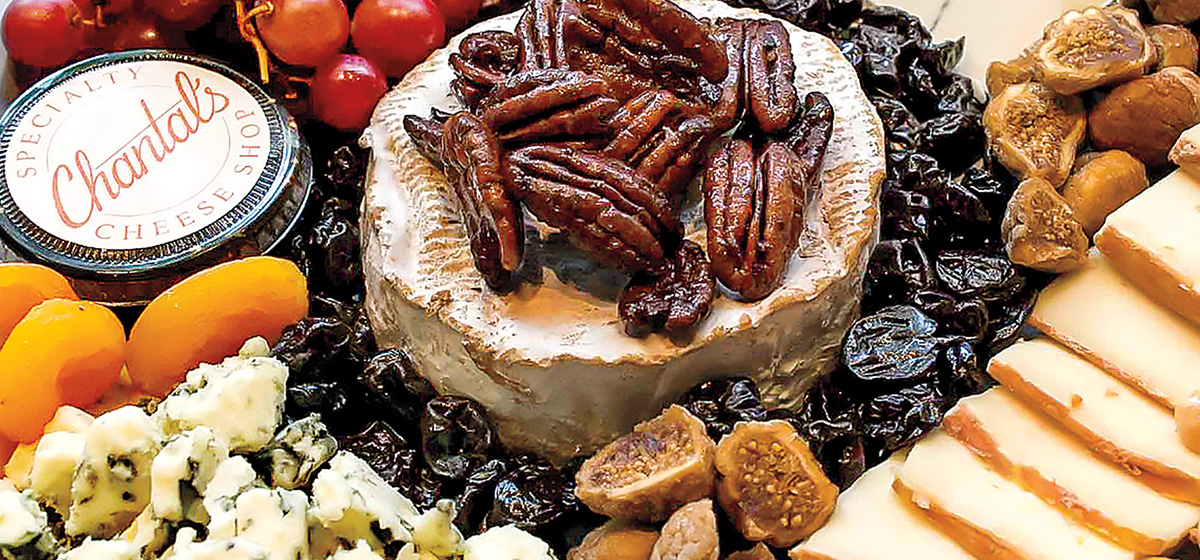 March 10, 2021
Frequently in life, the people who are most successful are those who have a passion for what they do. When you cross the threshold of Chantal's, the tiny cheese shop across the street from Children's Hospital in Lawrenceville, the passion is palpable. These are people who love cheese!
Anaïs Saint-André Loughran was born and raised in Lyon, France, declared to be the Capital of Gastronomy by French food critic Curnonsky in 1935. Naturally, she grew up with a fondness for good food, especially cheese. Loughran emigrated to the United States 12 years ago and married a Pennsylvania native while living in New York. On a visit to Kennett Square, Pa., she met a woman in a cheese shop who offered her some artisanal cheddar cheese. At first, she scoffed at this "lesser" American-made cheese, but the woman spoke about cheese like poetry, and Loughran came to two realizations that day: There were some amazing cheeses made in America, and she wanted to open her own cheese shop and be just like that woman.
Seven years ago, she and her University of Pittsburgh-graduate husband, Chris, moved to Pittsburgh. Loughran still remembers the view of the city as they drove through the Fort Pitt Tunnel, and it was love at first sight. There were many aspects of Pittsburgh that reminded her of Lyon, and she quickly made it her adopted home.
Three years ago, the couple made a dream come true when they opened Chantal's Specialty Cheese Shop, named for Anaïs' late mother. It is a tribute that must be a daily reminder of her days in France. The shop's centerpiece is a cheese case crammed with domestic and imported cheeses. The focus is on smaller producers and farms, so you will likely not find much there that is available in grocery stores. From local farms such as Goat Rodeo in Allison Park to tiny producers from Spain, France, Italy, Switzerland and elsewhere, the case is overflowing with a plethora of flavors, colors, textures and smells. And while tasting is not currently possible because of COVID, the trained staff is incredibly helpful and passionate about assisting customers as they discover new cheeses. There is also a selection of charcuterie including prosciuttos, chorizos and pâtés.
If you are entertaining, Chantal's will create beautiful cheese and charcuterie plates. Sizes range from two to four servings to 15 to 20, and there are a variety of themes including "The Safe Bet," "The European," "The Adventurer," "Sweet Tooth" and "The Vegetarian." Chantal's also carries vegan cheese and makes a vegan pâté in-house.
While they are currently being offered online, Chantal's will eventually be returning to in-person classes in which cheeses are paired with accompaniments such as jams, honeys or nuts and served with complementary wine. Informative discussion ensures that attendees can be entertained while learning about cheese.
If you have discovered the wonders of Raclette (or want to), Chantal's offers Raclette rental including the grill, cheese, charcuterie and a jar of cornichons. If you are unfamiliar with this, Raclette is a dish from Switzerland in which Raclette cheese is continuously melted on a special grill until it is bubbly or browned, and then scraped and eaten with boiled or steamed potatoes, meats, vegetables and cornichons.
Additionally, Chantal's sells specialty foods including jams, spreads, olives, oils, vinegars, crackers, nuts, seasonings, as well as some housewares and books focused on cheese. They will help you to assemble a lovely, custom gift basket that will surely delight any recipient.
And if being around all of this food makes you hungry, be sure to get one of their incredible grilled cheese sandwiches. There is always the cheddar, Havarti and Gouda, plus two daily specials, all on a baguette from La Gourmandine Bakery.
Once large-scale gatherings are back in swing, Chantal's has many other options. They can provide custom cheese tables, cheese towers and grazing tables for weddings, events, showers and parties.
Whatever your passion for cheese, Chantal's Specialty Cheese Shop will not disappoint.
www.chantalscheese.com, 412-621-1203, 4402 Penn Ave., Pittsburgh, Pa., 15224