Stepping Back with Local Ciders and Meads
Photo courtesy of Arsenal Cider House and Wine Cellar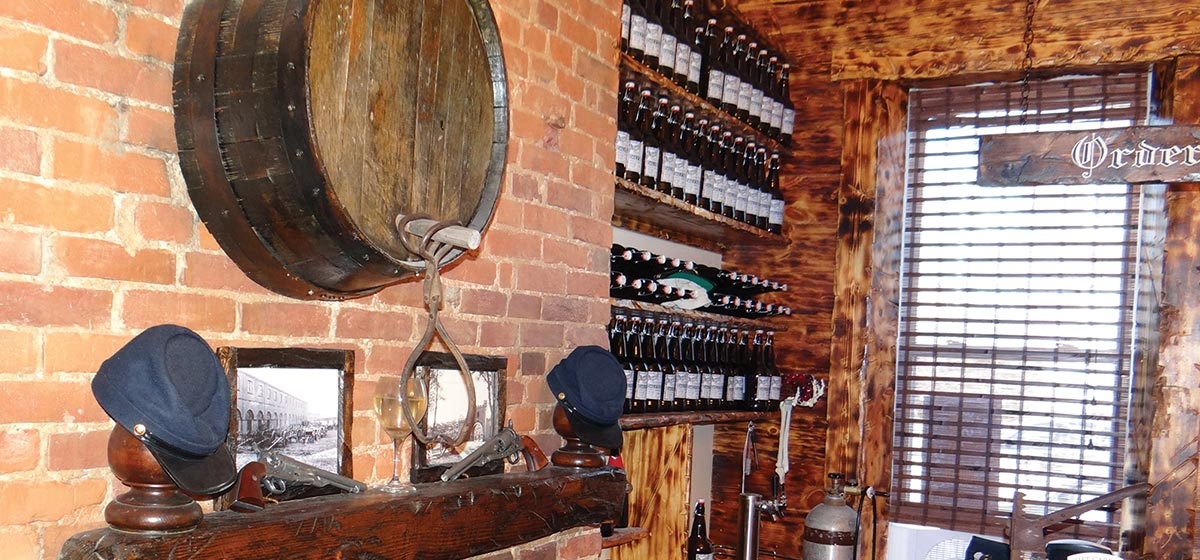 August 20, 2017
Pittsburgh has been recognized as a top city for discerning foodies, but there is also a robust adult beverage industry. In addition to microbreweries, wineries, and distilleries, there's a growing niche for hard cider and mead. These local ciders, some still, others carbonated, tend to be less sweet than commercial ciders; and the meads run the gamut of flavors and sweetness. It is fitting that a cider industry would develop here, considering the impact of the legendary John Chapman, better know as Johnny Appleseed. The itinerant, apple-tree planting nurseryman lived here for about a dozen years, on Grant's Hill in Pittsburgh in the late 1700s.
With Johnny Appleseed as their muse, the folks at Wigle Whiskey decided to start producing hard cider. Pedigreed head cidermaker Brian Bolzan has been developing an assortment of ciders and meads at their "new" facility, a converted 150-year-old, former tannery in Spring Garden, down the street from the Wigle Barrelhouse and Whiskey Garden. Opening this fall, Threadbare Cider will feature English-style ciders ranging from dry to sweet, as well as mead and ultimately will offer a tasting area, restaurant, event space and barrelhouse, as well as the production facility. The family-owned business will incorporate the same relaxed and entertaining vibe with attention to quality ingredients that's evident at their Strip District distillery. (Wigle Whiskey tours and tastings are also fun and informative.)
Lawrenceville is home to Arsenal Cider House and Wine Cellar, where owners Michelle and Bill Larkin opened the city's oldest cidery on the first floor of their 39th Street house in 2010. It's easy to miss, but once you find it you're sure to return. The ciders range from "bone" dry to sweet, and their Alcoholic Slush is outstanding. The Larkins decided to play off their location by the Allegheny Arsenal, a Civil War manufacturing and supply center for Union troops. From the exposed brick walls, and wooden floors to the historic cider names and labels, Arsenal evokes history. It also has a great neighborhood feel, with customers strolling in to have their growlers refilled from pistol-shaped cider taps, often retreating to the "Cider Garden," a grassy area with tables and chairs where people meet and enjoy a drink during nice weather. Weekends might bring food trucks or live music, but hours are limited (it's a neighborhood). Arsenal also has tap houses at Soergel Orchards (Wexford) and Trax Farms (Finleyville), the sources for their ciders.
Apis Mead & Winery in Carnegie has had such success that, after just three years, it is moving in early fall from its East Main Street location to a larger building a couple of blocks away. Its new location will allow Apis to host more events and will include a kitchen. For the novice, mead is an ancient beverage made by fermenting honey, yeast and water. The oldest known recipe dates from 6,000 BC. Different varieties might incorporate fruit, hops, spices, grains or wine, and the taste can range from dry to sweet. Apis sources its ingredients as locally as possible and creates all sorts of delicious meads, ranging from 8.5 to 16 percent alcohol. The Hopped Passion Fruit, Blueberry Chai and Bomb First (blackberry, blueberry, strawberry and hops) meads are especially tasty!
Tiny Volant (about seven miles from Grove City) is home to two cideries. Knockin' Noggin, which gets its name from the story of Sir Isaac Newton formulating his theory of gravity after being hit on the head by a falling apple, is located next to historic Volant Mills. The family-run business has several endeavors, including wineries, but the primary focus here is cider. A chalkboard shows the ever-changing range of products to be enjoyed in a tasting room and lovely outdoor area. Down the street is the Volant Mills Winery. While the primary focus is wine, they also make two traditional hard ciders: the crisp, dry George's Cider and the sweeter Ben's Cider. Owner Bryan Rhodes uses a generations-old family cider recipe. He also makes Medieval Solstice mead, with a half-pound of honey in each bottle.
Laurel Highlands Meadery claims to be Pennsylvania's second- oldest dedicated meadery. Mead maker-owner Matt Falenski crafts varieties ranging from traditional mead to whiskey barrel-aged, while some incorporate ingredients such as hops, ginger, maple or habanero. The award-winning meads are available at multiple locations in Pittsburgh and its eastern suburbs, including the Irwin tasting room, which also features local craft beers (patrons are permitted to bring in food from nearby restaurants).
While they don't yet have a location that you can visit (plans are for a meadery opening in early 2018 on a 30-acre lot near Grove City), it is worth mentioning KingView Mead. Founder Scott Neeley has a passion for bees, so mead was a logical extension of that passion. Through KingView's "Mead-For-Bees" program, 10 percent of sales go to purchasing and giving away bee boxes, frames and bee nucleus colonies via a free sweepstakes to local small beekeepers to support the apiary industry. KingView focuses on high quality, traditional meads, which have won numerous national awards. Until their retail location opens, you can purchase their mead at festivals, online, and at selected bars and restaurants.
The wonderful thing about Pittsburgh's growing cider and mead market is that each business has distinct beverages and different atmospheres, incorporating local history and agriculture in special ways. They complement each other while exposing customers to a creative and uncommon industry. In addition to the primary locations, many of these ciders and meads can be found on tap at local restaurants and bars, and sometimes in Wine and Spirits stores. All have websites, and most post news and information on events and available varieties on their Facebook pages and Twitter feeds.
For cutting edge creations of Old World beverages, these cideries and meaderies are worth the drive!