Living the Wright Way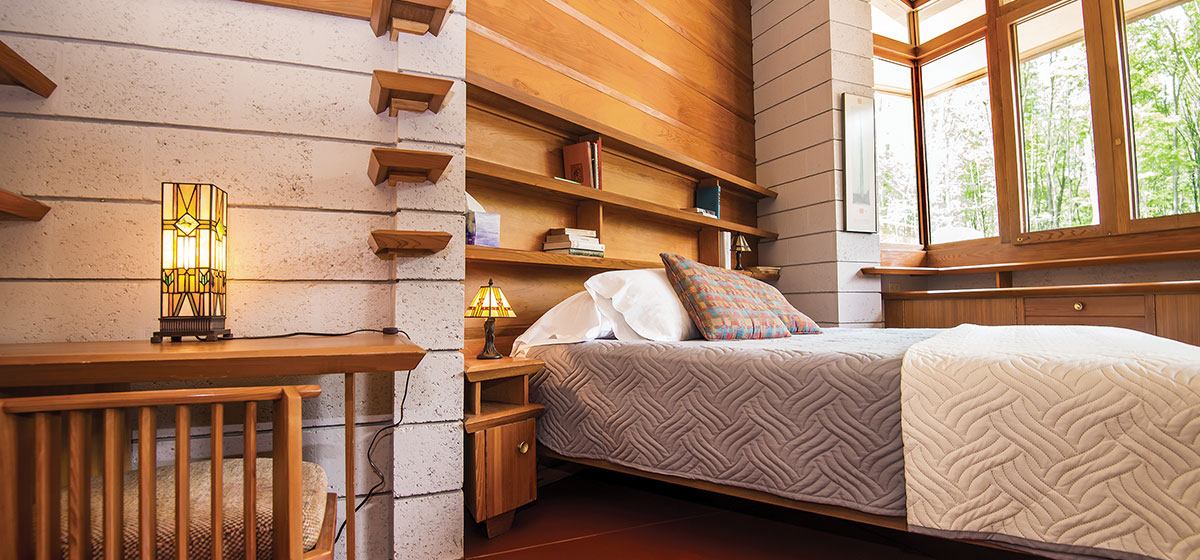 July 28, 2021
Fallingwater is arguably Frank Lloyd Wright's most famous design and was named the "best all-time work of American architecture" by the American Institute of Architecture. With 160,000 visitors annually, it commands awe and reverence — no touching, and stay behind the velvet ropes.

But drive about 23 miles from Fallingwater to Polymath Park in Acme, Pa., and you can have a far different experience in a home designed by Wright or his apprentice, Peter Berndtson. And, you can spend the night and truly immerse yourselves in the Frank Lloyd Wright experience.
Wright used the term Usonia to refer to both the United States and his concept for planned communities that would comprise affordable, one-story, flat-topped homes. They incorporated native stone, clerestory windows, radiant-heated floors, carports and the compression and release concept (entering a large space by first going through a small space) for which he is known.
In the early 1960s, Berndtson was employed to design homes for two Pittsburgh families, the Blums and the Balters, on 130 acres they owned in Westmorland County. While Berndtson's plan was to create a Usonian-style development with numerous homes on five-acre lots, the two families declined, preferring their privacy in summer homes with mountain and woodland views. The homes were typical of Wright's Usonian style with locally harvested stone, Cherokee red floors and views through the large windows that drew the eye towards nature.
In 2000, Heather and Tom Papinchak bought a contemporary home on an adjoining piece of property. When they learned that the neighboring property was scheduled for timbering, they purchased it in 2003. Tom, an entrepreneur and local builder, worked to restore and preserve the two homes, turning them into unique, overnight rental properties. They named their development Polymath Park. A polymath is a person with knowledge about a wide range of subjects, something that described Wright and his followers.
In 2006, the Papinchaks acquired Duncan House, a home originally built in Lisle, Ill., for Elizabeth and Donald Duncan that was slated to be moved to Johnstown, Pa. Tom convinced the new owners that Polymath Park was a better-suited location, and they dismantled, transported and reassembled the home on their property over a nine-month period.
The Papinchaks then turned their home into a restaurant named Tree Tops — the suggested name of Berndtson's planned community — and since the house was built into the hillside, diners actually ate in the canopy of the trees. Heather is the chef, and entrées range from wild-caught salmon to filet mignon prepared several ways, including dusted with espresso beans and drizzled with a bourbon lemon-butter jus. Vegetarian selections include stuffed portabella mushrooms filled with seasonal vegetables and herbed riced cauliflower.
In 2016, the Frank Lloyd Wright Building Conservancy approached the Papinchaks with an opportunity to acquire a 3,000-square-foot home called Mäntylä House, designed in 1952 for the Lindholm family in Cloquet, Minn. The copper pipes supplying the radiant heat in the floors needed to be replaced. The area around the home had also become commercially developed and was no longer the setting Wright had envisioned. Tom Papinchak flew out with a team and labeled each piece of the home and its furnishings (all but two designed by Wright) and brought them back to Polymath Park, where the home was situated and reassembled.
The Papinchaks recently acquired another structure: Birdwing, a 6,500 sq. ft. home designed in 1965 by Wright's son, Frank Lloyd Wright, Jr. (called "Lloyd"). The house in Minnetonka, Minn. was slated for demolition, but by next year, it will become Polymath Park's visitor and architectural education center, dedicated to preserving the legacy and work of Wright, making the park the only place to showcase work by the father, the son and a Wright apprentice.
Along the way, the Papinchaks have created some interesting partnerships, including a nonprofit component, Usonian Preservation, Inc., to preserve Wright's and Berndtson's architecture. Another is the Akashi Technical School in Hyogo, Japan, which has sent students for a three-week immersive program each September for several years. They partner with students from Bidwell Training Center's Horticulture Technology program to work on landscaping at the Berndtson houses. Finally, they're working with the Western Pennsylvania Conservancy at Fallingwater for Polymath Park tours for Fallingwater visitors interested in learning more about Wright.
Reservations for Polymath Park are suggested, and visitors can have a delicious lunch or dinner at Tree Tops and combine it with home tours. And if looking (and eating) isn't enough, you can spend the night in any of the four houses at Polymath Park and really live the "Wright" life. Sit on the furniture, hang out, sleep in the beds and pretend (at least for one night) that you own a home designed by Frank Lloyd Wright or his apprentice. How cool is that?
Check www.franklloydwrightovernight.net as hours, days and prices vary, and the park closes for a few winter months. But it is well worth the effort to visit this special architectural gem.