The New Way to Entertain
Prepared meals are catching on for special occasions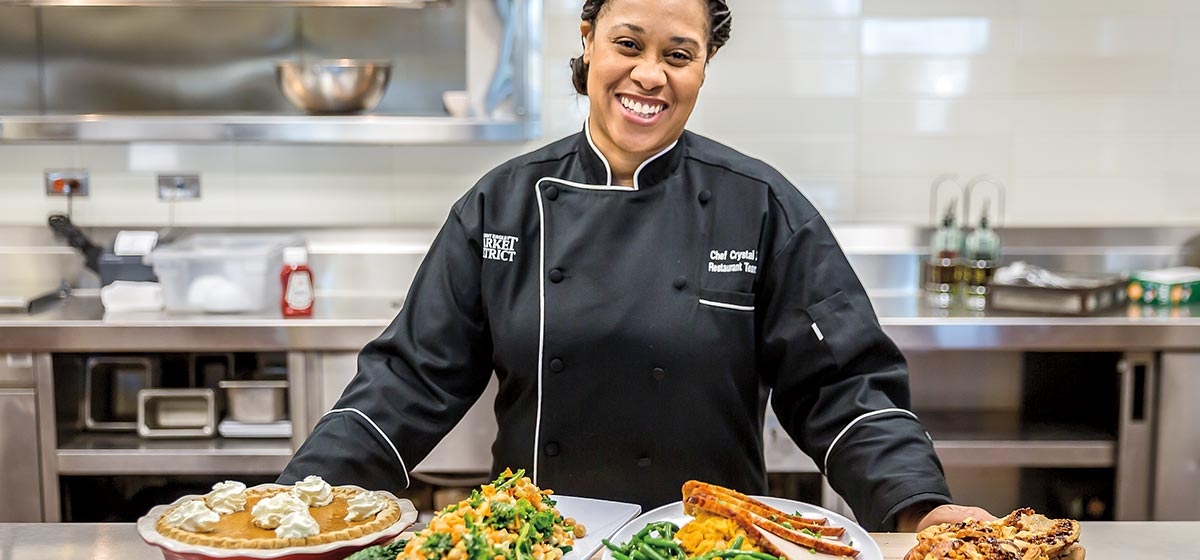 November 20, 2017
As the holidays approach, so might a corresponding sense of dread—at the thought of entertaining.
While enthusiastic hosts and hostesses can get lots of things ready in advance, preparing and serving a holiday meal or hors d'oeuvres at the last minute can be overwhelming. Some people choose to simply go to a restaurant or club, but many prefer the intimacy of entertaining at home. Fortunately, there are options that will take the pressure off while providing your guests with delicious food.
Giant Eagle Market District stores offer numerous options and services that might surprise many customers. Stop in and work with one of their many department experts to create a customized assortment of tasty foods. For a cocktail party, you can create a stunning cheese board, and they will assist in selecting cheeses, spreads and pre-sliced charcuterie items that will incorporate a variety of tastes and textures. In addition to grab-and-go prepared foods, they will work with you to create a custom gourmet crudité basket, olive selection or sushi tray. Fresh pretzel nugget trays, Brie tortes and in-store-made cheese balls are especially popular.
Market District specialists also can help with wine and beer pairings for your party or dinner. You can also order your entire dinner at the store. While preset Thanksgiving meals (this year featuring Plainville Farms fresh turkeys) are popular, dinners for other holidays may be ordered a la carte. From prime rib to steamed lobsters along with a bevy of side dishes, you can choose what you'll need for an elegant supper. Guides for everything from the traditional Italian seven fishes dinner to suggestions for selecting and arranging party trays are available online and in stores.
Bakery items range from bread bowls filled with rolls to an updated pumpkin pie to nut, poppy and apricot rolls and artisan cakes. Giant Eagle has been making prepared foods and meals for over 30 years and they're passionate and purposeful in constantly working to provide high quality items made with clean ingredients. Give them 48 hours, and they'll make you look good at your next event.
Whole Foods offers an assortment of services that will wow your guests. Their team members are excited about their collaborations that enhance shoppers' experiences. Philadelphia's Vedge vegan restaurant and kosher chef Joan Nathan are two of the partnerships that are featured in their prepared foods department. Team members can also assist in tailoring menus that meet dietary restrictions, such as vegetarian or gluten-free meals. Whole Foods has the only three American Cheese Society Certified Cheese Professionals in the region. And from Dec. 8 to 19, they'll hold the 12 Days of Cheese, during which a specially curated cheese will be offered at half price each day. Their master sommelier has selected a wine pairing for each cheese, as well.
Whether you want a complete turkey, prime rib, ham, lamb or vegan dinner, or you prefer to order a la carte, their selections are designed to appease all preferences. Dessert choices include pies, cakes and tarts, such as pumpkin, s'more and bittersweet chocolate pecan pies, gluten-free peppermint mousse cake and fresh fruit tarts. In addition to helping to create customized cheese boards, they can aid in designing party menus featuring items such as shrimp, charcuterie, fruits, soup shooters, Brie en croute, dips and spreads. Like Giant Eagle, Whole Foods has seen a steady increase in the demand for these services as customers strive to host upscale events without the hassle.
Feast on Brilliant in Aspinwall can help you serve delicious food, and will even prepare them using your own casserole dishes, so your guests will assume that you slaved over the hearty lasagna or shepherd's pie you serve! You can get their beef tenderloin with herbed butter or salmon with a maple-barbecue rub either fully cooked or prepped and ready to make at home. For cocktail parties, try their mini crab cakes, quinoa cakes, or caramelized bacon bites. They will help you with your menu selections and impress your guests.
McGinnis Sisters, with north, south and east locations, offers a wide selection of prepared meals, party trays and desserts and will work with you to customize your order. Shadyside Market will also help you to assemble a holiday dinner from the exotic to their hearty chili or soup. And whether you want prepared party trays or want to assemble your own, DeLallo's is a store that has an abundance of meats, cheeses, olives and everything else you'll need for a stunning antipasto. They create meat, cheese, fruit, salad and wing platters, as well. They also have a prepared catering menu with Italian specialties such as traditional or eggplant lasagna, stuffed shells, Asiago crusted chicken breasts and chicken Romano. Pair your dinner with some of their traditional Italian desserts and break out the red wine.
Whether you are planning an intimate dinner for two or a New Year's Eve bash for a 100, with a short drive and culinary help from the experts, you can relax and take the stress out of entertaining.