The 5th Northumberland Fusiliers
Sherlock Holmes and Dr. Watson live on in Pittsburgh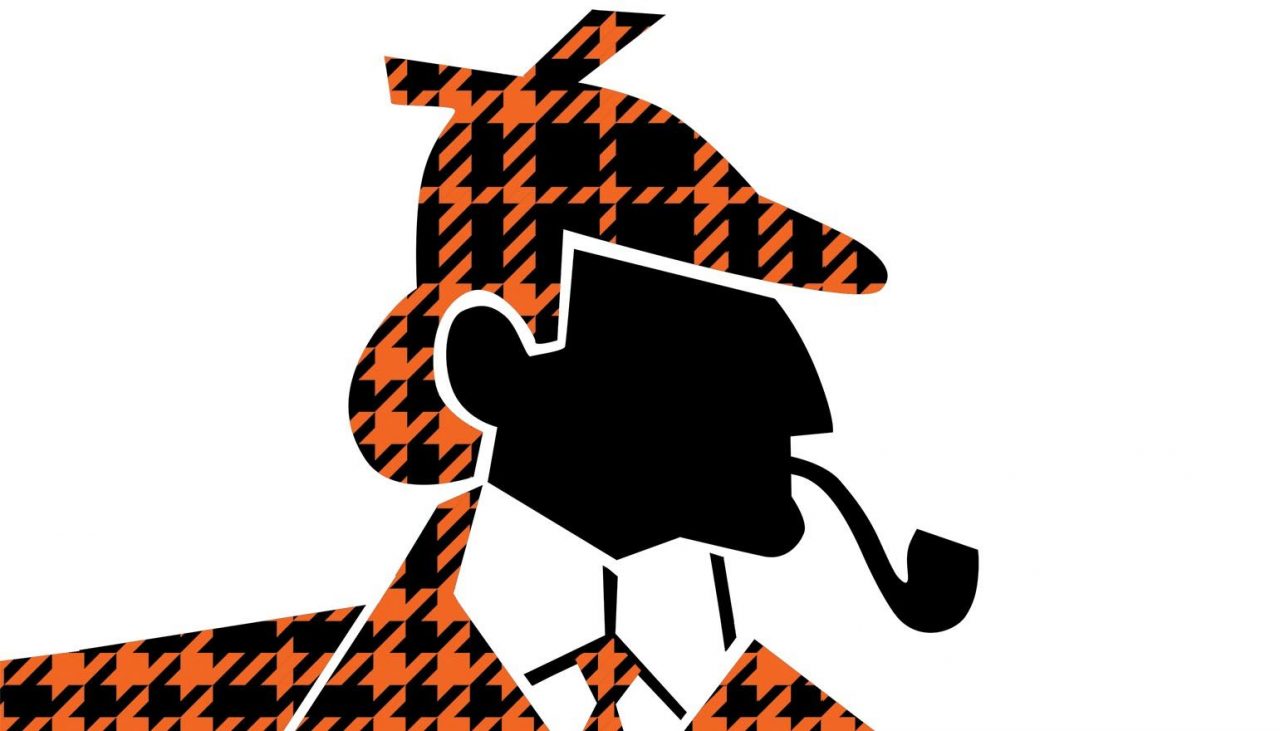 May 3, 2022
When Jim Zunic was about 10 years old, he got the shock of his young life. After he had enjoyed watching a TV series about Sherlock Holmes, the librarian at McNaugher Elementary School on Pittsburgh's North Side encouraged him to read some of Sir Arthur Conan Doyle's stories about the fictional detective.

"The librarian started me off with 'The Adventures of Sherlock Holmes,' " Zunic recalled. Then he borrowed "The Memoirs." In the final tale in that second volume of Conan Doyle's short stories, Holmes and his arch-enemy, Professor Moriarty, fall to their deaths in the swirling depths of Switzerland's Reichenbach Falls.
"When Holmes died, I thought that Conan Doyle had really killed off his main character," Zunic said. He found himself in the same position as Victorian-era readers after London's Strand Magazine first published the story in 1893: He believed that Holmes was dead.
Spoiler alert! It wasn't until a decade later that Conan Doyle revealed in "The Adventure of the Empty House" that Holmes hadn't died. He had managed to escape Moriarty's grasp using his knowledge of a Japanese wrestling style Conan Doyle called "baritsu."
Sixty-six years later Zunic remains a devoted fan of Sherlock Holmes tales, novels, movies and TV programs. He and his wife Sue, who live in Natrona Heights, are part of a group of Pittsburgh-area Sherlockians who gather monthly for dinner and discussion of "The Canon." That is the name given to Conan Doyle's four novels and 56 short stories about the adventures of the world's first "consulting detective" and his friend and biographer, Dr. John Watson. The stories were written between 1887 and 1927.
Zunic, 76, is the last founding member of the "The Fifth Northumberland Fusiliers." While its name makes the group sound like an organization of military re-enactors instead of a literary club, it refers to an actual British Army regiment that Dr. Watson would have served in, if he had been a real person.
I, too, have been a member of the Fusiliers for the past six years. And it is that mixture of the real and the fictional that appeals to me and many of my fellow Sherlockians.
Sherlock Holmes is described as an inveterate reader of the personal notices ­— known as the agony columns — in London newspapers. Zunic said it was appropriate that the local Sherlock Holmes group was founded 47 years ago after a woman named Maureen Movshin ran a classified ad in Pittsburgh newspapers seeking people "Interested in Baker Street Irregulars." When Zunic saw that advertisement in July 1974, he contacted her. The local group soon chose the name "Fifth Northumberland Fusiliers."
The Fifth Northumberland Fusiliers is a scion society — an informal offshoot — of a New York City-based organization founded in 1934 called the Baker Street Irregulars. The Irregulars in the Holmes stories were Victorian street urchins that the fictional detective employed to gather information about London crimes and criminals. Over the decades, Southwestern Pennsylvania has been home to several groups of Irregulars. According to Zunic, Pittsburgh-area groups devoted to the Holmes stories have included The Priory Scholars at the University of Pittsburgh in the late 1940s, The Pennsylvania Small Arms Co. in Mt. Lebanon in the 1970s and The Reigate Squires in New Kensington. The name of each group is a reference to people, places or things mentioned in The Canon.
The Northumberland Fusiliers has about 40 members, including a half-dozen married couples. Their ranks over the decades have included lawyers, engineers, psychologists, doctors, postal workers, accountants, sales people and teachers.
The local group is led not by a president or chair, but, in keeping with its military name, by a brigadier. Anne-Marie Nelson, a Pittsburgh lawyer, currently heads the group. Like Zunic, she discovered Sherlock Holmes at about age 10. Her father, a math professor at Carnegie Mellon University, took his family on a sabbatical year to Israel a half-century ago. Among the books available there in English were collections of Conan Doyle's stories. "I'm not sure if it was 'The Adventures' or 'The Memoirs,' " she recalled. "Within a year I had read all the stories. When I finished, I would start reading them over again."
What is the continuing appeal? "I've always liked mysteries," she said. "There is a problem to solve — something bad happens — and 90 percent of the time the perp is caught."
She enjoys the interplay and mismatched friendship between the cerebral Holmes and the more emotional Watson. She sees them as the models for a hundred or more buddy-cop movies and TV shows. Watson is no fool, but he cannot keep up with the careful observations and brilliant deductions of his friend. "I'm a lawyer and I have to be logical," Nelson said. But she sees herself as more of a Watson than a Holmes.
Like me and many other Northumberland Fusiliers, she said she enjoys not only Conan Doyle's works but also the so-called pastiches and homages that have been written by the hundreds over the past century. Those original works draw for their inspiration on Holmes, Watson, Moriarty and other characters from The Canon.
Finally, she enjoys the Victorian and Edwardian setting for most of the stories. "I am interested in the era and enjoy the chance to experience it vicariously."
A standard meeting for the Fifth Northumberland Fusiliers includes lunch at a local restaurant, followed by a quiz and discussion of one of the Holmes stories or novels. For special occasions, including Christmas or celebrations of Holmes's birthday (the group celebrates his "January" birthday in July because of better weather), members over the years have mixed up the meeting agendas with games, toasts, short plays and songs.
Many of those original activities have been the work of Zunic or Janice Portante, a retired special education teacher, who lives in O'Hara.
"I don't remember when I read my first story, but I do remember when I bought my first Canon," Portante said. "It was in the mid-'70s in a bookstore in Lancaster."
Portante, 73, tends to speak her mind. "Basil Rathbone was the definitive Holmes. Of course, he was my first." Rathbone played Holmes in 19 films made between 1939 and 1946.
Who didn't she like? "My least favorite was Robert Downey Jr.," she said. "And Charlton Heston — he was terrible." Downey starred in two Holmes films between 2009 and 2011 and may make a third. Heston appeared as the detective in a 1991 made-for-TV movie called "Crucifer of Blood."
In addition, individuals in the Northumberland Fusiliers, following their own interests, have organized a variety of Holmes-related events. They recently have included an English-style afternoon tea at the Negley Inn in Shadyside and a tour of the Carnegie Museum of Art concentrating on paintings linked to Conan Doyle's stories.
All members have an opportunity to become "investitured" by leading a story discussion, writing a quiz, researching a story topic or creating a special activity. Each invested member then gets to choose an Irregulars nickname from among the characters in any of the stories. The only names off-limits are Holmes, Watson or Irene Adler. Adler, who outsmarted Holmes in the story A Scandal in Bohemia, is the closest thing in The Canon to a romantic interest for Holmes. He refers to her admiringly as "The Woman."
Tom Pitner, 73, who has been a member of the Fusiliers since 1977, came to the group via an indirect route. "I had been a 'Poe person' in high school," the resident of Washington, Pa., explained. Edgar Allen Poe, often called the father of the modern detective story, wrote three mystery tales featuring a French detective named August Dupin.
That fondness for multiple fictional sleuths is common among Fusiliers. Pitner describes his wife Linda, who also has been a long-time member of the Holmes group, as an avid reader with a special fondness for the tales of Agatha Christie.
Since their membership skews older, the Northumberland Fusiliers worry a bit about attracting younger Conan Doyle fans.
Jeremy Selepec, 45, is a history teacher in the Beaver Area School District who lives in Industry. A member of the Fusiliers for several years, he is encouraging the next generation of Holmes fans. As a boy he went regularly to the library with his mother. Like so many Sherlockians, he read his first Holmes stories as an adolescent. The father of a 10-year-old son named Jackson and an 8-year-old daughter named McKenzie, he has shared his passion for reading and for the Holmes stories with his children and with his students.
Jackson already has seen some of the Holmes stories on film and has been reading "Encyclopedia Brown" and "Hardy Boys Mysteries." McKenzie is enjoying books in the "Boxcar Children" mystery series.
And when the Netflix streaming service released "Enola Holmes" in 2020, the entire Selepec family watched it together. Enola is the previously unknown sister of Sherlock and his brother Mycroft Holmes. The heroine, Selepec said, has proved to be "a strong female figure ahead of her time."
Now that his children have gotten their first tastes of the Holmes family adventures, he hopes that Jackson and McKenzie soon will be eager to move on to the original Conan Doyle tales.
More information about the Fifth Northumberland Fusiliers is available on Facebook. Those interested also can send an e-mail to Anne-Marie Nelson, the group's brigadier, at ammizel@verizon.net.