Shelley, Kiesel, Green, Lichtveld, Walker, Moynihan, Adore
Professionals new to Pittsburgh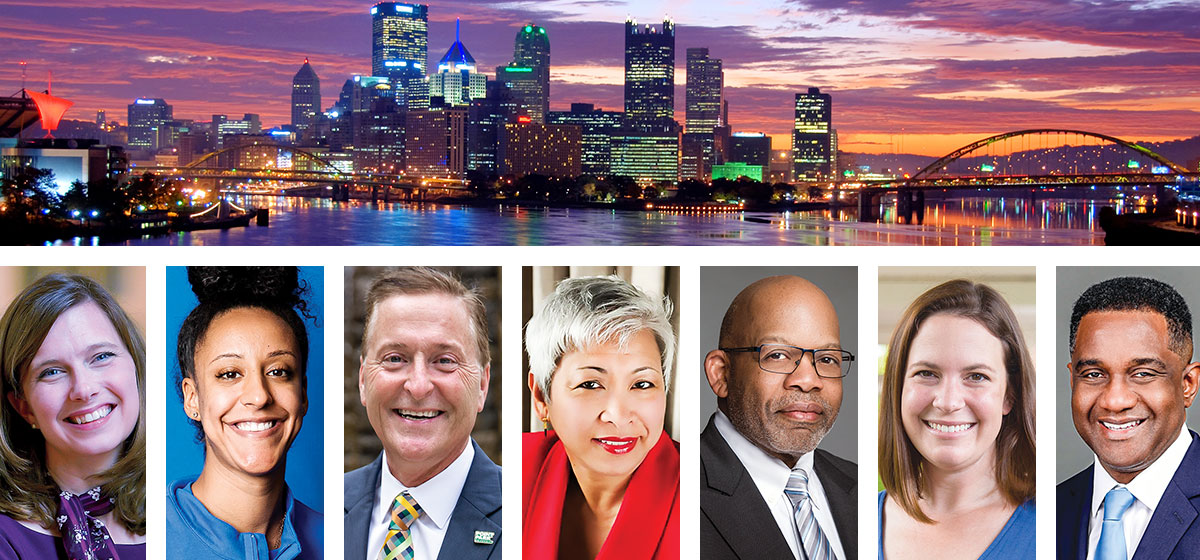 November 17, 2021
The Rev. Austin Crenshaw Shelley will become the senior pastor and head of staff at Shadyside Presbyterian Church on Sept. 27. Currently associate minister at the Presbyterian Church of Chestnut Hill in Philadelphia, Rev. Shelley is nearing completion of her Ph.D. in practical theology homiletics at Princeton Theological Seminary, where she received a master's of theology and master's of divinity. Her undergraduate degree in English literature is from Columbia College in South Carolina. She and her husband Mark have four children.

Brianna Kiesel, a former WNBA star, was named an assistant women's basketball coach at the University of Pittsburgh in June, returning to her alma mater after a six-year professional career. Kiesel was Pitt's all-time leader in minutes played, fifth in career points and the only player in Pitt history to finish her career with at least 1,500 points, 500 rebounds and 400 assists. As a senior in 2014–15, Kiesel led the Panthers to their first NCAA tournament in six years. She was drafted by the Tulsa Shock and went on to play for five teams in four different countries (Poland, Sweden, Hungary and Israel). She will be married in October at Heinz Chapel, near the Varsity Walk where the names of standout athletes, including hers, are engraved.
Donald J. Green is Point Park University's eighth president. Green was fomerly president of Georgia Highlands College in Rome, Ga., a six-site state college within the University System of Georgia. He succeeds Paul Hennigan, who retired this summer after 16 years as president. Green has 25 years of leadership in education, including 13 years at a state university, six years at a private university and six more at a state college. He led an institutional turnaround at Georgia Highlands, where he oversaw increased enrollment and graduation rates for minority students, created an outreach campaign to the Hispanic community and increased diversification of the institution's faculty and staff.
Dr. Maureen Lichtveld is dean of Pitt's Graduate School of Public Health, where she oversees the growth of the school's seven academic departments. She also serves as professor of environmental and occupational health and is the Jonas Salk Professor of Population Health. A native of Suriname, Dr. Lichtveld studies environmental public health, focusing on environmentally induced disease, health disparities, environmental health policy, disaster preparedness, public health systems and community resilience. Before joining Pitt, Dr. Lichtveld chaired Tulane University's Department of Environmental Health Sciences in the School of Public Health and Tropical Medicine. Prior to Tulane, she spent 18 years with the U.S. Centers for Disease Control and Prevention and the U.S. Department of Health and Human Services Agency for Toxic Substances and Disease Registry.
Kevin Walker has been named president and CEO of Duquesne Light, the electric utility and its affiliates. Walker joined Duquesne Light in April 2020 as chief operating officer. He had previously worked at several utilities across the country, including American Electric Power, Con Edison and Southern California Edison. Walker is the first Black man to lead the company. He is also a military veteran and the first openly gay leader of the 140-year-old utility. The utility serves about 600,000 customers in Allegheny and Beaver counties.
Jenn Moynihan is middle school division head at The Ellis School. She joins Ellis from The Archer School for Girls in Los Angeles where she served as dean of students for grades 6 through 12. As dean, Moynihan worked closely with students, faculty and families to address the academic, social and emotional needs of students and to build a spirited school culture, including leading an initiative to reinvigorate the advisory program. A native of Lansdale, Pa., she earned a B.A. in theatre and English from Northwestern University (graduating magna cum laude) and an M.A. in secondary education from Lehigh University.
Gerard C. Adore has joined The Advanced Leadership Institute (TALI) as vice president of finance and administration. Originally from Trinidad, he is a 20-year veteran in finance. He previously served as senior finance advisor to the Secretary of Energy, and he also worked as vice president of finance and administration for a woman-owned business in the Washington, D.C. area. Adore holds an MBA in management and finance from Howard University School of Business and a B.A. in economics (with a minor in finance), also from Howard University. TALI prepares Black leaders for advancement and success, and creates more diverse, inclusive and prosperous communities.