Arkus, Diana, Talotta, McCullough, DeLuca, Samet, Coraluppi, Baer, Shea, Rust, Kernick, Henne, Silvestre, Fennell, Celli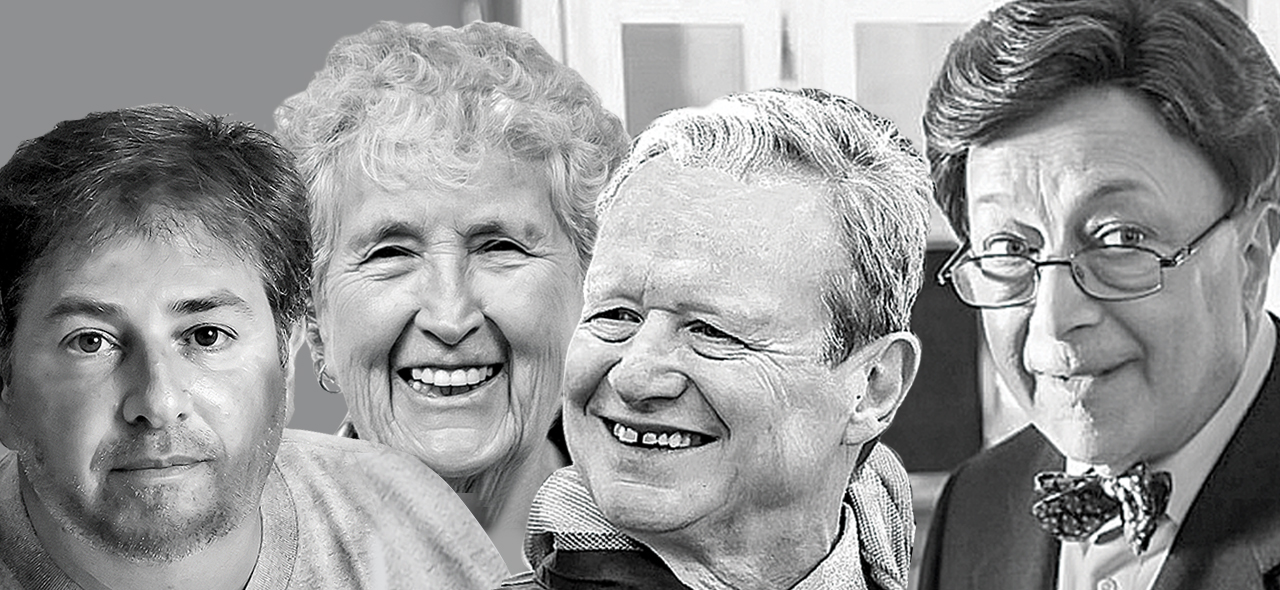 December 29, 2022
Jane Arkus, 93
As an advertising executive, Arkus helped to create the iconic "chipped-chopped ham" ads for Islay's. She joined Lando in 1951 as a copywriter and when the firm merged with Burson-Marsteller, she became its senior creative director. As a marketing consultant, Arkus worked to develop the Downtown Cultural District, WQED and the Urban League of Pittsburgh and served on numerous boards, including the Pittsburgh Cultural Trust. She married Leon Arkus, who was director of the Carnegie Museum of Art, later in life and in 2000, she was named a "Distinguished Daughter of Pennsylvania."


Peter Diana, 64
He was a sports photographer par excellence whose award-winning photos spanned three decades of covering the Steelers, Pirates and Penguins, first at the Pittsburgh Press and later, the Post-Gazette. Both well-liked and well-respected, he made many friends among the athletes and fellow photographers who were his competitors. "As great a photographer as he was, he was an even better person," said Mario Lemieux.
Louis Talotta, 84
Everything about the flamboyant Talotta was tickety-too, as he liked to say. Known for his exquisite taste and sense of color, he was an interior designer for 60 years whose social register list of clients included Hillmans, Mellons and Scaifes. Through his firm, Parke Interiors, he was also involved in raising funds for numerous charities, often enlisting the talents of his fellow designers. Talotta's work was featured in The World of Interiors, Palm Beach Cottages and Gardens and many other publications.

David McCullough, 89
America's pre-eminent historian of the past 50 years, McCullough grew up in Point Breeze and graduated from Shady Side Academy and Yale. His 13 books won him the Pulitzer Prize, two National Book Awards and the Presidential Medal of Freedom. (See page 36 fore more.)

State Rep. Tony DeLuca, 85
The longest-serving member of the state House of Representatives, the Democrat from Penn Hills spent 39 years in Harrisburg. For more than 20 years, he was minority chairman on the House Insurance Committee and was passionate about improving accountability measures for medical professionals and championing affordable health care insurance. He died of cancer, which he had battled twice before, and was an advocate of increased government funding for cancer research.
Judah Samet, 84
As a child, Samet survived the Bergen-Belsen concentration camp during WWII. In 2018, he was in the parking lot of Tree of Life synagogue when a gunman entered and killed 11 people. He escaped the deadly attack by minutes. Samet grew up in Hungary, moved to Israel after the war and joined the Israeli Defense Forces, where he fought with General Moshe Dayan for Israeli independence. He emigrated to Canada, then to Pittsburgh, where he married Barbara Schiffman and became a jeweler at her father's business, Irving Schiffman Jewelers, eventually taking over the company.

Gorgio Coraluppi, 88
An Italian immigrant, he was an inventor, mathematician and engineer whose Monroeville-based companies Compunetics, Compunetix and Chorus Call became global leaders in the manufacture and sale of printed circuit boards and the development of teleconferencing systems.

Chief Justice Max Baer, 74
Judge Baer was preparing for mandatory retirement at the end of this year when he died, leaving a void at the state Supreme Court and among his colleagues. His contributions to the juvenile court system earned him the title "The Fighting Judge," beginning in 1989 when he joined the family division of the Allegheny County Court of Common Pleas. A devoted family man, he oversaw a series of changes including extending court hours for working families, instituting education programs for parents and hiring more officers to process cases. He joined the state Supreme Court in 2003.

Jack Shea, 78
Shea spent more than 50 years advocating for workers, becoming president of the Allegheny County Labor Council in 1998. He began as an organizer for the International Union of Electrical Workers and later headed its seventh district, which went from Pennsylvania to Florida. Shea also started the Labor of Love toy drive, which donates Christmas toys to 12 local agencies.

Stirling Murry Rust III, 82
Rust was best known for building major residential developments Washington's Landing and Summerset at Frick Park. He was a third-generation construction engineer who got his start in his family's well-known Rust Engineering Co. and later started his own firm, Montgomery & Rust. An avid tennis player who was a descendant of Declaration of Independence signer Richard Henry Lee, Rust's civic involvement includes serving as board chair of Chatham University.

Cynthia Kernick, 70
An intellectual property lawyer and partner at Reed Smith, Kernick worked for years to help famed Hill District photographer Charles "Teenie" Harris reclaim thousands of photos and negatives he had sold for $3,000. She never charged a penny and promised Harris before he died in 1998 that she would secure his negatives. Two years later a jury awarded Harris's estate $5.3 million. She also represented The Andy Warhol Museum and Fred Rogers in a dispute with the Ku Klux Klan, which used a Rogers impersonator to spread messages of hate.

John "Jack" Henne, 92
He was the third generation of his family to own Henne Jewelers, a business started by his grandparents in 1887. Henne began working at the store as a boy and moved it to Walnut Street in 1978, becoming president of the Shadyside Chamber of Commerce. He was inducted into the National Jeweler's Retailer Hall of Fame in 2017. Known for his quick wit and quiet generosity, Henne was a devoted Christian who often donated anonymously to those in need. He served on the boards of Garfield Jubilee Association and Imani Christian Academy and volunteered at the Couples 2 Couples Ministry for 20 years.

Anthony Silvestre, 76
A longtime advocate for the LGBT communities, Silvestre was professor emeritus, infectious diseases and microbiology, at Pitt's Graduate School of Public Health, co-investigator for the Pitt Men's Study, and associate director of Pittsburgh's Center for LGBT Health and Wellness. He was a pioneer in AIDS research beginning in 1983, when Pitt got an early grant to study the then-mysterious disease. Silvestre also directed the HIV Care and Prevention Project and was a dharma teacher and member of the Pittsburgh-based Laughing Rivers Sangha.

Sister Marylouise Fennell, 83
Such was her style that she was called Weezie, even after becoming president of Carlow University in 1982, where she remained for seven years. A native of Connecticut, she joined the Sisters of Mercy at age 18 and taught at several colleges, including Boston University, while she helped to raise six nieces and nephews when her sister died. She traveled extensively, even living on a kibbutz in Israel, and co-wrote 18 books on higher education. She also started Hyatt-Fennell Executive Search, a firm that specializes in higher education and nonprofit groups.

Thomas Celli, 77
The Institute of Classical Architecture & Art honored his $140 million East Wing addition of the Pennsylvania State Capitol in 1986. Celli designed college libraries at Penn State and Pitt and houses of worship, including Rodef Shalom and St. Paul Cathedral. His father was Mario Celli, a founder of Celli-Flynn Architects, which he took over and renamed Celli-Flynn Brennan. The firm was involved with the David L. Lawrence Convention Center, BNY Mellon Center, and a historical renovation of the William Penn Hotel.