Wactlar, Henderson, Figgins, DeFazio, Corry, Toker
Noting the passing of prominent Pittsburghers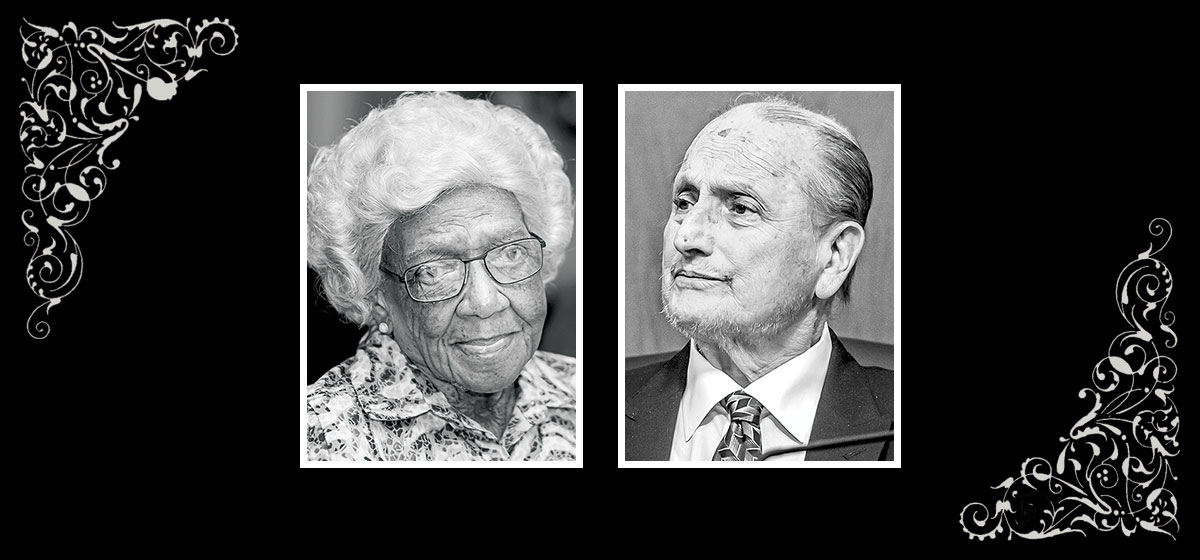 June 30, 2021
Howard Wactlar, 77: During a career of more than 50 years at the National Science Foundation and Carnegie Mellon, where he arrived in 1967 and went on to hold positions in both the School of Computer Science and the Robotics Institute, Wactlar developed an impressive array of technology and software engineering systems. He helped to launch the Software Engineering Institute and was director of the joint CMU/IBM Information Technology Center. His work in creating digital libraries was pivotal in forming The HistoryMakers, the nation's largest African American video oral history archive. Much of his research focused on useful technology for the elderly and disabled as scientific director of the NSF Quality of Life Technology Engineering Research Center.

Elsie Henderson, 107: In 1947, Henderson answered an ad for a cook and was hired on the spot by department store magnate Edgar Kaufmann to prepare meals at Fallingwater. Self-taught except for a Red Cross cooking class, Henderson was chauffeured to Fallingwater every weekend for 15 years, where she cooked for an illustrious list of guests. Years later, she collected her recipes in "The Fallingwater Cookbook: Elsie Henderson's Recipes & Memories," written by Suzanne Martinson. A proponent of farm-to-table cooking with locally sourced ingredients, she relied on her memory rather than recipes and kept track of guests' meals so they never had the same thing twice. She also cooked for H.J. Heinz II and the Kennedy family.
David Figgins, 92: Born in Belfast, Figgins adopted Pittsburgh but kept his Irish accent and his charm. A founding board member of the River City Brass Band and the Three Rivers Rowing Association, he also served on the boards of Carlow University, the Salvation Army's National Board, Pittsburgh Irish and Classical Theater, Pennsylvania Society of Professional Engineers, Pittsburgh Harlequins Rugby, The Pittsburgh Tissue Engineering Initiative and the Irish Center. A past district governor of the Pittsburgh Rotary Club and past president of the Gaelic Arts Society, Figgins helped Pittsburgh's skyline, from Heinz Hall to PPG Place, Highmark's Fifth Avenue Place, in his role as Chairman and CEO of Mellon Stuart Company.
"Jumping Johnny" DeFazio, 80: DeFazio was a star in the early days of the World Wide Wrestling Federation, wrestling from the early 1960s until the mid-1980s and winning the WWWF Junior Heavyweight Championship four times between 1965 and 1972. He was also widely known for his role in organized labor. DeFazio worked in the steel mills and won the presidency of his local union at age 29. At 36, he became the international staff representative for the United Steelworkers and later worked as the director of the United Steelworkers in Pennsylvania. In 2002 he entered local politics, winning a seat on the Allegheny County Council and serving as its president until 2019.
Charles Corry, 89: Under his watch as chairman of the board of directors and CEO of Pittsburgh-based USX, the steel manufacturing company expanded into oil and gas. He was the architect of U.S. Steel's acquisition of the Marathon Oil Company, which transformed the corporation into a major producer of hydrocarbon products. He also fought a major proxy battle with investor Carl Ichan. At age 5, Corry broke both legs in a car accident and was not expected to walk again. He went on to become an avid tennis player as well as a tax attorney. Corry was active on numerous boards and organizations, including as a Girl Scout Brownie troop leader.
Franklin Toker, 76: An architectural historian and archaeologist, Toker was the author of 10 books including "Pittsburgh: An Urban Portrait" and "Fallingwater Rising: Frank Lloyd Wright, E.J. Kaufmann and America's Most Extraordinary House." He debunked the myth that Edgar Kaufmann Jr. was the driving force behind the famous house, among other revelations his scholarly investigations uncovered about Fallingwater and other Pittsburgh landmarks. A professor for more than 40 years, he taught the history of art and architecture at CMU and later Pitt. He also led an archaeological dig beneath Italy's Florence Cathedral, leading to research that filled two volumes. Gifted with languages, he read and spoke French, Italian, German, Spanish, Latin and some Hebrew.