Favorini, DeSantis, Johnson, Virdon, Diamond, Baskin
Part II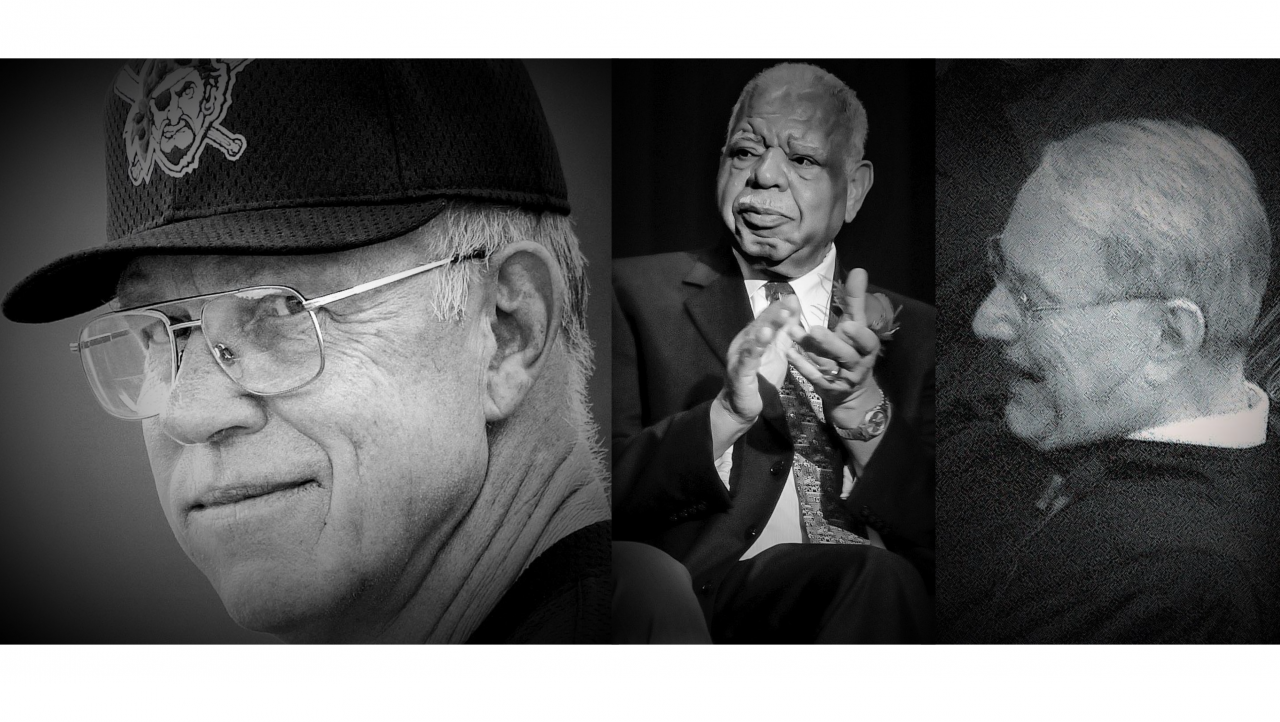 May 11, 2022
Attilio "Buck" Favorini, 78
After earning a Ph.D. in History of the Theatre from Yale, the New York City native came to Pittsburgh in 1969 and spent 50 years here, founding the Three Rivers Shakespeare Festival, which became one of the top Shakespeare festivals in America. He joined the Pitt faculty and founded the university's Theatre Arts Department in 1982. For 27 years he chaired the department, overseeing the renovation and construction of three university theaters. He authored four books and six plays and loved to cook.



John DeSantis, 69
A community activist and a longtime preservationist, DeSantis started the Pittsburgh Home & Garden Show and eventually became its owner. He began his career running the family business, Gateway Florist. At 26, he became president of the Allied Florists of Western Pennsylvania and convinced them to partner with the Builders Association of Metropolitan Pittsburgh and form the Pittsburgh Home & Garden Show. When it failed to make money the first two years, DeSantis paid the debt and took the show over. He was also among the pioneers who helped transform and revitalize the North Side. In 1990, he was appointed to lead the city's Historic Review Commission, where he served for a decade. During his tenure, the number of historic districts grew from five to 12 and he oversaw creation of the Pittsburgh Register of Historic Places.

Judge Justin Johnson, 88
Retired state Superior Court Judge Johnson was known as a "moral compass" to his colleagues, renowned for his wisdom, sense of fairness and an innate understanding of issues that informed his decisions. A Vietnam War veteran, Johnson grew up in Wilkinsburg, the son and brother of two prominent Black attorneys — his father, Judge Oliver Johnson, was an Allegheny County Common Pleas Court judge and his 93-year-old brother, Judge Livingstone Johnson, is a retired county jurist. He attended the University of Chicago and its law school and in between enlisted in the Air Force, serving as a pilot and aircraft commander and from 1963 to 1973 as a major in active and reserve duty. Johnson became the first African American to be appointed to the Pennsylvania Board of Law Examiners, remaining on the board for more than two decades. He also taught with distinction at Duquesne Law School.

Bill Virdon, 90
A major league Rookie of the Year, Virdon was traded in 1956 to the Pirates, where he became a Gold Glove centerfielder and runner up for the National League batting title. He played major roles in perhaps the most ecstatic and heartbreaking games in Pirates history. In the 1960 World Series, he hit the ground ball that took a strange hop and hit Yankees shortstop Tony Kubek in the throat, starting the rally that ended with Bill Mazeroski's historic bottom-of-the-ninth series-winning homer. In 1972 ­— the first of his 18 years as a big league manager — he led the Pirates to the National League East title but lost the deciding game in the playoffs when Bob Moose's bottom-of-the-ninth wild pitch allowed the Cincinnati Reds' George Foster to score the winning run. It was also Roberto Clemente's last game.

Judge Gustave Diamond, 93
A Burgettstown native who won a football scholarship to Duke and served in the Navy after World War II, he was Western Pennsylvania's top federal prosecutor before President Jimmy Carter appointed him in 1978 to the federal bench here. Judge Diamond then served for nearly 40 years, becoming a senior judge in 1994 until his retirement in 2017. He was beloved as a friendly man, mentor and model jurist who tried to follow transcendent virtues as he sought to fairly administer the law. His biggest case was the 1985 Major League Baseball drug trials, a national scandal in which many players including several Pirates were tried for using drugs.

Seymour Baskin, 96
A Brooklyn native and veteran of the Navy, Baskin earned his law degree at the University of Pittsburgh and became a partner of the firm Baskin, Sachs, Gondelman and Craig. In 1969, he formed the National Development Corporation, a national nonprofit which provides affordable and conventional housing throughout the East Coast. NDC has raised nearly $1 billion in equity from private investors and built nearly 13,000 housing units. He served as chairman of the board until he retired and also served as special counsel to the Department of Urban Affairs and Federal Housing Administration.