McCarroll, Maneval, Medlar, Barrett, Rieck, Benoit
Professionals new to Pittsburgh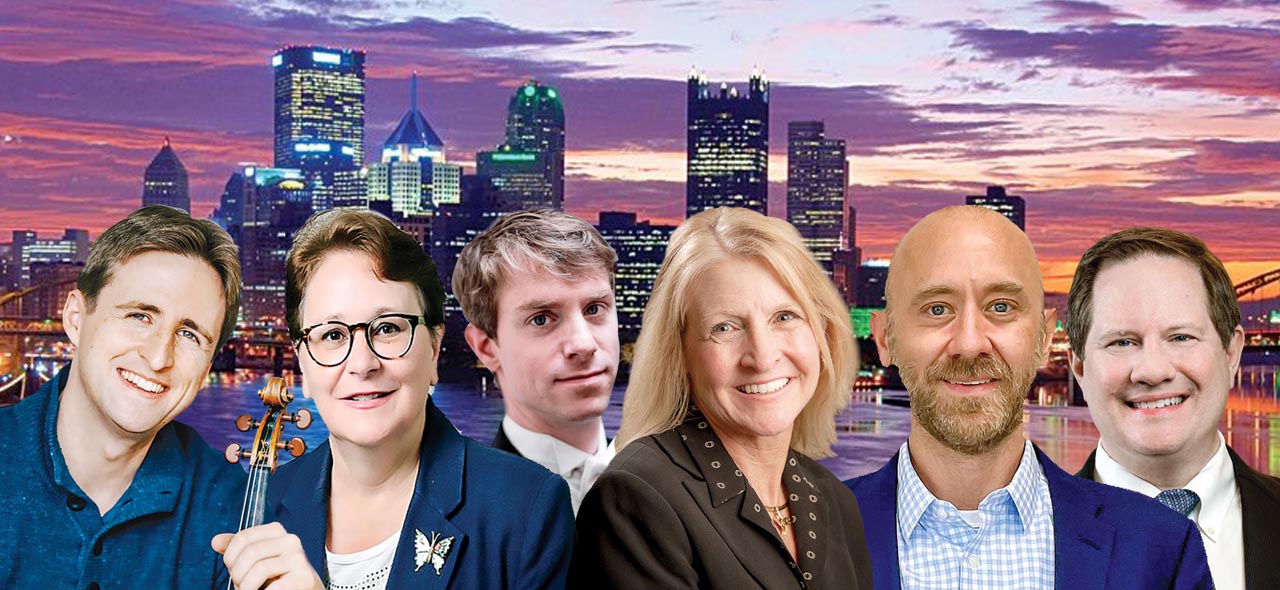 October 13, 2022
David McCarroll has been appointed concertmaster of the Pittsburgh Symphony Orchestra, holding the Rachel Mellon Walton Concertmaster Chair beginning with the 2022-2023 season. McCarroll joined the orchestra as concertmaster for its European tour in August and will make his Pittsburgh debut in September. He performs regularly around the world with major orchestras and as a chamber musician, playing at festivals including Marlboro, Lucerne, and Schubertiade. From 2015-2022, he was the violinist of the famed Vienna Piano Trio, with whom he toured and recorded extensively. McCarroll received his master's degree from the New England Conservatory of Music and an Artist Diploma from the Hanns Eisler Academy in Berlin. He was the winner of the 2012 European Young Concert Artists Auditions and plays on an A&J Gagliano violin made in 1761.



Rhonda Maneval, formerly vice dean and professor for the College of Health Professions and the Lienhard School of Nursing at Pace University, was named dean of Carlow University's College of Health and Wellness in July. Maneval has a D.Ed. from Penn State and a master of science in nursing from Villanova University. Her background in higher education spans three decades and includes Michigan State University, Temple University, and Harrisburg Area Community College. Her work in educational leadership focuses on decreasing health disparities through educational advancement and diversification of the health professions workforce. Maneval has received many awards for teaching and leadership and has led the establishment of regional and national faculty development programs.
Andrew Medlar is the new president and director of the Carnegie Library of Pittsburgh. He replaced Mary Frances Cooper, who retired at the end of 2021 after a decade-long career with the system. He is the 12th president in the library's 126-year history. Medlar was formerly director of BookOps at the New York Public Library in New York City. The board spent six months searching nationally for a president and the selection of Medlar was unanimous, according to board chair Patrick Dowd. He is cited for his work to increase community engagement, facilitate library shared services and improve equity, diversity, and inclusion.
Edith Barrett became dean of Chatham's School of Arts, Science and Business on Aug. 1. Previously she held academic leadership roles at the University of Connecticut and the University of Texas at Arlington. She served as associate dean for Social Sciences, Regional Campuses, and Community and Global Affairs in the University of Connecticut's College of Liberal Arts and Sciences. Prior to this position, Barrett was the director of the Urban and Community Studies program. During her tenure at UConn, she helped develop new programs and modify existing programs, especially expanding interdisciplinary majors designed to fit the changing needs of society. Barrett received a bachelor of science in psychology from Baylor University, and an master of science and Ph.D. in psychology from Northwestern University.
Michael Rieck became president of Zambelli Fireworks in June, just in time for the local company's first Fourth of July celebration in Pittsburgh since 2014. Rieck, a native of Wexford, moved back to Pittsburgh from Los Angeles. He has spent the past 25 years working as a controller for health care organizations from New York to Los Angeles, as well as in South Africa, India and Europe, including Heal, a medical services company funded by Humana, Gebbs Healthcare Solutions, Real Capital Analytics and FCB Health, which is now part of Interpublic Group. He was brought in as chief financial officer in February by owner George Zambelli Jr., a cataract surgeon who is CEO, and subsequently promoted to president of the family-owned company based in Warrendale. The company produces more than 1,600 shows annually.
After serving in a similar role with the Seattle Symphony, James Benoit has joined the Pittsburgh Symphony Orchestra as principal timpanist. Previously, Benoit was associate principal percussionist and assistant principal timpanist of the Fort Worth Symphony Orchestra and he spent four seasons as a section percussionist with the Sarasota Opera. An avid educator and supporter of music in the classroom, Benoit has served on the faculty at the University of Pittsburgh and taught at the Luzerne Music Festival and with Associate Solo Artists, a nonprofit that provides programs to children, teachers, businesses and social establishments in New York schools. A native of Niskayuna, N.Y., Benoit received an Artist Diploma from Duquesne University, his master of music from The Juilliard School, and his bachelor of music from Berklee College of Music.