Bajeux-Besnainou, Mohebbi, Kim, Kahn, Davies, Meyers, Campbell-Golden
Professionals new to Pittsburgh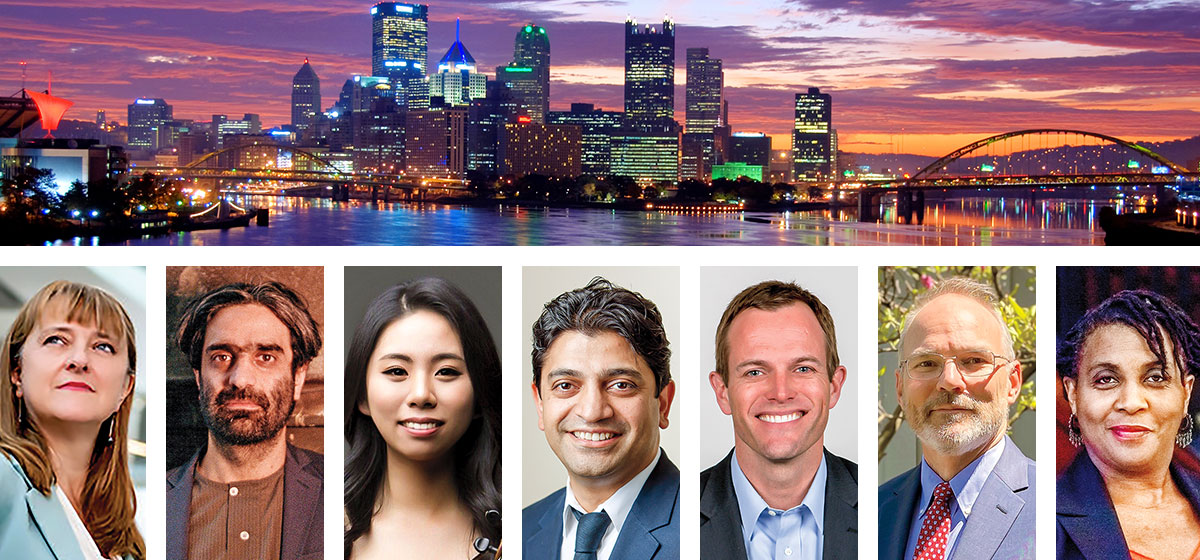 November 9, 2020
Isabelle Bajeux-Besnainou will become the 10th dean of Carnegie Mellon University's Tepper School of Business on Oct. 15. She will also hold a faculty appointment as a professor of finance. She is currently dean of McGill University's Desautels Faculty of Management.

During her tenure, she focused on interdisciplinary collaborations, experiential learning and entrepreneurship. This included creating a series of interdisciplinary minors in entrepreneurship for undergraduate students, as well as multi-level programs in data analytics. Bajeux-Besnainou hired 49 full-time professors and led the expansion of Desautels' physical facilities including a new home for McGill's MBA and specialized master's programs, a project entirely supported by philanthropy. She was selected after a year-long global search and chosen from among 400 candidates.
Sohrab Mohebbi has been chosen as the Kathe and Jim Patrinos Curator of the 58th "Carnegie International," the longest-running survey of contemporary art in North America. The "International," which will open in 2022, has been the museum's signature exhibition since its establishment in 1896. Mohebbi is a curator, art critic and writer and comes to Pittsburgh from New York where he most recently served as curator at SculptureCenter. He previously worked at REDCAT and Hammer Museum in Los Angeles and the Queens Museum in New York. Mohebbi received an M.A. from the Bard College Center for Curatorial Studies and a B.F.A. in photography from Tehran Art University.
Yeokyung Kim has been appointed to the position of section second violin with the Pittsburgh Symphony Orchestra. She played with the orchestra as a full-time substitute from September to December 2019, including the orchestra's 2019 European Cities Tour. Originally from Daegu, South Korea, Kim began violin study at the age of 3, and at the age of 12 played as soloist with the Seoul Philharmonic Orchestra. She studied at the Yewon Arts School and Seoul Arts High School, and while there won numerous national solo competitions. Kim received bachelor's and master's degrees from Seoul National University, and completed an artist diploma at the Colburn School in Los Angeles.
Omar Kahn is the new head of the School of Architecture at Carnegie Mellon University. He was previously chair of the Department of Architecture at the University at Buffalo, State University of New York. Khan co-directed the Center for Architecture and Situated Technologies (CAST), where he focused on research involving computing technologies that intersect with architecture. He also oversaw new graduate programs, developed collaborations between the university and industry leaders and brought in facility improvements during his tenure at the University at Buffalo. Kahn received a bachelor of architecture degree from Cornell University and a master's degree in design and computation from Massachusetts Institute of Technology.
Brad Davies is the head of Shady Side Academy's Junior School. Davies currently serves as K–8 director and associate head of school at Dawson School, an independent day school in Colorado. Prior to his arrival at Dawson, Davies served as head of school at Evergreen Country Day School in Evergreen, Colo. Davies also spent nine years at Louisville Collegiate School in Louisville, Ky., where he served as acting head of school, assistant head of school, and head of both the upper and middle schools. A native of Minnesota, he holds a B.A. in American studies from Stanford University, where he captained the men's soccer team, was class president and studied abroad in Ecuador, and a master of divinity from Duke University, where he was a Lilly Fellow.
D. Mark Meyers is dean of the School of Nursing, Education and Human Studies at Robert Morris University. Previously he was a professor of education at Xavier University in Cincinnati and program director for educational administration there. Between 2007 and 2014, he was dean of the Xavier's College of Social Sciences, Health, and Education. He led the creation of international partnerships in six countries while overseeing development of more than 30 new programs of study and over $9 million in grant funding. Meyers is the co-author of several education textbooks and the editor of the Ohio Journal of Teacher Education. He is past president of the New Jersey Association of Colleges of Teacher Education. He received his B.A., M.Ed. and Ph.D. from the University of Florida.
Carolyn Campbell-Golden is vice president of development and alumni engagement at Washington & Jefferson College. A native of Kentucky, she comes to W&J from Auburn University, where in 1999 she established the university's Office of Corporate and Foundation Relations, setting the stage for future successful capital campaigns. In 2007, she became vice chancellor for advancement at Auburn Montgomery (AUM), where she served as a member of the university's senior leadership team and led the university's alumni and development efforts. She has a master's degree in management from Faulkner University and master's and doctorate degrees in higher education administration from Auburn.