Jaffe, Ali, Hall, Sabundayo, Chakraborty, Rothenberger
Professionals new to Pittsburgh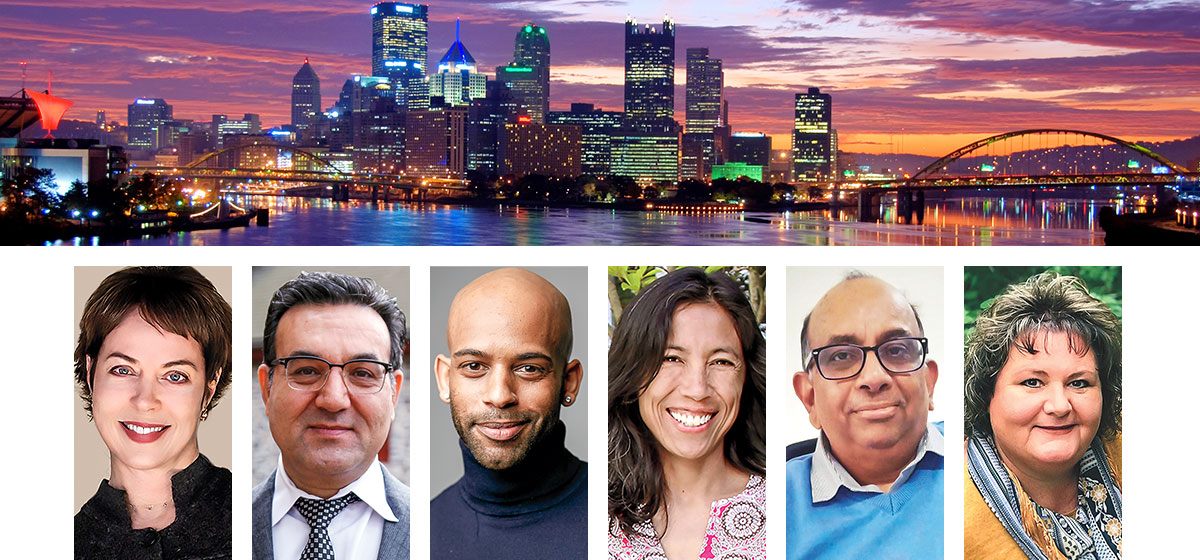 July 27, 2020
Susan Jaffe is Pittsburgh Ballet Theatre's new artistic director, succeeding Terrence Orr. Jaffe was an American Ballet Theatre principal for 22 years, hailed by The New York Times as "America's quintessential American ballerina."

She has also performed internationally with The Royal Ballet, The Kirov Ballet and others. One of the highlights of her career was performing her first "Swan Lake" with Mikhail Baryshnikov. She retired from the stage in 2002 and co-founded, owned and directed a dance studio and from 2003-2012 taught in the Jacqueline Kennedy Onassis School of ABT, becoming ballet mistress. Also a choreographer, she has created works for ABT and others. Since 2012, Ms. Jaffe has been the dean of dance at the University of North Carolina School of the Arts in Winston-Salem. She's also a board member for the Youth America Grand Prix and Dance Magazine Awards. In 2003, Dance Magazine honored her with a lifetime achievement award.
Amjad Ali is the dean of the School of Informatics, Humanities and Social Sciences at Robert Morris University. Most recently, Ali was associate dean and professor of information technology and cybersecurity in the School of Applied Science and Technology at Thomas Edison State University in Trenton, N.J., which he joined in 2016. For the previous 12 years he held several roles at the University of Maryland, including director of its Center for Security Studies and advisor to the president. He is also the former manager of continuing education at the American Council of Engineering Companies in Washington, D.C., and the former dean of DeVry University's Keller Graduate School of Management in New York City. Ali has a B.S. from the University of Engineering and Technology in Pakistan, and master's and doctoral degrees from George Washington University.
Joseph Hall returns to Pittsburgh as the new executive director of the Kelly Strayhorn Theater in East Liberty, replacing Janera Solomon. Hall worked with the theater from 2009–2014, beginning as an intern and eventually becoming producing director of the 106-year-old theater. Most recently, Hall was the deputy director of BAAD! The Bronx Academy of Arts and Dance, a 20-year-old organization in New York City. During his five years there, Hall tripled the organization's budget, grew its administrative and production staff, expanded programming and initiated local and national partnerships for touring. In Pittsburgh he co-founded the Pearl Diving Movement Residency and co-curates TQ Live!, a performance series featuring artists from the LGBTQIA community.
Trixie Sabundayo will become head of Shady Side Academy's Senior School on July 1. Currently, Sabundayo serves as head of the upper school at Princeton Day School, an independent school in Princeton, N.J., where she leads more than 400 students and 70 faculty. Previously, Sabundayo spent 14 years at Marin Academy in San Rafael, Calif., and taught and coached at Harvard-Westlake School in Los Angeles as well as Isidore Newman School in New Orleans. A native of Maryland, Sabundayo earned a bachelor's degree in English from Johns Hopkins University, where she captained the field hockey and lacrosse teams; she holds a master's degree in English from Middlebury College.
Debasish Chakraborty is the new dean of the School of Business at Seton Hill University. Previously, Chakraborty was a professor of economics and served as assistant dean and director of the MBA Program at Central Michigan University. Before that he was an assistant professor of economics at the University of Central Arkansas and at Thiel College. He has also served as visiting faculty at the University of Wales Newport, at Northwood University and at the University of Queensland, Australia. Chakraborty received his bachelor's degree in economics from St. Xavier's College and his master's degree in economics from Calcutta University, both located in his native Calcutta, and a Ph.D. in international economics from the University of Pittsburgh.
Margaret "Maggie" Rothenberger has been appointed president and CEO of Partners For Quality. The nonprofit organization and its family of agencies are leading providers of intellectual and developmental disability and behavioral health services in western Pennsylvania. A native of Rhode Island and graduate of Penn State, Rothenberger has served for the last three years as director of residential services for KenCrest, a nonprofit provider headquartered in Blue Bell, Pa. During her tenure of 22 years, she was responsible for multimillion-dollar budgets and a staff of more than 1,000. Rothenberger implemented new programs which have become statewide models for home-based, supported living and life-sharing residential services.