Pennell, Gregovits, Pauls, Johnson, Capogrosso, Hutton, Bonham
Professionals new to Pittsburgh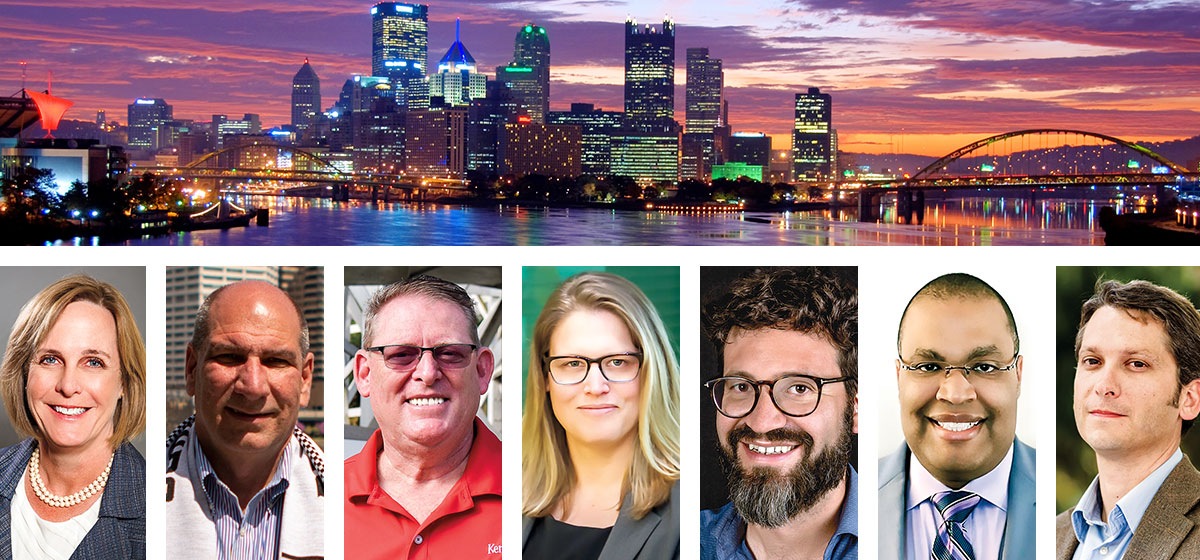 August 30, 2021
Page B. Pennell, M.D. will become the next chair of the Department of Neurology at the University of Pittsburgh's School of Medicine on July 1. She comes to Pitt from Harvard Medical School, where she is a professor and vice chair for academic affairs in the Department of Neurology. She also directs research in the Division of Epilepsy at Brigham and Women's Hospital and maintains a secondary appointment in the Division of Women's Health. Dr. Pennell has authored more than 140 original research manuscripts, articles, editorials and chapters in her field. She has served as president of the board of directors for the American Epilepsy Society and as chair of the Professional Advisory Board of the Epilepsy Foundation. Dr. Pennell earned her M.D. at the University of Florida before completing both a residency and fellowship at the University of Michigan.

Vic Gregovits, a longtime sports executive, is the new president of the Pittsburgh Riverhounds. The appointment brings home a Pittsburgh native with more than 30 years of experience in sports management. He began as an intern for the Pittsburgh Spirit indoor soccer team and then embarked on a career that has included stints with the Minnesota Strikers indoor soccer team, the Cleveland Cavaliers, the Cleveland Indians, the Philadelphia Eagles, the San Antonio Commanders of the Alliance of American Football, the Pittsburgh Pirates and, most recently, he was president of the Louisville Bats, the Class AAA minor league affiliate of the Cincinnati Reds.
Mark Pauls is the new general manager of Kennywood Park, "America's Most Thrilling Historic Landmark." Most recently he was park president at SeaWorld Orlando & Aquatica, and prior to that he was the corporate VP of operations for SeaWorld Parks and Entertainment. Pauls also spent time at Busch Gardens, Tampa as VP of operations. Prior to his time in Florida, he spent 37 years in Williamsburg, Va., most notably serving as VP of operations at Busch Gardens, Williamsburg and VP of Water Country USA.
Ellen V. Johnson has been appointed vice president for enrollment management at Allegheny College. She will serve as the chief enrollment officer and also will be responsible for the overall leadership of the Offices of Admissions, Financial Aid and Marketing & Communications. Johnson has 20 years of experience in higher education enrollment, financial aid, marketing and communications. She most recently served as vice president for enrollment management at The College of St. Scholastica in Minnesota.
Marco Capogrosso is an assistant professor in the University of Pittsburgh's department of Neurological Surgery where he will work on developing neurotechnologies for movement recovery of people with motor paralysis. A native of Manduria, Puglia, Italy, he comes to Pittsburgh from Switzerland where he lived in the Lake Geneva area. He is a former Swiss National Science Foundation Ambizione Fellow at the Department of Neuroscience of the University of Fribourg, in Switzerland. He has a bachelor's degree in physics and a master's in applied physics from the University of Pisa, in Italy, and also a Ph.D. in biomedical engineering from the Scuola Superiore Sant'Anna in Pisa.
Brian Hutton Jr. has joined WTAE-TV as a weekend meteorologist, replacing Cam Tran, who took a job at WESH-TV in Orlando. Returning to western Pennsylvania was important for Hutton, a Johnstown native, and his wife, whom he met while earning his meteorology degree at California University of Pennsylvania. He earned a master's degree in broadcast meteorology at Mississippi State University and previously worked at stations in Meridian, Miss., and Raleigh, N.C.
Curan Bonham has joined the Richard King Mellon Foundation as a program officer. He comes to the foundation from the Washington, D.C. area, where he was director of investments for Conservation International, working on innovative conservation-finance projects. Bonham has lived and worked in Italy and India. He was a Peace Corps volunteer in Guatemala and a Fulbright Scholar in Chile. Bonham is a graduate of Cornell University, with a master's in international resource management from the University of Montana.