Myers, McCarthy, Gerritt, Felix, Caridi, Bali, Johnson-Roberson
Professionals new to Pittsburgh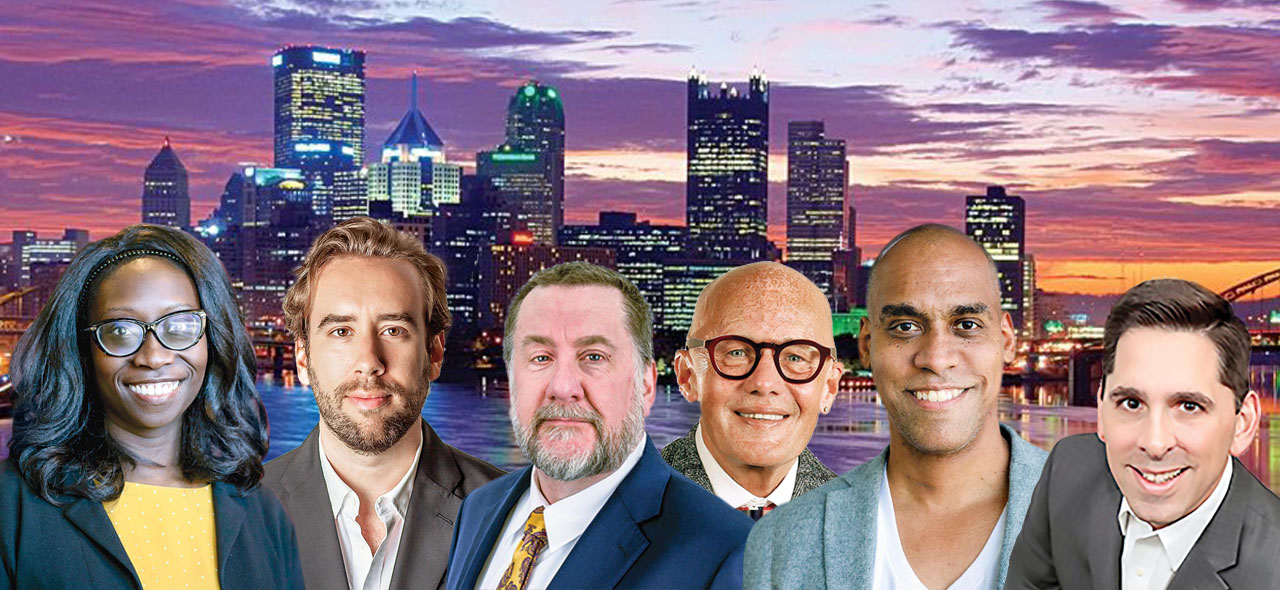 August 18, 2022
Timothy L. Myers is president and CEO of Baptist Senior Family, which runs Providence Point in Scott Township and Baptist Homes in Mt. Lebanon. He grew up in New York and northern Maine and has spent his career in the long-term senior living and care industry. Myers comes to Pittsburgh from the Washington, D.C. area where he was CFO and COO at Rockville, Md. — based Ingleside, which has three full-service Life Plan Communities serving about 1,100 residents. He previously was CFO of The Kendal Corporation. He earned a bachelors degree in accounting from Lycoming College, attended business classes at Rutgers Law School and earned a certificate in ancient history from the University of Wales.


Jeremiah William McCarthy
is the curator of American Art at the Westmoreland Museum of American Art, succeeding Barbara Jones. A native of New York City, McCarthy comes to Greensburg from Tarrytown, N.Y., where he was a guest curator of the inaugural exhibition of the new David Rockefeller Creative Arts Center, a collaboration with The Pocantico Center of the Rockefeller Brothers Fund. At the Westmoreland, he will be responsible for generating original exhibitions, identifying exhibitions to bring to the museum, and organizing traveling exhibitions. He received a B.A. in art history from The Macaulay Honors College at CUNY and an M.A. in art history from Hunter College. Alongside his curatorial work, he has taught extensively in museums.
Jeffery Gerritt
is the editorial page editor of the Pittsburgh Post-Gazette. He previously was the editor of the New Castle News and Sharon Herald, deputy editor of the Toledo Blade and editor of the Herald-Press in Palestine, Texas. Gerritt won the Pulitzer Prize in 2020 for his reporting project "Death Without Conviction" on the deaths of pre-trial detainees in an East Texas jail due to insufficient medical care and indifference of local authorities. A Wisconsin native, he has a bachelor's degree in philosophy and music from the University of Wisconsin, and a master's degree in journalism from Marquette University in Milwaukee. He is also a former professional drummer, construction and factory worker, security guard, house painter and machine operator.
Vivienne Felix
is associate dean of students and director of the Center for Professional Pathways at Washington & Jefferson College. She was most recently associate director of experiential learning for the Steinhardt School of Culture, Education, and Human Development at New York University. She worked in college and nonprofit fundraising, coordinated living and learning communities, managed programming centered on high school-to-college transitions, and developed experiential education initiatives. A native of New York, Felix earned a B.A.in international affairs from Lafayette College, an M.A. in education from the University of Connecticut, and an M.S. in professional writing from New York University. She has a Ph.D. in higher education administration from Bowling Green State University.
Jamie Caridi
is interim president of Bethany College, West Virginia's oldest private college. Caridi is the founder and president of Terra Firma Consulting Services in Columbus, Ohio, and has been working with Bethany since May of last year to assess the state of the college and develop and implement a three-year strategic plan that will impact virtually every aspect of the college. He has more than 20 years of experience in higher education, including having served as V.P. for student development and dean of retention at Ohio Dominican University, and assistant V.P. and dean of students at St. Vincent College. He has a B.A. in biology from St. Vincent College, a master's degree in education from Geneva College, and a Ph.D. in education from the University of Nebraska-Lincoln.
Sunjay Bali
is the executive director of the Corporate College and Strategic Initiatives at Pittsburgh Technical College. He oversees the college's ongoing expansion efforts into emerging markets and is responsible for cultivating and increasing corporate foundation and government connections through the Corporate College. In his previous role at Lone Star College in Houston, Bali led customized training sales and development for the school's Corporate College. He has an M.B.A. from the University of Strathclyde in Scotland, a PMP certification, and an executive leadership certificate from Queen's University in Kingston, Canada. He was born in Dar es Salaam, Tanzania and has lived abroad his entire life before settling in the U.S. five years ago.
Matthew Johnson-Roberson
is the director of Carnegie Mellon University's Robotics Institute. A native of New York City, he comes to Pittsburgh from Ann Arbor, Mich., where he was associate professor of engineering in the University of Michigan's Department of Naval Architecture and Marine Engineering and the Department of Electrical Engineering and Computer Science. He was also co-director of the UM Ford Center for Autonomous Vehicles, founder and director of the Deep Robot Optical Perception Lab, and co-founder of Refraction AI. He has a bachelor of science degree in computer science from Carnegie Mellon University's School of Computer Science, and a Ph.D. in robotics from the University of Sydney. He has worked in robotic perception since the first DARPA grand challenge and his research focuses on enabling robots to better see and understand their environment.