Baker, Talotta, Franco, Hearn, Reeves, Ramachandran
Professionals new to Pittsburgh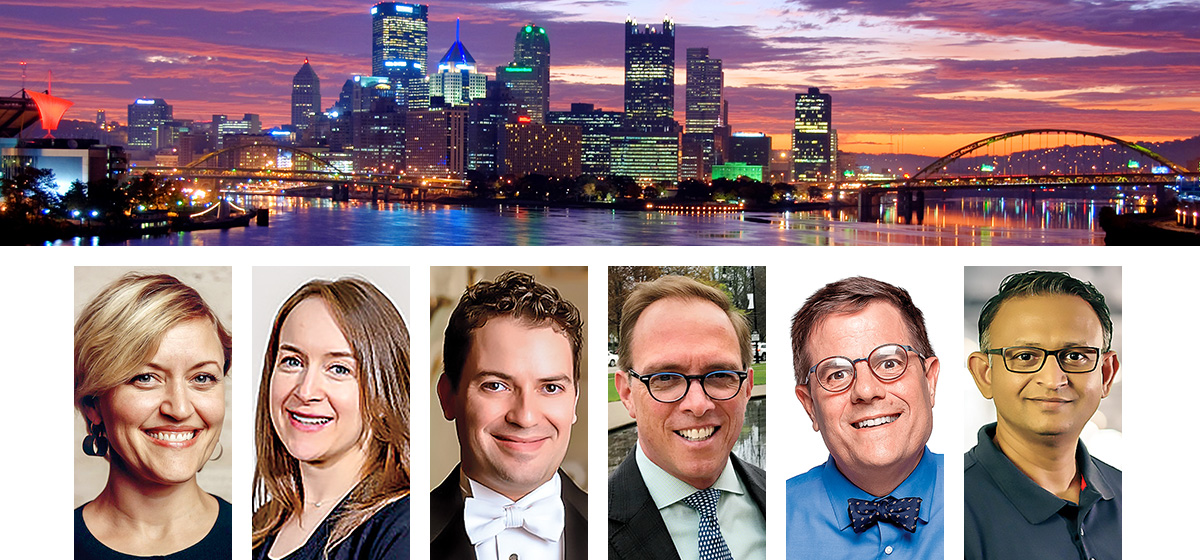 April 5, 2021
Gretchen Baker will become the Daniel G. and Carole L. Kamin Director of the Carnegie Museum of Natural History on April 1. Baker is currently the managing director for museum experience at the Lucas Museum of Narrative Art in Los Angeles.

She previously served as vice president of exhibitions for the Natural History Museums of Los Angeles County, which include the Natural History Museum in Exposition Park, La Brea Tar Pits in Hancock Park, and the William S. Hart Museum in Newhall, Calif. She began her career as a member of the scientific research staff at the Field Museum in Chicago and eventually became deputy director of exhibitions. A graduate of Kenyon College, Baker pursued graduate studies in landscape architecture at the University of California, Berkeley.
Mary Anne Talotta has been appointed senior vice president and chief development officer of the Pittsburgh Symphony Orchestra. She joins the symphony from the Solomon R. Guggenheim Museum in New York City, where she has led fundraising efforts since 2012, most recently as the senior director of individual development and campaign. She has more than 20 years of experience in global fundraising for major institutions in New York and Chicago. Talotta will serve as a member of the senior management team and will provide leadership and direction for the orchestra's development team. A Pittsburgh native, Talotta holds an M.A. in visual arts administration from New York University and a B.S. (cum laude) from Northwestern University.
Andrés Franco, the former resident conductor of the Pittsburgh Symphony Orchestra, is the new executive director of City of Asylum. Recognized globally for providing sanctuary and community for endangered literary writers, City of Asylum is now in its 16th year. A native of Medellín, Colombia, Andrés Franco became a U.S. citizen in 2015. A frequent guest conductor in the United States, Europe and South America, he has a degree in piano performance from the Pontificia Universidad Javeriana in Bogotá, Colombia, as well as master of music degrees in piano performance and conducting from Texas Christian University.
Kevin Hearn is vice president for enrollment management at Robert Morris University. Most recently, he was vice president for enrollment management and strategic communications at Chestnut Hill College in Philadelphia. Hearn has previously held leadership positions at Niagara University in Lewiston, N.Y., and Dean College in Franklin, Mass. He has a degree in political science from Le Moyne College, a master's degree in counseling and educational psychology from Rhode Island College, and a doctorate in educational leadership from Nova Southeastern University.
Tim Reeves began work Jan. 1 as the first-ever senior communications officer at the Richard King Mellon Foundation, the region's largest philanthropy. His charge is to advance the foundation's mission through communications, as part of its new strategic plan. He came to the foundation from Boston- and Philadelphia-based advertising and PR agency Allen & Gerritsen, where he was one of three owners and head of its public relations practice. Previously, Reeves was press secretary to former Gov. Tom Ridge and remains today the longest-serving gubernatorial press secretary in state history. He joined Ridge from the Post-Gazette, where he covered state government and politics. Reeves grew up in Penn Hills and Wilkinsburg and is a graduate of Allegheny College.
Bhaskar Ramachandran is vice president and chief information officer of PPG. Ramachandran joins PPG from Jabil, an American worldwide manufacturing services company, where he led the creation of a transformative strategy to introduce a fully cloud-based connected ecosystem to make production more efficient and cost-effective. His previous employers include Textron, Sybase, Prudential Financial and PricewaterhouseCoopers. Ramachandran earned a bachelor's degree in chemistry from Madras University in Chennai, India, an advanced diploma in information systems from the National Institute of IT in India, and a master's degree in business administration from Duke University's Fuqua School of Business.