Knapp, Kelly, Lamar, Golenor, Cornetti, Flisram, Martorella
Professionals new to Pittsburgh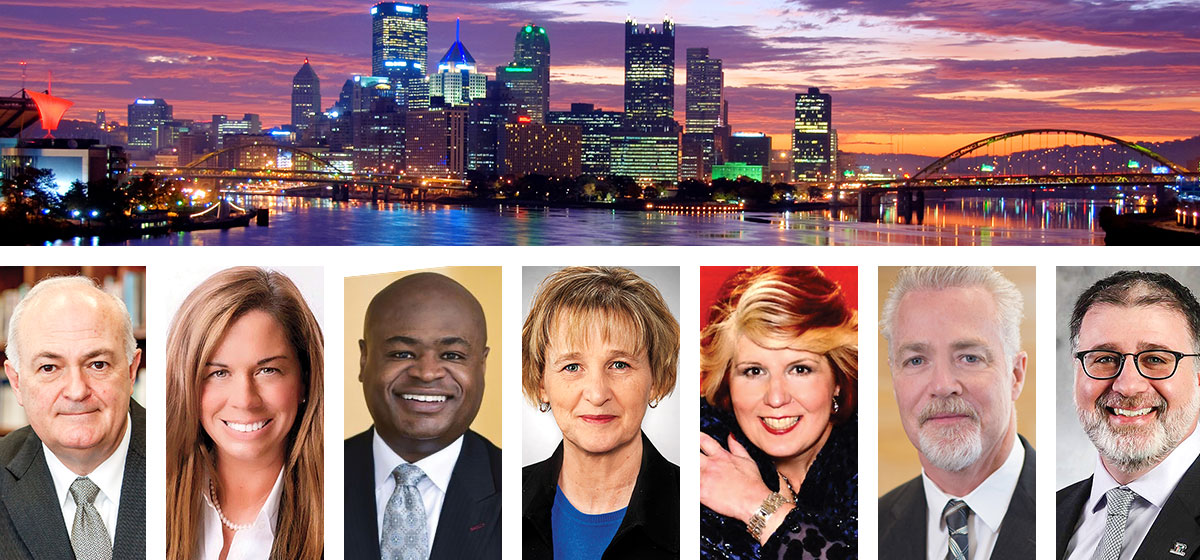 May 11, 2020
Steven Knapp is the Carnegie Museums of Pittsburgh's 11th president. Knapp is president emeritus of George Washington University in Washington, D.C., where most recently he was a professor of English.

Prior to joining GW, he served for 11 years as provost and senior vice president for academic affairs at Johns Hopkins University in Baltimore. During Knapp's 10-year tenure as GW's president, he spearheaded the university's collaboration with the Corcoran Gallery of Art and the National Gallery of Art, through which the Corcoran College of Art and Design was transferred to GW and became the Corcoran School of the Arts and Design. Knapp earned his bachelor's degree at Yale University and his master's and doctoral degrees at Cornell University.
Laura Kelly is vice president of global partnerships and development for Brother's Brother Foundation. Previously, Kelly was director of development in BBF's Virginia office. Her responsibilities include expanding and strengthening partnerships with private donors, corporations, and foundations, and spearheading the organization's communications and development strategies in Pittsburgh and worldwide. Early in her career, Kelly was instrumental in building the Raider Brigade Fallen Soldier's Memorial in Fort Stewart, Ga. She also worked on the development staff at the West Point Association of Graduates, United States Military Academy, West Point, N.Y.
Marty Lamar is Pittsburgh's new chief economic development officer. After stints in Atlanta, Seattle, Philadelphia and Toledo, he has been charged with implementing Mayor Bill Peduto's development vision, including coordinating planning and permitting, public housing, land banking and redevelopment activities. From 2018—2019, he was regional vice president for McCormack Baron Management, responsible for monitoring low-income housing in Missouri and Illinois. LaMar holds master of arts degrees in public administration and social work from the University of Washington-Seattle, and in business administration from Brenau University. He has a bachelor's degree in finance from Alabama A&M University.
April Golenor is chief Medicare officer for UPMC Health Plan. During her 25-year career, Golenor has led Medicare plans for the Humana Gulf States Region, and was CEO of Care Wisconsin, UnitedHealthcare's Bayou Health Medicaid plan in Louisiana and CEO of Soundpath Health in Washington. She will oversee the Medicare line of business for UPMC Health Plan, including the dual-eligible Special Needs Plans. A native of Southern California, Golenor earned a bachelor's degree in business administration at California State University­-San Bernadino and a Lean Six Sigma Black Belt from Villanova University.
Marianne Cornetti, an internationally recognized mezzo-soprano, is the Pittsburgh Festival Opera's artistic director, focusing on long-term artistic planning, artistic leadership for the current season, board development and fundraising. Founded in 1978 by another famous mezzo-soprano, Mildred Miller Posvar, Pittsburgh Festival Opera lauded Cornetti's 30-plus years as a performer in the world's leading opera houses. She is a native of Butler County.
Greg Flisram is executive director of the Urban Redevelopment Authority and the chief development officer for Pittsburgh. Flisram was interim president and CEO of the Economic Development Corporation of Kansas City, which is credited with creating 3,500 jobs and managing $1 billion of capital investment per year. Previously, he worked as development director for the city of Green Bay, Wis. He has a bachelor of arts in economics and a master of arts in Urban Planning from the University of Wisconsin-Milwaukee.
Drew Martorella is assistant vice president and managing director of Point Park University's Pittsburgh Playhouse, responsible for developing programming, audiences and cross-disciplinary education. He was previously executive director of UCCS Presents at the University of Colorado, Colorado Springs, responsible for building support for the arts and fostering community engagement.