Shelter from the Storm
Can the region become an island of resiliency in a changing climate?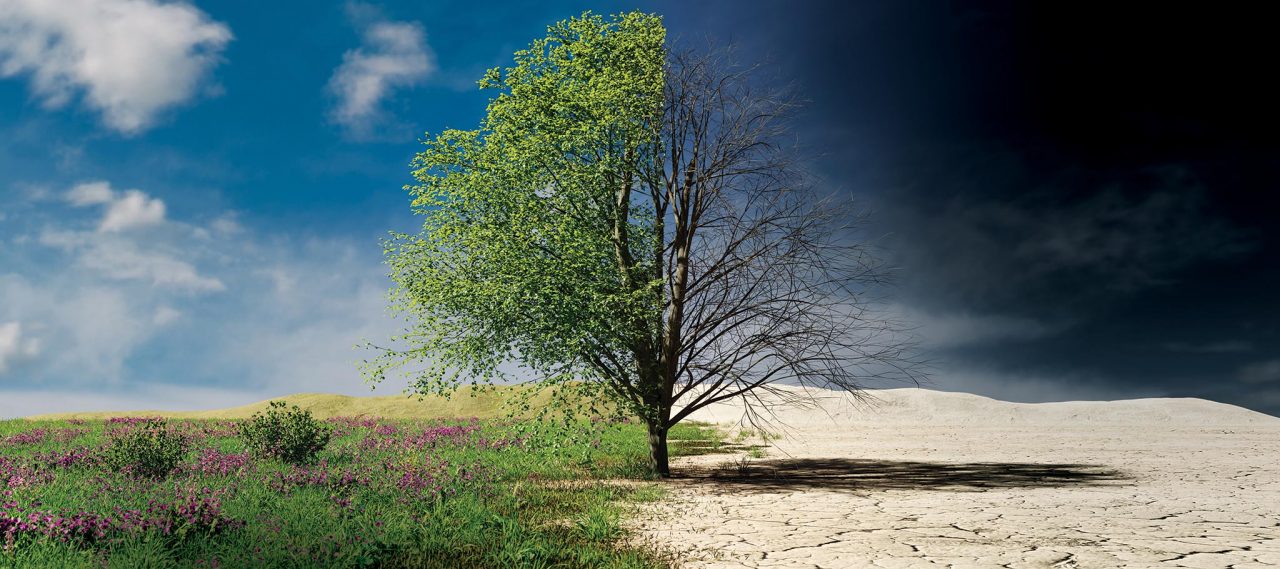 March 8, 2023
Southwestern Pennsylvania boasts many attractions, but its weather usually isn't one of them. In fact, a longstanding population trend is the annual exodus of residents who choose to resettle in Florida, the Carolinas and other warmer climates. But when Jordan Fischbach moved his family from Los Angeles 11 years ago, it was the climate that helped tip the scales in favor of Pittsburgh.


As a policy analyst and researcher, his work centers on understanding the changing climate and how to brace for the projected consequences of rising temperatures. "We did a full multi-criteria analysis of where we wanted to live. One of the major factors we considered was natural hazard risk and climate effects," said Fischbach, a RAND researcher and the director of planning and policy research at The Water Institute of the Gulf.
"Pittsburgh rose high on our list. I see Pittsburgh as a place that will fare better than places in the South and West or coastal areas, where risks are already increasing and could dramatically increase as we move toward the end of the century. With what's happening in California right now — fires, earthquakes, water availability — it's hard to argue with that kind of analysis."
More people are expected to come to the same conclusions in the coming years. University of Southern California researchers, for example, recently estimated that climate change could trigger one of the largest migrations America has seen, driving as many as 13 million people from coastal cities alone in search of more hospitable places to live and work.
But climate modeling shows no region escaping the consequences of rising temperatures. Even southwestern Pennsylvania, which is expected to avoid the worst, can count on having to deal with daunting challenges. Among them are greater rainfall, more frequent extreme storms and wide-ranging economic disruption, including momentum toward a low-carbon future that raises questions about the viability of the region's energy and other fossil fuel-dependent industries.
"One of the issues we face as a nation is admitting there's an issue," said Vincent Valdes, executive director of the Southwestern Pennsylvania Commission, which directs state and federal transportation and economic development spending in the 10-county region. "You can't deny there's an issue anymore."
Climate resiliency "is increasingly a consideration in our plans," he said. "That comes from a realization that [climate change] is real and acknowledgement that we need to be thinking about what the region is going to look like, and how we are going to position ourselves to be resilient and become more of a destination as years go on and population begins to shift."
TURNING UP THE HEAT
Historic trends spanning more than a century show average temperatures have gradually risen across the planet. Uncertainties linger around how those trends will precisely unfold in the future. Models peering into the future offer various scenarios based on different assumptions about how much climate-warming greenhouse gasses will have accumulated in the atmosphere.
But climate scientists have reached strong consensus that rising temperatures will continue to influence precipitation, storm frequency and intensity and sea level. And the more greenhouse gasses are allowed to build, the worse the impacts will be.
Under such scenarios, everything from agriculture, infrastructure and the production and use of energy to health, housing, migration and political stability will be affected. Economic disruptions are a particular concern with studies suggesting climate scenarios that threaten to diminish worker productivity, business investment, gross domestic product and prospects for growth.
Weather and climate disasters in the United States have steadily become more common and more expensive in dollars and lives over the past four decades, according to National Oceanic and Atmospheric Administration (NOAA) data. The decade from 1980 to 1989 saw 31 hurricanes, tornadoes, floods, droughts, wildfires and other disasters that claimed 2,970 lives and inflicted more than $201 billion in damages. During the most recent decade, 2010-2019, those numbers rose to 128 such disasters, 5,227 deaths and damages estimated at $919 billion.
But the effects and consequences of climate change will not be shared evenly across the country.
"Climate change is a global loser," said Akshaya Jha, an assistant professor of economics and public policy at Carnegie Mellon University. "In aggregate, gross domestic product and other measures of economic activity will go down. But there are distributional implications where regions in the U.S. that are more insulated from extreme weather could benefit. Pittsburgh, Cleveland, and cities like them could become more attractive to people, workers and companies as a result of being relatively less affected by climate change."
RAIN, FOR BETTER OR WORSE
In Pennsylvania, temperatures have risen 2 degrees Fahrenheit since 1900. And temperatures have been higher in the 2000s than any other historical period with the warming occurring mostly in winter and spring. Warming is expected to continue, but the magnitude is unclear. NOAA's projections for the rest of this century cover several possibilities. A few suggest that the state will experience only a slight rise in temperatures. Others warn that greenhouse gas emissions left unchecked could create a scenario of extreme heat that, coupled with higher humidity, results in dangerous heat indices, particularly in cities.
Pennsylvania's exposure to the rising sea level is limited to Philadelphia, where it could raise the risk and severity of coastal flooding along the city's riverfront. What the state and region won't have to worry about is a lack of rainfall.
Already a water-rich state, Pennsylvania and the region are expected to get wetter. That's an attractive characteristic in an increasingly thirsty nation where two-thirds of Utah's Great Salt Lake has gone dry and drought has pushed Colorado River's hydroelectric reservoirs to the brink of not having enough water to generate power millions of customers rely on.
But Pennsylvania's precipitation isn't evenly spread across the calendar and climate projections suggest that won't change. More frequent severe storms are expected to accompany the rise in average precipitation.
That's not exactly welcome news in southwestern Pennsylvania, a region prone to flooding and landslides. In a sense, local public agencies and contractors who respond to those problems have been preparing for climate change long before it became a topic of public debate.
They're getting help from the region's research universities. The work of Carnegie Mellon University's Center for Engineering and Resilience for Climate Adaptation includes understanding climate impacts and how those risks can inform sound decision making and infrastructure design. Its director, Costa Samaras, is on leave while serving as chief energy policy adviser to the White House Office of Science and Technology Policy.
University of Pittsburgh scientists and engineers who study how to make infrastructure more resilient are working with public agencies that own and maintain it and companies that design and build it through a consortium started by the university's Swanson School of Engineering. Among its projects is keeping a running inventory of landslide data, tracking slides and pinpointing trouble spots to help guide municipalities that deal with the widespread problem.
The region's topography and geological characteristics leave it vulnerable to landslides. A "heat" map plotting current and historic landslide data on Allegheny County's online landslide portal is a colorful portrait of trouble. From areas painted red marking recent landslides to purple-colored slopes susceptible to rock-falls, it suggests that few of the county's 130 municipalities are without some degree of risk.
National Weather Service data show that southwestern Pennsylvania's climate has gotten wetter, with the past two decades being the wettest on record. Rainfall in the Pittsburgh area averaged 37.5 inches a year from 1980-1999. Since 2000, the per-year average has risen to 41 inches. And in 15 of those years, rainfall was higher than the average level in the previous two decades.
The wettest was 2018, when 58 inches of rain drenched the region, keeping emergency services and public works crews busy responding to the dangers and headaches of wet weather. Three lanes and 300 feet of Route 30 collapsed down a steep hillside in East Pittsburgh, destroying apartments and houses and closing for two months a key commuter route that 30,000 motorists traveled each day. Allegheny County alone dealt with 25 landslides. By year's end, County Executive Rich Fitzgerald commissioned a landslide task force of public agencies, engineers, weather experts and scholars. It soon launched a portal for data, best practices and other information to help municipalities respond to a future that could bring more of the same.
The most frequent rain-related threat in the county is flooding. And 2018 tested agencies that respond to them. The county's seven swift-water flood rescue teams were called to respond to more than 200 events. "It was incredible," said Allegheny County Emergency Services Chief Matt Brown. "More than we've ever seen before — the largest volume." The county expanded the number of rescue teams to 10 following that rain-soaked year.
"From an emergency management standpoint, it's about being aware of what the forecast can be," Brown said. "A lot of that is based on our history, which we know all too well, and building that into our planning and education around response and recovery."
$2 BILLION CLEANUP
Effective stewardship to protect its abundant water has not been the region's strong suit. Its working rivers were exposed to industrial waste. Coal mining left behind acid-tainted streams. Today, as little as one-tenth of an inch of rain sends untreated sewage into the Allegheny, Ohio and Monongahela rivers from a network of aging, overtaxed sewer lines that snake through 83 Allegheny County municipalities.
Solving the sewage overflow problem has begun after more than a decade of consent decrees, negotiations, planning and design. Construction is underway on a $2 billion Clean Water Plan that the Allegheny County Sanitary Authority designed to comply with a federal consent decree to bring water quality up to national standards. ALCOSAN expects it to prevent about 7 billion gallons of untreated wastewater from being discharged into rivers and streams during wet weather, cutting overflows by about 78 percent.
ALCOSAN is expanding the North Shore treatment plant and building three underground storage tanks to hold overflows during wet weather until the treatment plant is able to handle them. Other steps include a program to help municipalities afford upgrading their parts of the sewer network. The project, expected to be completed in stages over the next 14 years, is a scaled-down version of a more ambitious design that was dropped when its cost came in at $3.6 billion, which was considered too expensive for ratepayers footing the bill.
Whether it can handle higher average rainfall that climate scenarios call for remains a question.
The project is the "first phase of the compliance journey for the wastewater system in the area," said Kimberly Kennedy, ALCOSAN's director of engineering and construction. A clause negotiated into the agreement with federal regulators allows for adjustments while work is in progress if new technologies or other circumstances warrant. And when it is finished in 2036, water quality data will determine whether further steps are needed to meet federal standards.
Fischbach, who studied the overflow problem as a RAND researcher, believes more work will be necessary. "I see the $2 billion ALCOSAN is spending as a down payment," he said. "Rainfall patterns and conditions are changing. The amounts ALCOSAN is planning for are out of date. They don't reflect even the changes we've experienced over the last couple of decades, let alone what is coming in future decades, based on climate scenarios."
RETHINKING ENERGY
Southwestern Pennsylvania, with its abundance of coal and natural gas, long has been a robust producer of energy. Today, the region is able to satisfy local demand and still export 40 percent of the energy it produces.
But the region's reliance on fossil fuels looms as a liability unless it can adapt to a low-carbon future in which aggressive strategies for reducing emissions are necessary to slow climate-warming conditions.
On one hand, Pennsylvania is moving in the right direction. Statewide greenhouse gas emissions have fallen in recent years, a trend influenced by the shift from coal-burning to natural gas-fired power plants, according to a regional energy task force convened by the Allegheny Conference on Community Development. Only Ohio has reduced greenhouse gas emissions more.
But in southwestern Pennsylvania, annual greenhouse gas emissions per capita remain 50-55 percent higher than levels seen across the state and nation, according to the task force's first report. The difference is largely due to higher emissions from power plants, coal mining and natural gas drilling and steel mills.
A future less tolerant of such trends raises questions about the long-term health of the region's energy and energy-intensive industries, such as manufacturing, which account for 14 percent of local jobs and 24 percent of the gross regional product.
"If you're thinking in the short term, we're well positioned," said CMU's Jha. "We're not necessarily going to switch away from natural gas in the next 5 to 10 years. In the transition away from coal, natural gas can be preferred. But over 20-40 years, the goal is to get away from burning natural gas as well. To the extent that the region is an energy-producing economy, that could have a significant impact."
Such stakes were recently recognized by the energy industry-heavy task force, which was created to study the region's energy future and the challenges it presents. The task force has proposed a broad strategy for leveraging the region's experience and expertise in energy production to adapt to a low-carbon future in ways it believes could spur investment, strengthen the economy and improve the quality of life.
The strategy doesn't call for abandoning fossil fuels. Instead, it explores reducing greenhouse gas emissions by other means, including under-used technologies, such as hydrogen power generation and carbon capture, electrifying transportation, preventing methane from escaping mines and gas wells, expanding renewable energy sources and modernizing the power grid.
"The cost of doing nothing is high," said Vera Krekanova, chief strategy and research officer for the Allegheny Conference on Community Development. "We decarbonized so much just by the sunsetting of some of the coal mining. We could let that keep going without intervention — let the markets work it out. But we clearly saw how much decline there would be in terms of jobs and economic activity compared to what we could gain in terms of GDP and creating well-paying jobs if we invest in the rapid and scaled deployment of newer technologies, grid modernization, renewables. That was convincing."
It's clear that building resiliency to changes in climate that are still not fully defined is not the work of the government alone. It will likely require buy-in, collaboration and contributions from a diverse group of stakeholders, at the very least. If that's the case, Valdes likes southwestern Pennsylvania's chances. "This region is downright blessed with the resources it has," he said. "Incredible academic resources. An assertive and engaged foundation community concerned about the livability of the region. The political infrastructure here is willing to talk across party lines about what's good for the region. The people are hard working. And the region has suffered the collapse of an entire industry sector, so it understands that change is tough, but inevitable."