The View from Erie
Residents eye concerns looming in the midterm elections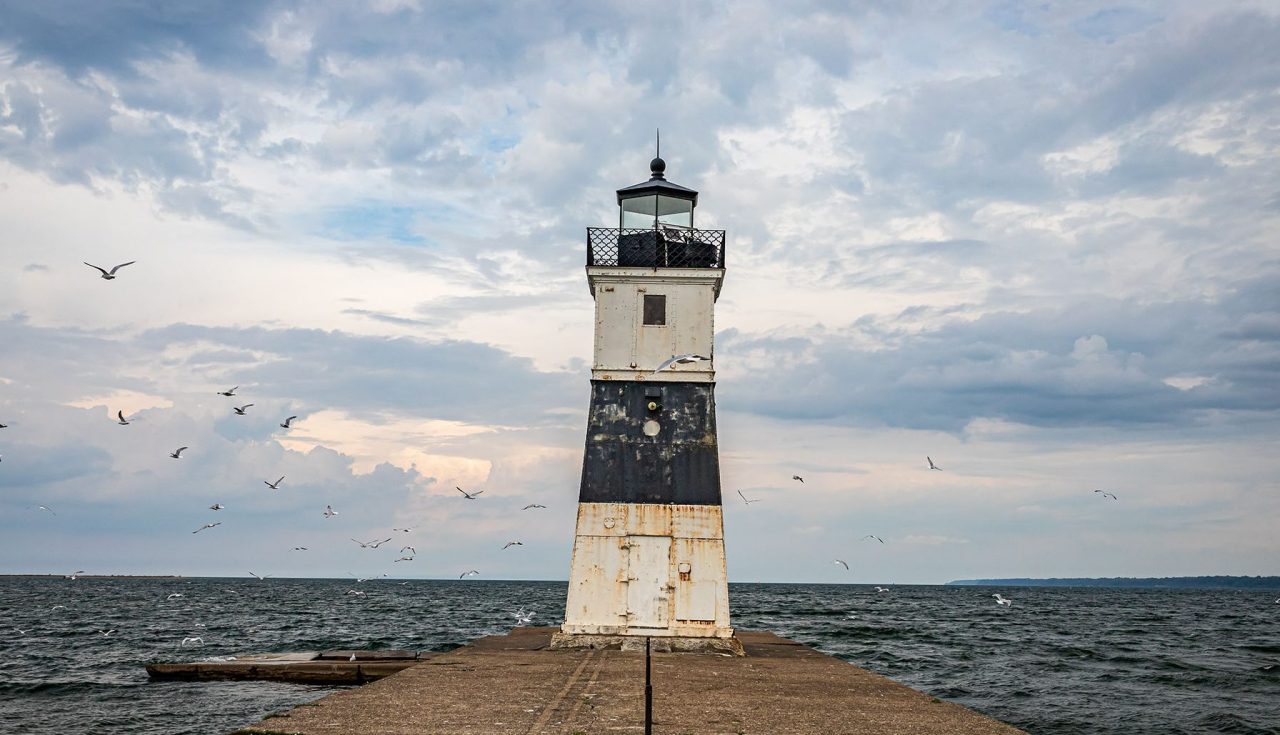 April 27, 2022
Peering out at the choppy waves from the shore of Lake Erie, the businessman sees opportunity. The fisherman envisions a trout dinner. The tourist anticipates a boat ride. The farmer appreciates the plentiful water supply. The environmentalist frets about lake pollution. James Grunke, president of the Erie Regional Chamber & Growth Partnership, sees all of these facets through an economic lens.



"We're the home of the only port in Pennsylvania on the lake," he said. "But it's a huge tourism aspect as well. Presque Isle State Park generates about 4 million visitors a year. We're a county of about 300,000, so that's a significant influx. The lake economy matters, and it's a huge, huge advantage."
Grunke shares the opinion of many others that the economy, led locally by healthcare, is the primary issue heading into this year's midterm elections. Other economic drivers include education services, accommodation and food services, metal and metal products, and plastics. The city, particularly the Peach Street corridor, also is a major retail center for the region.
Population loss is a major concern. Erie's population fell 7.9 percent from 2000 to 2019. "You cannot have a growing, sustainable community without inmigration," Grunke said. "Stagnating wages are a concern." COVID also is a worry. Erie, he said, was more adversely affected by the pandemic than much of the state, "primarily because we're a large manufacturing economy, and as the supply chain has been disrupted, so has the local output. We also have an aging workforce, and there are many people that may have been laid off in the pandemic that are choosing to not return to the workplace, and that is exacerbating some of the problems."
Tom New, who heads Erie's NPR station WQLN, said Erie is "very much in transition," citing some $2 billion in construction since spring of 2020. "In as few as 10 years, Erie will be a different and better community."
Penn State Behrend political science professor Robert Speel reiterated the important regional needs that are components of the recent federal infrastructure bill: "Transportation — fixing highways, bridges, roads, restructuring roads in the bayfront area, promotion of high-speed rail."
Erie is no different than other legacy cities experiencing a changing economy, Grunke said. "We're always a community that's making stuff, but I think we're just going to make different stuff. Where we see industry growing is in financial services, particularly with Erie Insurance headquartered here. I think we see a lot of growth in the life sciences, and that's really because of the partnership between the four local universities and UPMC. I think we're always going to be in transition; we just have to transition to good-paying jobs."
The 25 Erie residents interviewed at a variety of locales agree that the economy will be the major midterm election issue. Eighty-six-year-old retiree Don Matson is concerned about federal spending. "I think they're giving away money like a drunken sailor. Every time you read in the paper, they're giving a million dollars here, a million dollars there; what's happening to the national debt bothers me. I worry about inflation. The only way they're going to correct that is to let it run wild." Kelli Graham, 51, also cited inflation. The owner of downtown's Ye Olde Sweet Shoppe said, "Inflation and the labor shortage is what is affecting us daily. My reality."
COVID and education were the other most frequently cited election issues. "If you don't get this COVID more under control, there's going to be a spiral effect of killing more people," said retiree Robert Godfrey, 70. Hair stylist Rebecca Bender, 40, said she doesn't believe much of what the media report about COVID. "I just wonder how much of the truth is being told and how much is made up and made to look more serious than it is," said Bender. "I know it is serious, but I think they overplay a lot of it."
For Raymond Breter, a 75-year-old General Electric retiree, the nation's political divide is his primary concern. "My major thing is just the parties getting together as far as what should be done for the people instead of the party, but for us. I feel that this country is going in the wrong direction. It's all about the people, it's not about the government. It's us."
Erie County residents narrowly supported President Joe Biden over Donald Trump in the 2020 election, 49.7 percent to 48.6 percent; but Trump beat Hillary Clinton in 2016 with 48 percent to Clinton's 46.4 percent.
One of the issues that played a large role in last year's upset win of Republican Glenn Younkin over Democrat Terry McAuliffe in Virginia's gubernatorial election was the teaching of critical race theory (CRT). It didn't get a mention from any of those interviewed unless they were asked. "Much of greater Erie is rural and conservative," according to New. "CRT was an issue at many school board elections — even though it was not taught in any of our schools." Speel sees it as a non-issue. "Except for the occasional person grumbling at a local school board meeting, critical race theory has not yet become a major issue in local politics."
While none of those interviewed mentioned abortion as a prominent issue, the U.S. Supreme Court decision on Roe v. Wade due this summer could play a large role in not only the midterms, but the next presidential election. According to Speel, "It's not clear what impact that would have in Erie County. There are strong pro-life and pro-choice activists in the area, including many who cross typical party lines (pro-choice Republicans and pro-life Democrats)."
Erie demographics, similar to those of other Pennsylvania communities that are not Pittsburgh or Philadelphia, share some traits with the nation's primarily rural counties that went for Trump in 2020. Caucasians comprised 72.7 percent of the city population, which totaled 94,831 as of 2020, according to the U.S. Census Bureau. This was followed by African Americans (16.4 percent), Hispanics (8.3 percent), and Asians (2.8 percent). The estimated median household income was $37,894 in 2019 dollars, according to most recently available U.S. census data, compared to the state median of $61,744. The city's median value of owner-occupied housing units was $89,100, compared to $180,200 statewide. The city had more high school graduates among its over-25 population than the state as of 2019, according to City-Data.com, but it lagged the state in the percentage of residents with college and advanced degrees. The city is younger than the rest of the state, with a median age of 37.1 compared with a statewide median of 40.8. About 28 percent of the city's population was listed at the poverty level by this site, which takes much of its data from the U.S. Census Bureau. The city's unemployment rate was 5 percent as of last November, according to the U.S. Bureau of Labor Statistics. Erie County's was 5 percent. Pennsylvania unemployment was 5.7 percent.
Political representation is the top priority for New. "For the past 12 years, Erie's congressional representative, Mike Kelly, is from Butler, Pa. His visits to Erie are rare. Consistently throughout its history, Erie has been the forgotten corner of the state." New also worries about climate change. "A warmer lake means an increase in algal blooms. These blooms float like slime, they are ugly, they smell bad and seem to form near recreational areas. They also damage metropolitan water systems. The real value of Lake Erie may only be realized sometime in the next 15 to 30 years. As the climate warms and water shortages and droughts become more the norm, Erie could be a desirable place to locate a business. On the other hand, if water becomes a commodity, it could also mean selling water to dryer cities.