Twin Pine: A Singular Shopping Experience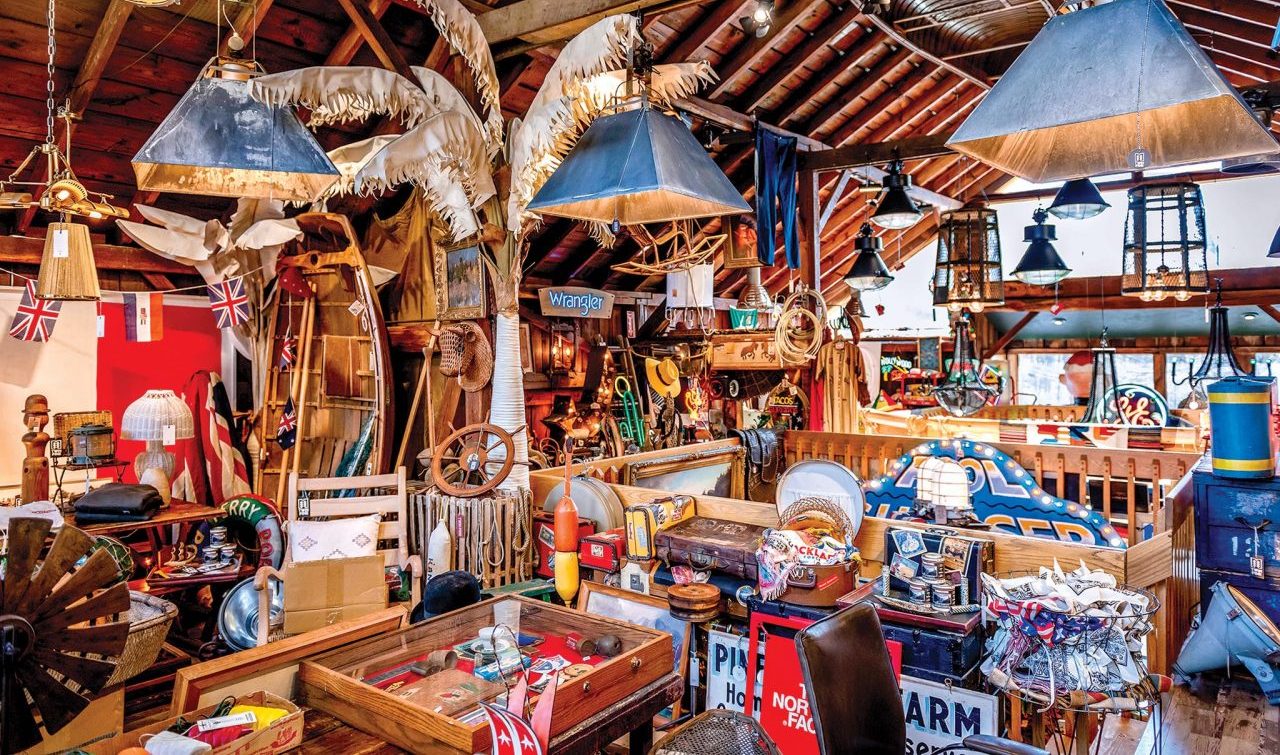 March 1, 2023
Inside a converted barn in Wexford, just beyond Winston, the life-sized horse statue decorated for every season, is Martin Potoczny's labor of love. The serial creative entrepreneur used the forced slowdown of COVID to create his dream of opening a curated antique and vintage lifestyle store.


His keen appreciation for artisans, innovators and inventors has helped him assemble objects as complicated as a pinball machine or as simple as a cocktail shaker. With most pieces dating from the mid-1800s to modern day, and with a strong emphasis on the American West, the store is filled with gorgeous examples of the best creative minds. There is an eclectic assortment of everything from decorative objects to furnishings to lighting to art and gifts.

The store is thoughtfully laid out with stylish, interesting, unique or whimsical items intentionally placed and tucked everywhere. Neon signs glow, candles burn, and music plays. Potoczny can recite the provenance or back story of every item, from a neon Route 66 motel sign to a vintage suitcase with an intact gas mask kit from Mine Safety Appliances — as if each item were his child. He's a detail person, cursed with exquisite taste. So, Twin Pine isn't like a traditional antique store. Everything is fresh, functional and fabulous. If you buy a chandelier, it has been restored and has certified wiring. Mechanical items work. Nothing is stodgy or reeks of your grandmother's attic.

And if you're overwhelmed by what would fit best in your home, don't worry — Twin Pine also provides architectural and design consulting to get just the right look, whether you're decorating your home, lake house, mountain retreat or ski chalet. If there's something you really want, they'll source it for you. Love a rustic chandelier but want three more for your great room? Chances are, they can locate them and provide white-glove delivery and the electrician to install them.

An example of their attention to detail is the Fire Watchtower Signature Candle, which comes in three sizes, with a sensual santal and cardamom scent. Every aspect — the soy wax, essential oils, picture on the front and hand-cut wood wicks — has been designed and made in America. When you buy one, it's placed in a pretty bag with cord handles and stuffed with printed tissue. Tucked inside are a can opener and a tube of Twin Pine wooden matches, and voila! A stunning hostess gift.

Twin Pine doesn't generally have regular hours, holding instead numerous monthly open houses. Twin Pine devotees follow them on Instagram or sign up for their emails, attending the open houses, which are really events, whether it's live music, hot spiced cider and wine in winter, an ice cream truck in summer or corn stalks and pumpkins in the fall.

Never complacent, Potoczny is always planning the next big thing. The store is constantly morphing, so when you return next time, everything could be different. In the works are pop-up tours as well as Twin Pine Warehouse 7, a 5,500-square-foot sister store in Cranberry with larger pieces of furniture, as well as event space.

Whether you want to do full-scale decorating, some holiday shopping or simply stock up on hostess gifts, Twin Pine is worth the drive.

Twin Pine is located at 639 Wexford-Bayne Road, Wexford, PA 15090. For more information and open house dates, go to Instagram @twinpinefinds or their website: twin-pine.com.