If You're Yurting for a Break …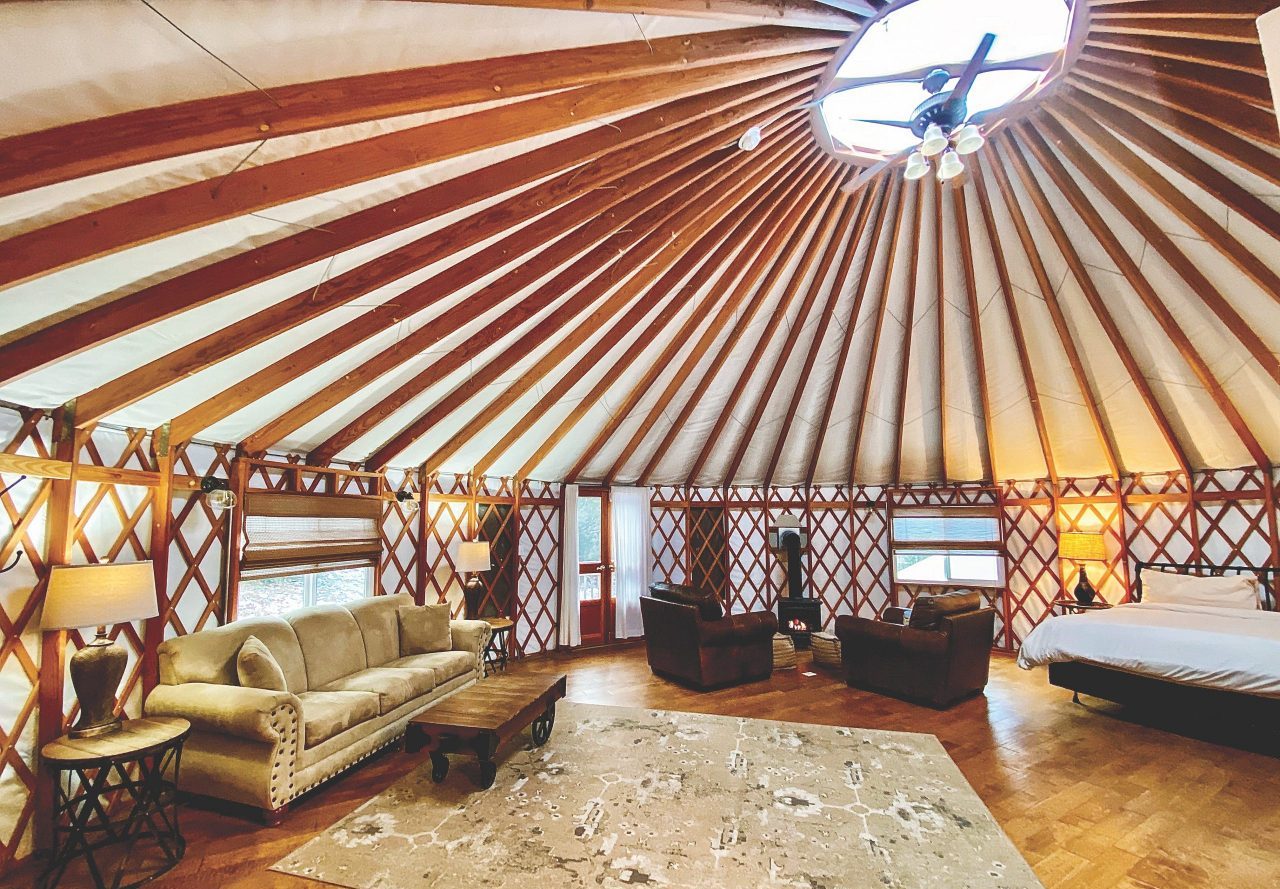 August 11, 2022

Whether you're dealing with stress from work, the pandemic or just need a reset, a trip to the Savage River Lodge (SRL) near Frostburg, Maryland, may provide the perfect respite for your body and soul.

Situated on 43 privately owned acres within the 54,000-acre Savage River State Forest, the SRL will force you to slow down the moment you start down its rustic, mile-long driveway. Like it or not, you will be on "lodge time," where everything is relaxed.

The SRL is the culmination of owners Jan Russell and Mike Dreisbach's dream. They yearned for a property combining the rustic beauty of nature with first-class accommodations that could serve as a getaway, corporate retreat or small event venue. In 1990, they found the land and embarked on a multi-year construction project using spruce, pine and fir logs, traditional building techniques, a repurposed military bridge and the best designers and experts they could source to bring their vision to reality.

The four-season SRL has two lodging options, the more unusual one being yurts, which were added in 2014. Traditionally, yurts are round tents used by nomadic groups in central Asia. Today in Mongolia, about 30 percent of its 3.3 million people are still a nomadic, horse culture that lives in these structures, where they are called "gers." Yurts are constructed of wooden lattice walls, bent, ribbed rafters, a wheel crown at the top of the roof and some type of covering — felt, canvas, animal skins, etc.

The yurts at SRL are authentic in appearance, but elevated to the realm of "glamping." The Lodge has eight yurts with radiant heated floors, king-sized beds dressed with luxury linens, large bathrooms with full plumbing, thick towels, robes and all of the amenities you'd expect at a fine hotel. Each has a comfortable sofa, cozy chairs and ottomans pulled up to the gas-log fireplace, a breakfast nook with fresh flowers, a beverage station with everything you need for French press coffee, hot cocoa or tea and a mini fridge. The yurt is 30 feet in diameter, providing plenty of space for relaxation, reading and conversation.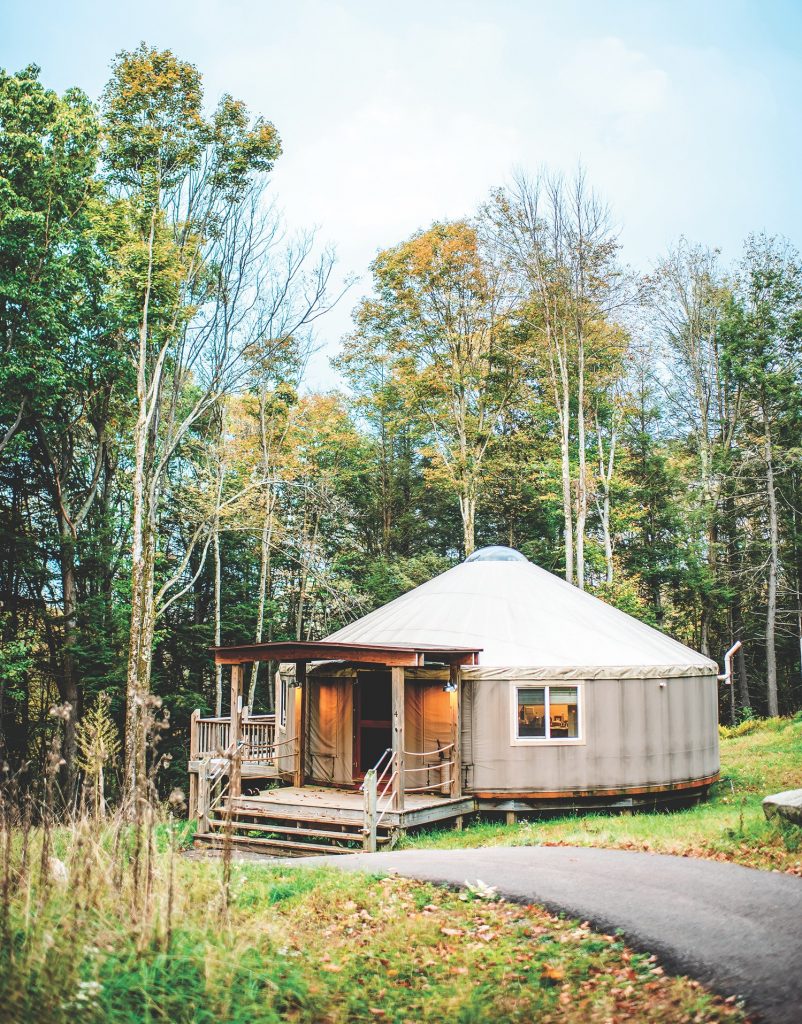 There are no televisions or phones, and when you snuggle into your bed at night, the first thing you'll notice is the overwhelming quiet. And then, the sounds of the wild take over — the hoot of an owl, the howling of coyotes, the swirling of the wind. You will be lulled to sleep by the beautiful music of nature, knowing that you are safe, warm, dry and protected from the elements. In the morning, a cooler awaits on the front porch with fresh orange juice and muffins that can be enjoyed inside or on your private deck.

In addition to the yurts, the SRL has 18 private cabins that have been open since 1999 and hold from two to four guests with living space on the lower level and the bed in an upstairs loft. They offer many of the same amenities as the yurts, and most are pet friendly.

The 10,000-square foot lodge is the hub. There, you can relax by the two-story stone fireplace in the Great Room, select a book from the loft library, play board games, order a cocktail at the bar, dine at the restaurant that features American regional cuisine, shop for clothing, unique artwork, décor and pet items in the Savage River Trading Company gift shop or sit out by the roaring bonfire on cold days.

They maintain 14 miles of trails on the property and in the surrounding forest, and there are other hiking opportunities in the area. The 150-mile Great Allegheny Passage biking and hiking trail that goes from Pittsburgh to Cumberland, MD, is nearby, and the folks at SLR can help to set up excursions for everything from biking to geocaching.

If you can tear yourself away from the peace and serenity of the SRL, you can venture to some nearby towns in Maryland for a bit more action. Frostburg, a city of around 8,500 people, offers opportunities for interesting shopping, dining and entertainment.

Sand Springs Saloon & Steakhouse has an extensive menu of reasonably priced steaks, seafood, pasta, burgers, salads, sandwiches and more served in an Old West atmosphere. Be sure to spend some time in the Hotel Gunter, with its speakeasy, small museum displays and jail in the basement (federal marshals traveling on the National Highway would stay in the hotel and their prisoners would spend the night in the jail cell). You can also enjoy a meal at the Toasted Goat Restaurant, sample their Route 40 Brewing and Distilling craft beers and handcrafted spirits and Toasted Goat Wines, or just sit in the lobby and people watch.

You might also check out the Western Maryland Scenic Railroad, a heritage railroad that operates between Frostburg and Cumberland with a variety of themed excursions. The Thrasher Carriage Museum offers an interesting representation of modes of transportation in the 1800s. The Frostburg Museum will give you a good overview of the founding and history of the city. Frostburg State University has a performing arts center and the Roper Gallery, in the Fine Arts building, displays the work of local, regional and national artists.

The annual Spring Arts Walk is scheduled for April 30, 2022. Local painters, metalworkers, glassblowers, potters, fiber artists and other artisans, craftspeople and performers participate in this family-friendly event that takes place in the Arts & Entertainment District. On July 4th, the town will host its 45th Annual Derby Day, which culminates in a race of derby cars made by parents and children.

Also noteworthy is Spruce Forest Artisan Village in nearby Grantsville, MD. The village consists of a collection of relocated historic cabins and buildings (some dating back to the Revolutionary War) that are now used for a variety of art-centric purposes. There are artists-in-residence, workshops, showcases, storytellers, educational experiences and more, all with a focus on preserving the heritage of the Appalachian region. A destructive storm in April of 2020 felled some 50 giant spruce trees and did significant damage to some of the structures, but the rebuilding process is under way. If you visit, excellent dining options include the Cornucopia Café for breakfast or lunch or the Penn Alps Restaurant for lunch or dinner.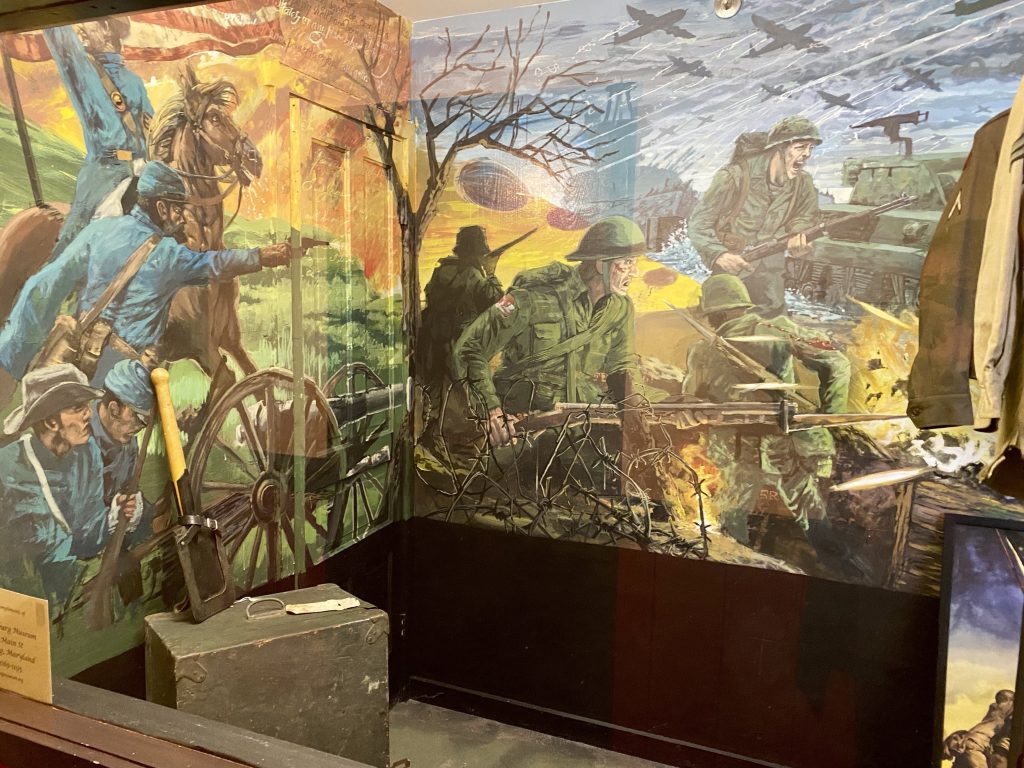 After your stay in Maryland's panhandle, you will return to reality refreshed, rejuvenated, re-centered and ready to tackle whatever life has waiting for you.

For more information, hours of operation or reservations, visit https://www.savageriverlodge.com, https://www.downtownfrostburg.com and https://www.spruceforest.org.