Design Happy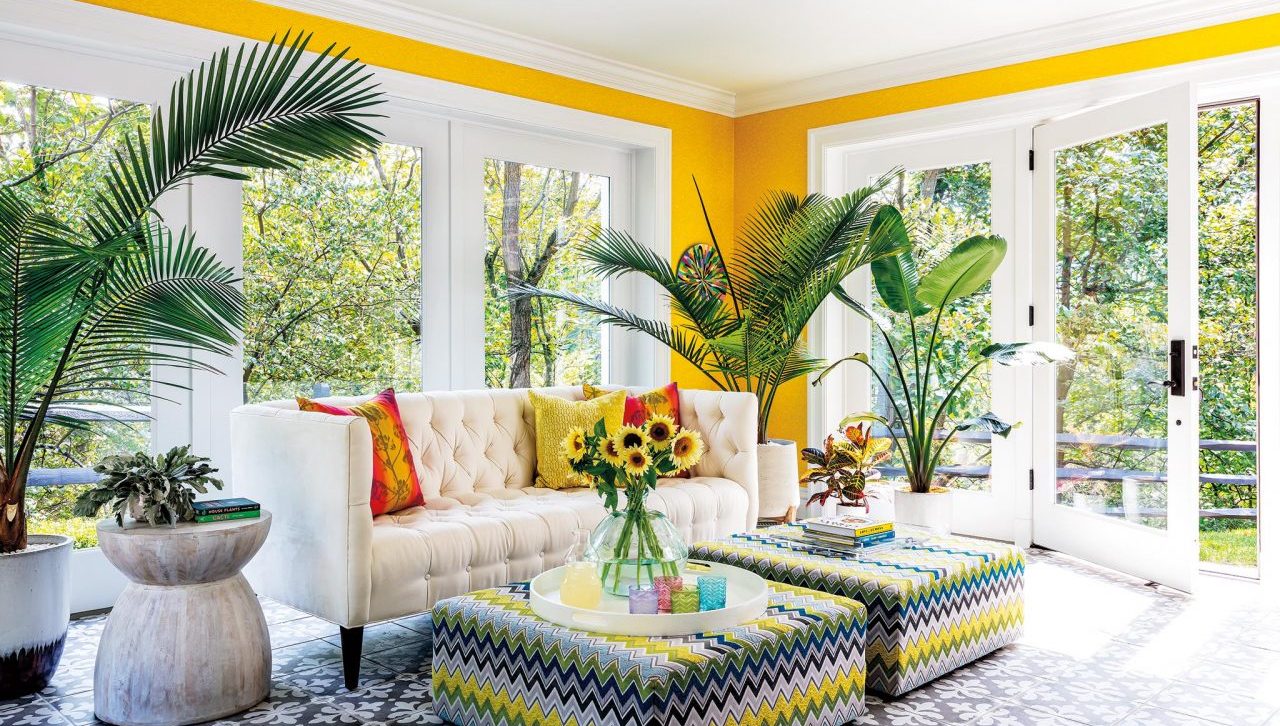 June 5, 2023
As a child, Betsy Wentz had the best playroom — the carriage house her mother Kay Wiegand used as the office for her interior design firm. It was packed with color, wallpaper, fabrics and furniture, instilling in Wentz a passion that guided her years later when she decided to switch careers.

She had been a psychologist at Western Psychiatric, but it was difficult and emotional work that often followed her home. She and her husband wanted to start a family and she thought a change would give her more time. And so, in 2001, she joined her mother as a designer. "That was the greatest gift I ever got — to learn everything from her."
A blue lacquer from Benjamin Moore contrasts with wallpaper by Phillip Jeffries, drapery fabric by Zoffany and Kravet-covered ottomans in the living room. The Barcelona chairs are from Knoll.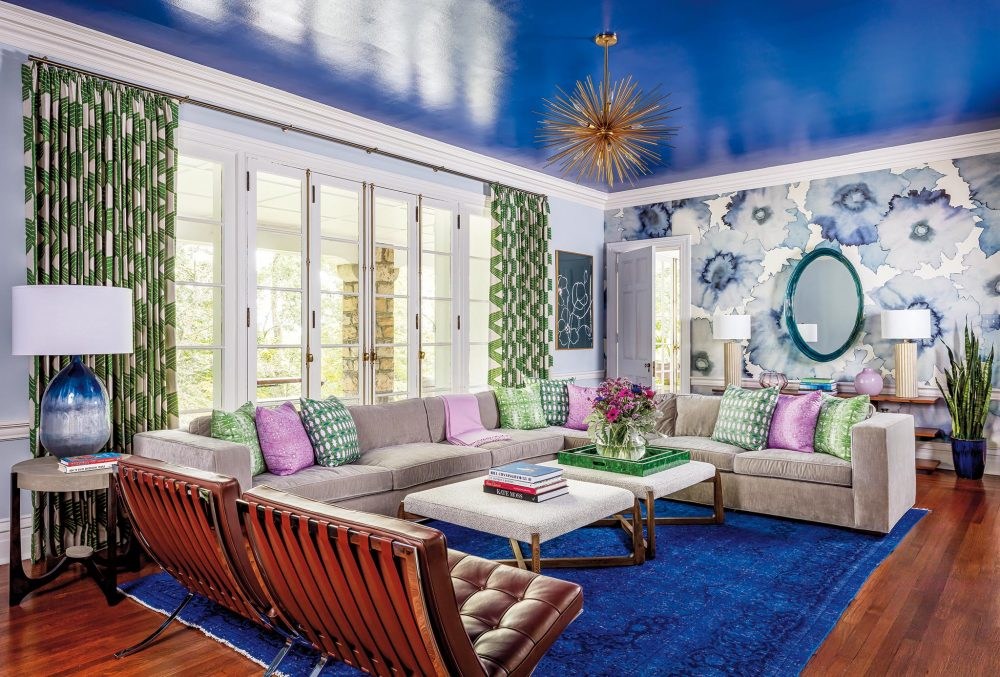 Four children and more than 20 years later, Wentz has her own firm, Studio B in Sewickley, with clients from New York to California. She participated in the Hamptons Designer Showhouse 2019 and the Kips Bay Decorator Show House Palm Beach 2020. And she just published her first book, Design Happy: Colorful Homes for the Modern Family.

"Now I'm even crazier," she says with a laugh. "But most days are fun and happy."

That theme runs throughout both the book and Wentz's work. Her late mother told her that "design is about finding the happy," discovering something the client loves. For many who work with Wentz, that something is color. The new book is filled with fearless examples of rooms brought to life with vivid palettes, and one of the most vibrant is Pulpit Rock.

"We were about to break ground and I had been joking with Flora about moving to Sewickley when a modern house came on the market," says Wentz. "They loved the neighborhood but they didn't love the house. Then the agent said another incredible one just came on the market. As soon as Flora started up the long, winding driveway, she got the feeling that it was something special. The irony was that they ended up purchasing Pulpit Rock and walking away from the fully designed contemporary home."

Wentz and Hunzeker were fated to become good friends — they had children who were similar ages, both of their husbands were doctors named Chris, and they shared an appreciation for design. Hunzeker worked in fashion before she became an attorney.

"Betsy and I have a very similar aesthetic so I let her go free," says Hunzeker. "I'm even crazier than Besty with color, and sometimes she has to rein me in and tell me we need a neutral. Working with her was very seamless and easy."

For her part, Wentz appreciates clients who know what they want.

"Flora had a very clear vision. She wanted to take her ideas from the contemporary house and incorporate them into this historic home. There is a theme of extreme color and a modern aesthetic. It was so much fun for me because I work on a lot of traditional homes and this was unusual. She is such a fun spirit and wasn't afraid to take a risk."
Both Wentz and the Hunzekers agreed that the home's classic lines were to be respected. They didn't knock down walls or tack on an addition in an attempt to modernize the house. Instead, they furnished it to fit the family's lifestyle, which includes three children and five dogs.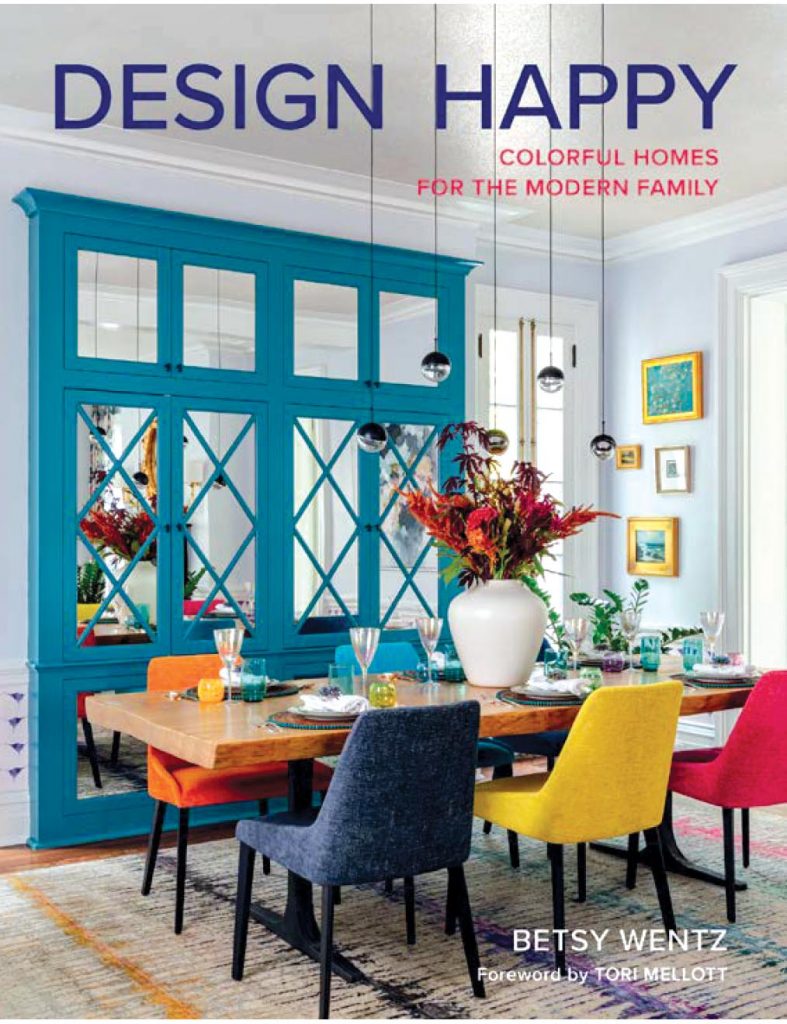 Performance fabrics and indoor/outdoor rugs were used in high-traffic areas so that nothing was off limits. But the utilitarian component was balanced with bouts of luxury, such as a beautiful silk rug in the dining room. There are numerous gathering spaces inside, united by an abundance of color in bold, arresting shades. Whether it's the cerulean blue ceiling in the living room or the chrome yellow sunroom, the colors instantly give the home a modern vernacular. The fact that most of the walls are papered, not painted, indicates a genuine commitment to the bright scheme.

"Wallpaper is my absolute most favorite technique for how to get pattern, softness, texture and interest," says Wentz. "It insulates the walls; it wraps the walls and creates a warmth that you can't achieve with paint. No risk, no gain. Paint can be changed but there's nothing super special about paint. I always fight for wallpaper. I would also say it's the thing at the end of a project the client is almost always the happiest about."

That said, Wentz can wield a mean paintbrush when it comes to accessories. She is especially fond of high-gloss lacquer and uses it on pieces that can be instantly updated with a pop of color, including mirrors and lighting. The Hunzekers inherited a brown wood grandfather clock that wasn't their style until Wentz suggested they paint it citron yellow. Now it commands center stage in the entrance hall on a bright magenta rug. Green closets in the master bedroom and turquoise lacquer on a dining room cabinet add focal points to those rooms.

"It's really fun to see how you can modernize an old house if you get creative," Wentz says. "But the most important thing is creating traffic patterns and figuring out how the house is going to lay out."

The project took two years, and more than 60 percent of the furnishings were ordered within two months. Yet some of the most interesting touches came from unlikely places — the couple are Grateful Dead fans who had hundreds of the band's posters in their basement. Now they line the bedroom, proving Wentz's philosophy that anything can be art.

"My most successful projects are the ones that are a complete collaboration," she says. "The space is theirs when I leave. I love when the client is involved and also trusts the process. My studio is set up for collaboration. The end product is more cohesive and satisfying when it's a joint thing. It's sort of like I'm guiding them, but they're at the wheel."