Putting on the Glitz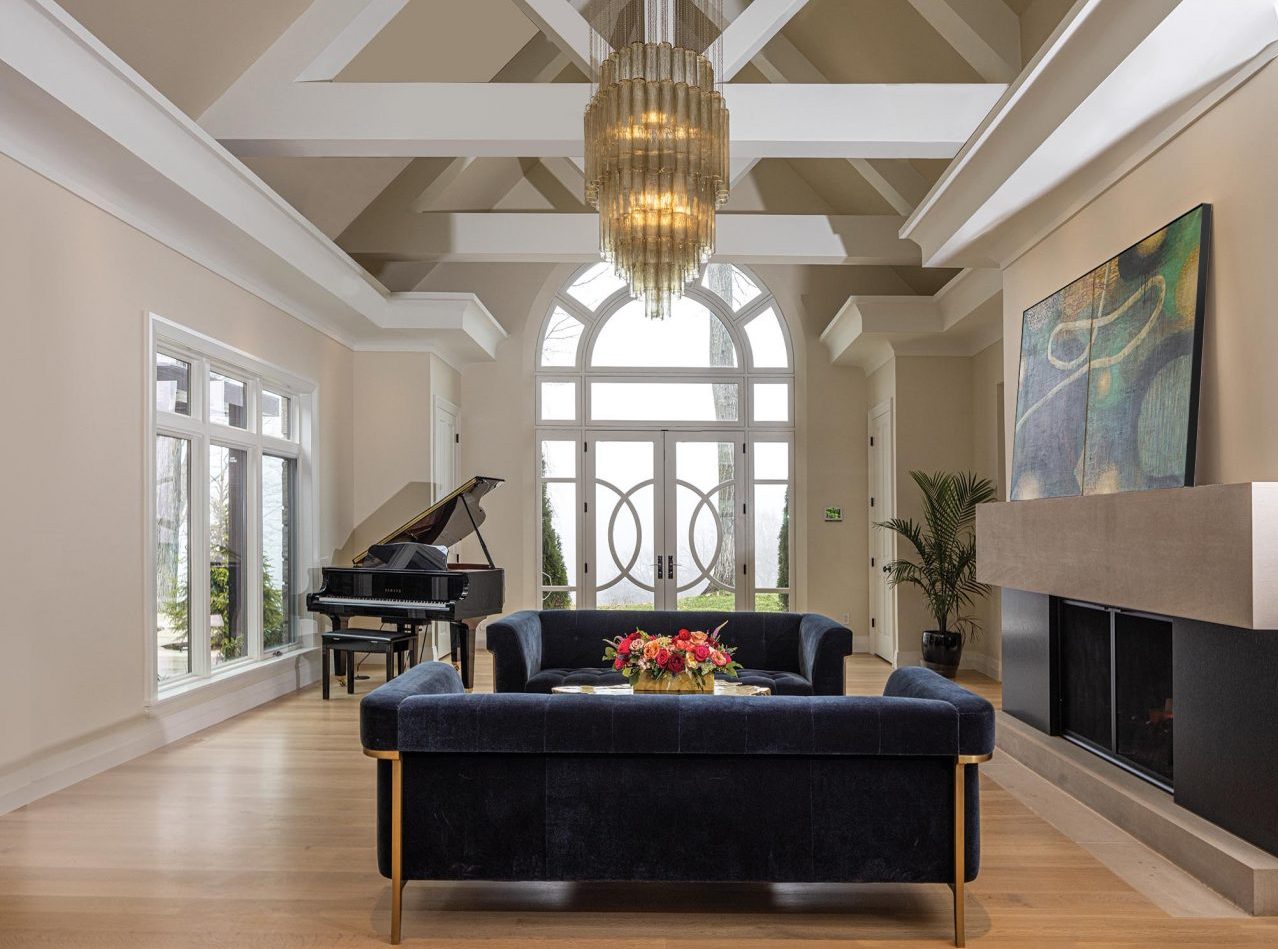 May 3, 2023
It takes restraint and an appreciation for the sculptural lines of modern architecture to let a house speak for itself. Jeff and Erica McIlroy have done just that in their hillside home overlooking a scenic valley in Fox Chapel. There is no clutter, no adornment, no need to gussy up the space with the accoutrements of everyday life. They have chosen serenity and simplicity instead, even eschewing rugs and lamps in the living room so the eye travels through the soaring space to the view beyond.

A major renovation began just as COVID shut down the country in the summer of 2020, but fortunately the plans had been in the works for six months with the McIlroy's general contractor, Avanti Construction, and architect John Hegnes of Hegnes Design, who had worked with Jeff on several of his commercial real estate developments. The third part of the team, who met with the McIlroys every Tuesday for 2 1/2 years, was Brigette Pavlik of Brigette Pavlik Interior Design. A close friend of the couple, she knew their taste and, more important, understood their vision.
The focus of the family room is the stone fireplace with brass patina metal and an iron and brass firebox screen. The fixtures are from Restoration Hardware and the knotty alder bookcases are from NuCraft Custom Cabinets.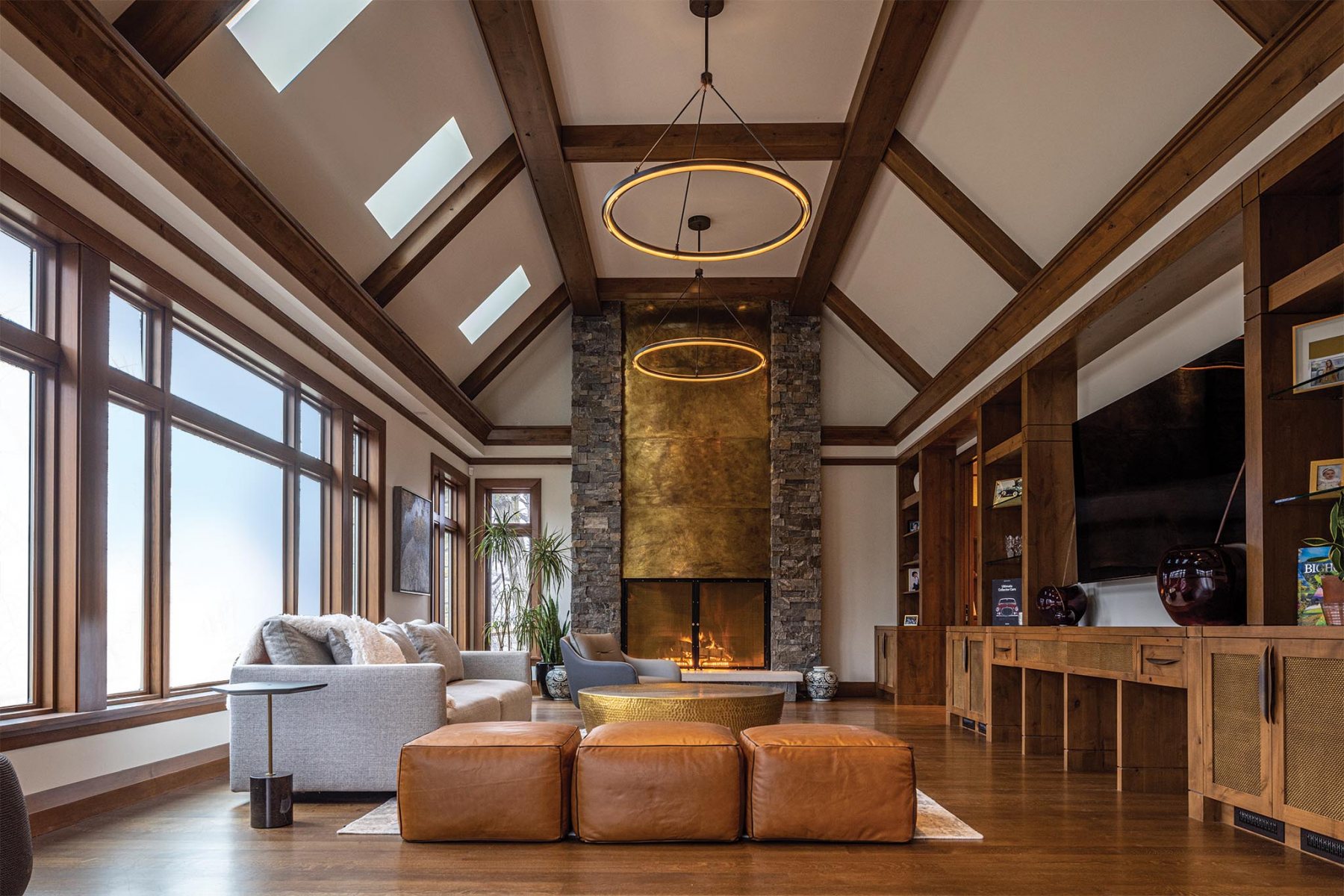 "Their home before had more traditional elements. Erica felt it was dated and they wanted to go with a more contemporary look," says Pavlik. "Basically, we went through the entire home and took out the elements that were more traditional and made it clean-lined and contemporary. They wanted something stylish but casual."

The stone house was built in 1994, coincidentally the year the McIlroys were married. They bought it in 2008 and raised their three children there. But the rooms were "chopped up," says Hegnes, impeding the flow, especially when it came to gathering the family or entertaining friends. For example, the new family room was formerly a bedroom, bath, dressing room and sitting room.
"We loved the property and knew we wanted to stay on it," says Jeff. "We wanted to create an atmosphere where we would have the contemporary elements of the home, but we wanted it to be warmer. In addition, we wanted to have a free and open space so we took out interior walls and raised the ceilings and did an addition."

One of the first challenges was reorganizing the space and realizing that more was needed. Hegnes designed several additions that included an expansive master suite and an office.

"I like to work with the existing character of a building," says Hegnes. "In the McIlroys' case, it meant changing and enhancing the character while retaining the best elements of the existing house. I wouldn't have put a glass cube on the end of such a beautiful stone house. My work needs to fit. If you look at the house, you would have a hard time deciding what is old and what is new."

Indeed, from the outside it is almost impossible to tell where the addition begins. The stone, and stone work by Jubic Masonry, matches perfectly. Another major improvement is the hardscape that now surrounds the front of the house and includes a large formal limestone entrance patio and terrace with fireplace. Previously, guests often entered through the kitchen. In the rear, Eichenlaub created an infinity pool and an expansive entertainment patio with another fireplace.

"The property sits on a bluff with a great view and we wanted to maximize that view in the front," says Jeff. "That's where we have the big windows now."

That they aren't shrouded in drapery is intentional. The house is private, surrounded by nature, and everything is oriented toward bringing the outside in.

"Erica and Jeff didn't want a lot of stuff," says Pavlik. "They wanted a clean, contemporary look. They didn't need draperies and fabrics and wallpaper. They're not interested in highly decorated spaces. They wanted simple. The only thing they had were some photographs. It was like moving into a brand new home."

The couple lived in the guest house for 1 ½ years as the renovation progressed, but during that time Erica was busy with Pavlik searching for the furnishings. Because they are such good friends, they often went on vacation together and shopped along the way. They visited the design center in Ft. Lauderdale; the table on the terrace is from Mecox in East Hampton; a stroll through Palm Desert led to California Closets; and the design center in Chicago was also a resource.

"Honestly, it's been an amazing connection," says Erica of Pavlik. "We work in tandem. She will bring me ideas, and she says that I know what I don't like! Brigette is very organized and I don't think I could have done it without her. Sometimes it can be hard to work with friends, but I was so appreciative towards her. I learned so much in this project.

"I do like the 'less is more' kind of feel," she adds, noting that things were different when the children were young. The couple loved the wood and stone of the house and wanted to emphasize their beauty with the renovation. But there are also bursts of color and texture in the home.

"I like color and that was very intentional, to have different colors," says Erica. "All the different seasons Pittsburgh has, the landscape, we wanted to really bring the elements from the outside into the inside. We don't like a lot of décor items — I don't like clutter. I like everything to be neat. But what we have we want to be beautiful."

After all the time and effort, the couple is thrilled with the result. "We wouldn't change a thing," says Jeff. Adds Erica: "I feel peaceful, so grateful to be here and I love that I can open up my home to our children. Our daughter is getting married here and that's such a gift to us, to have all the people we love around us."