Welcome to Cherry Hill
Photographs by Adam Milliron and Roy Engelbrecht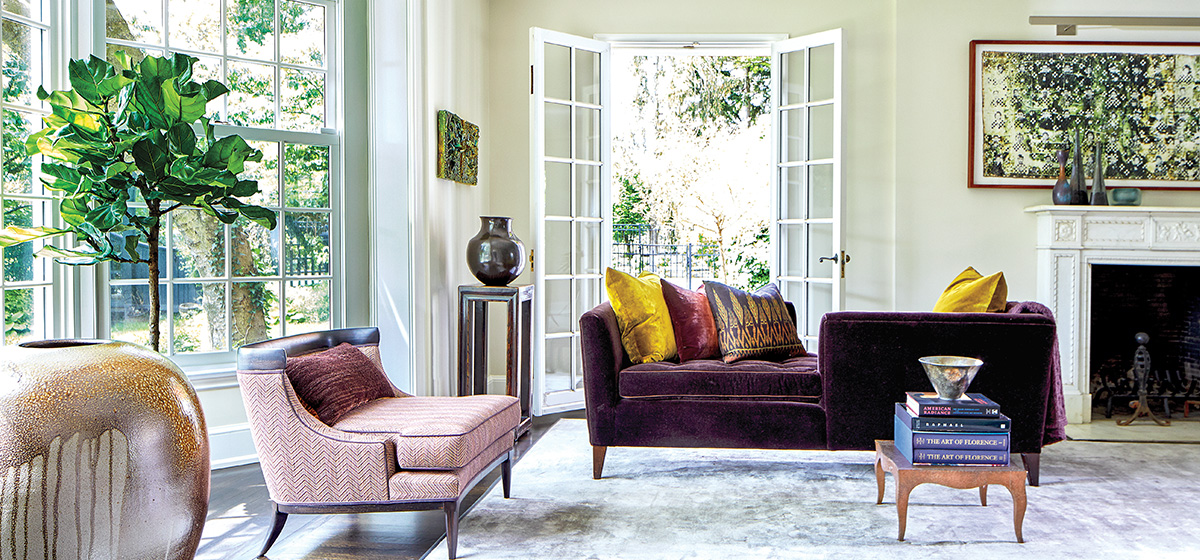 August 10, 2020
In 1935, financier Jerome Hill and his second wife, Adelaide, commissioned famed architect Benno Janssen to design a home for them in Sewickley Heights. They named it Cherry Hill, perhaps a play on their name, and probably built it as a second home to escape from the smoky city.
Sewickley historians classify the house as a second generation estate—a home built by the children of original settlers. "This era of house represents the last significant building phase in Sewickley," says its current owner, James Mohn, with some authority. He's chair of the Sewickley Heights Historical Architectural Review Board and a director on the board of Preservation Pittsburgh.
Mohn purchased the home with his husband, Keith Recker, in 2014 and began to reconfigure the residence for their lifestyle. The couple moved to Sewickley from New York because they had a young daughter and wanted her to grow up near family. Recker is from Pittsburgh, though his career has taken him all over as director of home furnishings for Bloomingdale's and Saks Fifth Avenue and general merchandise manager at Gump's. He is currently creative director of the International Folk Art Market in Santa Fe and editor of Table Magazine. Mohn is an architect and interior designer who has worked on a diverse assortment of projects both commercial and residential. His ability to meld the old with the new so that a structure is both preserved and refreshed is evident in much of his work, including the couple's historic home on Shelter Island.
With Cherry Hill, Mohn was faced with numerous issues. The house has the gravitas typical of Janssen's work—he designed the PAA, Mellon Institute and Rolling Rock Club, among others. Stately and sprawling, it sits on 10 verdant acres accessed through numerous French doors. Terraced gardens and a pool were added later, in the 1950s, as were two additions.
"There's a simplicity to these 1930s interiors," Mohn says. "The house is classic Georgian architecturally, but because it was designed in 1935 and Janssen was a devotee of the eccentric, he designed five massive chimneys which are not at all Georgian but distinctly Art Deco. I was attracted to that fusion, that unlikely combination of stylistic elements. I love classical lines and details, and I love the challenge of overlaying contemporary shapes and forms to achieve a sort of layering and eclectic experience."
The house is 9,000 square feet and has six bedrooms and nine bathrooms. There were three staff bedrooms over the four-car garage, and another three bedrooms in an addition with a two-car garage. For a family of three without a resident staff, the space was excessive as it was configured.
"It was generally in good condition but I felt we needed to figure out a way to adapt the house for modern living. It's not a frame house—it's solid masonry. It was not as though you could knock out a wall between the dining room and kitchen to make one large space, as people want today. That wasn't an option for this house. So it was about re-assigning functions to existing spaces."
The dining room is a perfect example. The long, narrow space had been the library, paneled in dark pine, with three sets of doors opening onto the garden. "We weren't interested in having the traditional large table for 16 people, and instead were attracted to a more intimate scale for dining and entertaining." The library was also on an axis with the front entrance hall and Mohn didn't want to interrupt the view through the doors into the garden with a table. His solution was to use two tables that could offer flexibility and be pushed together if needed. He also painted the wood a deep navy with a strié finish. "I wanted a feeling of modernity in a house with a clearly traditional character, so the room is a bit of a counterpoint to the historic nature of the house."
The kitchen had been renovated in 1996 when the butler's pantry was removed to enlarge the space and the Aga stove was installed. But more than 20 years later, it required some updating. "It was a sort of mustard gold with black brown countertops," Mohn remembers. He painted the cabinetry white and removed the beams that made the 8-foot-high ceiling look even lower. He also stained the floors a dramatic black brown and replaced the canister lights.
In six months Mohn oversaw the renovation of all the bathrooms, including two master baths. The large master bedroom became the men's lounge, an upstairs living room for relaxing and watching TV. With a lovely fireplace and windows all around, it seemed a shame to waste it on sleeping, so a smaller, adjoining room became the bedroom. Bedrooms in the extension are now guest quarters and Recker's office, while the ground floor beneath is where Mohn works.
With the basics completed, Mohn moved on to furnishing the spaces, making use of their collection of vintage Turkish rugs, Italian mid-century and Mexican ceramics, Italian glass and other objects. Mohn has designed an array of products for the Museum of Modern Art, and unlike most designers, starts with the objects in mind rather than "decorating" with them later.
"It's probably the one thing that's been a thread. The comment I've heard from a handful of clients, the ones who are the most interested in collecting, is that their attraction to my work is my ability to integrate artwork and objects into a space. As an architect, one of the first steps is to understand the objects, before even designing a room or a building, you understand their size and proportion. The goal is to design space with some method of containing these objects that is suitable and complementary."
Mohn adds that Keith's love is art and "he is somewhat obsessed with art and artists." It's one area where Keith holds sway, bolstered by the fact that's he's written several books on color including "True Colors" and "Pantone: The Twentieth Century in Color," which was published in eight languages.
"Almost all of our art is contemporary. Some of it would have been considered outsider art at one point in time. I'm aware of everything we buy before we buy it, but Keith has the actual vision. We have relationships with a couple of galleries either owned by friends from when we lived in New York or with whom we have maintained business relationships. I have the responsibility of deciding where they go, how they're hung and which rooms are best suited for the pieces. He's the picker and I'm the curator," says Mohn with a laugh.
From the beginning, Mohn says, there was an emphasis on luminosity, on painted surfaces that reflected light. The juxtaposition of contemporary furnishings and art with the 1930s interiors creates an unexpected stylistic combination, but it also bridges the gap between then and now.
"We live in the house in an unconventional way because we use rooms in ways they have never been used before. It's just us living modern lives in a house that was designed for a very different way of life."