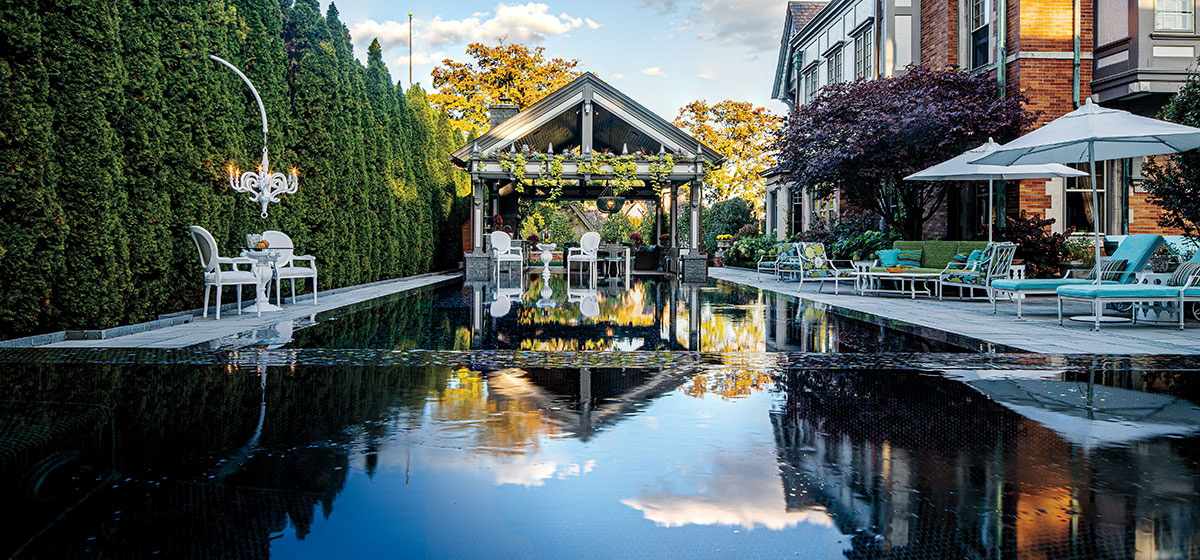 November 8, 2021
Little Flower stands with stately elegance where it has always stood, on a small bluff overlooking Woodland Road in Shadyside. Built in 1910 by Daniel Clemson, a steel executive who lived at Highmont on the corner of Fifth and Shady, it was a gift for his son, Ralph. With nine bedrooms and a large carriage house, the Tudor designed by Henry Crocker evoked the height of baronial splendor. But what it lacked was any outdoor space.
Enter Scott Westwood, a brash and adventurous attorney who bought the house the same day he saw it, even though it wasn't officially on the market. Let's say he made an offer that couldn't be refused after he toured the home with two of his three sons in 2011. "They said, 'Dad, we have to live here,'" says Westwood, who was in the middle of a divorce and wanted to move from Sewickley, where he had lived in two historic homes.
Westwood was undaunted by the scale and formality and instead was won over by the architectural details that abound in the residence. Originally named Oak Gables, it was renovated in the 1920s by George Crawford, the founder of Columbia Gas & Electric and the father of socialite Sunny von Bulow (who spent 25 years in a coma and whose husband, Claus, was famously accused of putting her there). Crawford took out the Tudor and opened the house up, creating a great room where two once stood and adding adornments including paneled and limestone walls, a gilded staircase and intricate moldings that remain. "To me it's very French," says Westwood, noting that Crawford was inspired by the great mansions of Newport but threw in a few Georgian and Art Deco touches.
The house was renamed Little Flower in the 1950s by a devoutly Catholic owner who had five daughters — Little Flower was the name given to young Saint Therese of Lisieux. The life they led there is without doubt a far cry from what goes on today. Which brings us to the missing outdoor space.
"In the 1900s, the air was so dirty that these grand houses were built with no outdoor living space because no one would go outside," says Westwood. "So I wanted to have an outdoor living space with a living room, a dining room, a kitchen and a pool with adequate seating around it.'
On a salmon fishing trip to Alaska, Westwood met architect David Tisherman, who turned out to be a renowned pool designer from Los Angeles with celebrity clients in Beverly Hills, Newport Beach and elsewhere. He also turned out to be from Squirrel Hill (though he moved at the age of 2), where his family had owned the Tisherman Rye Bakery.
"We became friends and I called him and said, 'I want you to design a pool.' He said, 'You can't afford me.' And I said, 'I'm not going to pay you.' Tisherman laughed and said, 'Then you need to take me to two Steeler games every year for the rest of my life and let me stay at your house.' I said, 'Deal!' So he came out and designed the pool area, working with landscape architect Joel LeGall and builder Tim Lesko. Tisherman has been back every year since."
Westwood acted as the general contractor on the job as well as chief concept officer.
"I wanted the pool to be a piece of art, a horizontal painting, so to speak. I wanted Beverly Hills and Miami brought to Pittsburgh, grounded with the house so it doesn't look out of place, but I wanted it to have a little flair."
Tisherman originally took the pool colors from the tones in the brick, and presented Westwood with 20 different color boards for the Sicis glass tile. Because Westwood is color-blind, Tisherman secretly enlisted aid from Westwood's mother, who helped her son design and furnish the home's interiors with assistance from Niecy and Michael Terral of Artifacts in the West End. Westwood preferred a color he could see such as orange but deferred the color selection to his mother, and the pool's luminous surface reflects a multitude of shimmering hues. Designer Betsy Wentz of Studio B put the finishing touches on the outside living and dining areas.
While most of the inside remains as Westwood found it, meticulously maintained by all the previous owners, he did add a bar at the end of the hall for the parties he loves to have, and he added a shower to the original Deco master bath. He found many of the furnishings in storage, including large Oriental rugs and the window treatments for each room in garbage bags in the carriage house and basement. The home is furnished for comfort, not show, with a TV in the living room so the kids can hang out and use the space. That became more important when Westwood's partner, Susan DeSimone, moved in with her daughters. The "Brady Bunch" effect led to the most recently completed project: a state-of-the-art kitchen.
"The shortcoming of the house, I always felt, was the kitchen. It didn't match the rest of the house. Susan and I started researching kitchens and I saw a picture on the internet or in a magazine of a similar old house that had this marble island in it and I really liked it. It was made by Cesar, an Italian company, and we flew up to New York to visit the Cesar showroom. There was a big debate about how modern of a kitchen to put in. I care very much about the integrity of the house. When you travel around Europe, you see beautiful old homes with modern kitchens.
"It became quite a project. We started in January of 2020 and took everything down to the studs and discovered that the marble landing on the staircase was not structurally supported, so we had to put steel beams in. Then COVID came and it hit Italy first, where they were making the cabinets and everything was shut down, so we didn't have a kitchen during the pandemic."
The effort and wait were well worth it. A 14×4 island of grey St. Laurent marble from Italy centers the room and everything in the island is electronically assisted. Knock twice on the door and the two Miele dishwashers open. The refrigerator opens with a push. There are no handles or knobs to detract from the sleekness, not on the Gaggenau wall ovens or the induction cooktop. The adjoining butler's pantry has a dishwasher designed to hold 30 wine glasses, a wine refrigerator, ice maker and Sub Zero refrigerated drawers. Phillip Jeffries wallcovering with gold leaf squares and gold leaf glass tiles around the range glow in the Italian lights beneath the raised ceiling accented by molding made by Hyde Park. Add to all that three Samsung The Frame TVs.
"I might have been a little excessive with the TVs," laughs Westwood. "They also function as our art when they aren't turned on, displaying paintings that we select. Depending on whether you're cooking or eating at the island or in the cocktail area, I wanted to be able to also see a TV and use the kitchen in a modern way."
To that end there is no kitchen table. A seating area with small drink tables that can easily be moved is used for casual dining. "We didn't want to have a kitchen table because our family is large enough that it makes us use the dining room. If it's just Susan and me, we sit at the island, or the lounge area. We wanted to make the kitchen an entertainment space as well. Our inspiration for the seating area was a very comfortable cocktail lounge."
The glamorous result makes it easy to raise a glass to that!