The Perch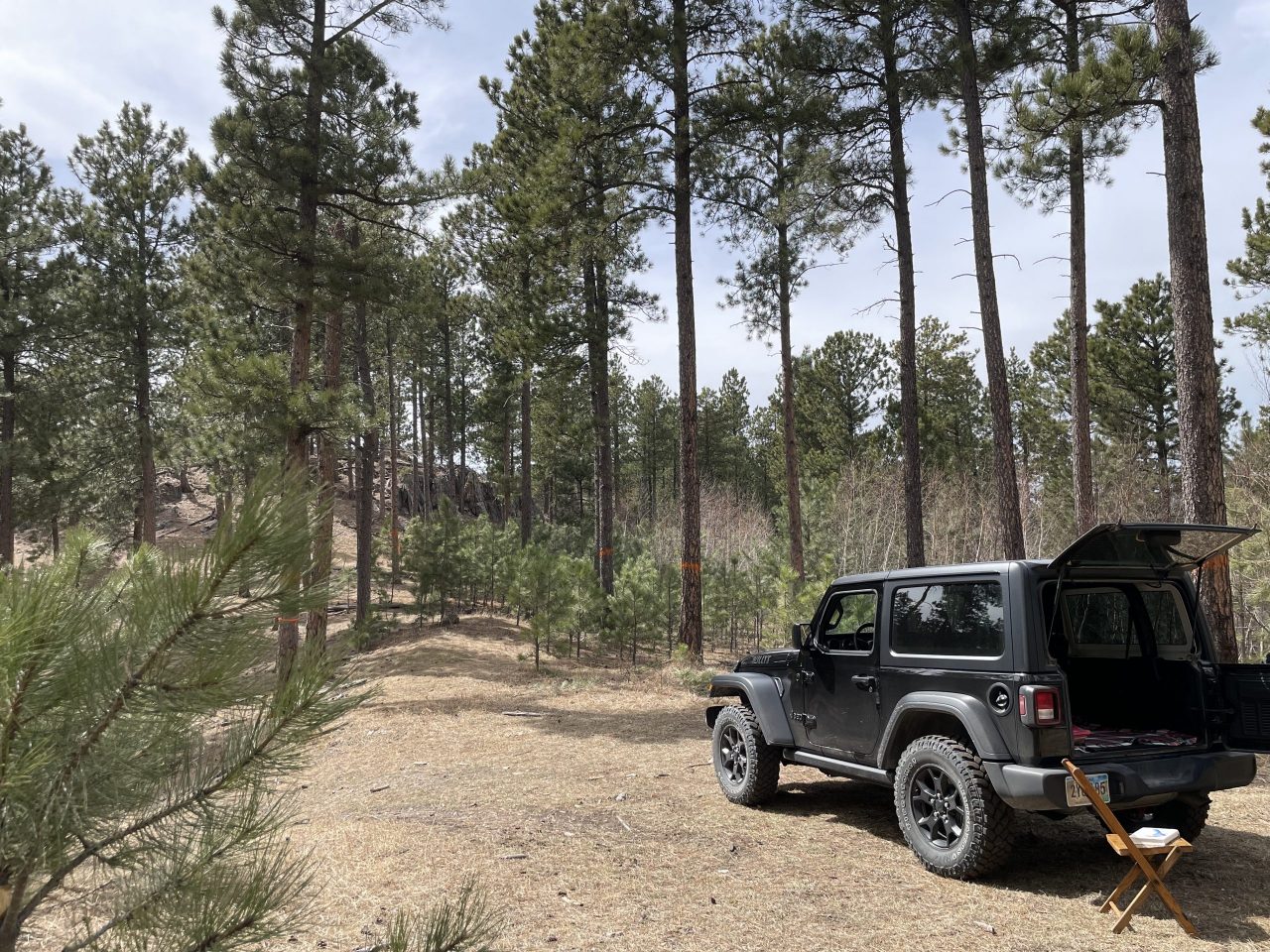 June 9, 2022
I have found a perch. It's at the top of a rocky, rutted trail that shoots up a 70-degree angle from terra firma. Today's destination: closer to the clouds. I have a book, The Genius of Birds, an old, wooden folding chair that functions as a plant stand in our living room, and a bottle of pink nail polish. I am going to eat my lunch, read, and give myself a pedicure under the canopy of towering ponderosa pines, right smack dab in the National Forest, about 20 miles from the nearest somewhere. 
My hubs and I have seen this trail a thousand times before. It isn't far from our cabin. While walking down to our mailboxes earlier in the week, my curiosity got the best of me. I wanted to see what was at the top of the trail. Hopefully not a family of mountain lions, I thought to myself. Everyone has been talking about the mountain lions.
"You walk down to the mailbox by yourself? Aren't you worried about mountain lions?"
"Hey, wanna see the mountain lions that Marshall spied on his trail cam? A mother and two cubs!"
"Did you hear about the mountain lion that someone saw down by Sheridan Lake? I saw the photos on Facebook. He's huge!"
I have asked the old timers about this. Repeatedly.
"If you see a mountain lion, just jump up and down and make a lotta noise. You'll scare him away. That's what I did," says Roger.
"Oh, they see you before you see them, but they don't want anything to do with you. You were probably close to one and didn't even know it," says Dave.
Roger is a towering, hulk of a man at 6'5" tall. Dave, my retired, hippie neighbor, stumbled across a grizzly while bushwhacking back in the '90s and just kept bushwhacking. I'm a 5'4" former city slicker who was raised on a steady diet of Unsolved Mysteries. "You're fine," they both say.
I have two choices: barricade myself inside the cabin for the rest of my life or trust that I don't look like a giant pork tenderloin strolling through the National Forest. Today, I chose B.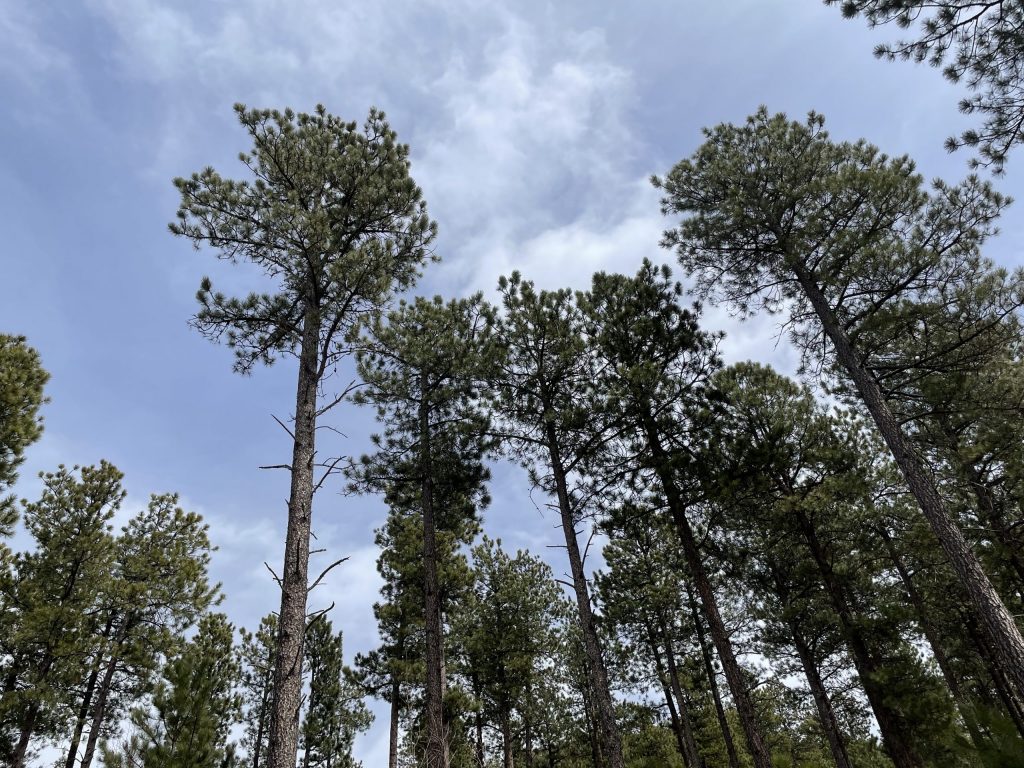 The mystery trail I'm about to climb begins with a little dip then up over a dirt hump and down another dip before the real fun begins. This is steep, I say to myself, loudly clearing my throat. I tell myself it's because of the pine pollen. But really, I'm trying to frighten away mountain lions. Glancing around, I cough just for good measure.
It's not so much a hike as it is a scramble; stumbling across big rocks and small rocks while straddling deep, parallel ruts made by 4-wheel somethings. Going up. Up. More up. A real thigh burner. I am huffing and puffing within seconds. Finally, I reach the top.
"Huh," I say, looking around me. There's… nothing up here. The trail ends. I am standing on a flat little pad devoid of pine trees although surrounded by thousands of them. There are jagged rocks poking out of the ground to the left of me. Blue sky above. I hear a few chirpy juncos and a woodpecker going gonzo on a tree.
I return a week later in the Jeep. It is a warm, sunny, 70-degree day in the Black Hills; one that burrowed its way into a stretch of 30's and 40's. Spring is here, or so the blooms on the Aspen and birch trees say, although Mother Nature has been moody. Winter ended, then came the howling blizzard and twenty inches of snow.
I open the tailgate, jump in the back, kick off my flip flops, and begin painting my toenails. A light wind causes the pines to sway slowly, like congregants at the altar. The happy dee dee dee of a black-capped chickadee serenades me. Suddenly, I envision a twitching tail, blur of fur, and big teeth. I look around nervously. No mountain lions. "Come on, girl," I say out loud. While my toes are drying, I dig into my packed lunch. I have reserved my last Impossible Burger for this moment, savoring each bite as I swing my legs back and forth. I read my book. Sit in my chair. Listen to the wind through the trees. Walk around just to feel the carpet of pine needles under my feet. I climb into the back of the Jeep and lay down. Head near the open tailgate, legs propped up on the center console. All I can see is what's above me.
I want to camp up here someday. Be brave enough to do it with my husband. Brave enough to do it alone. Then brave enough to do it even deeper in the forest. Maybe for days at a time. The mere thought of overcoming my fear of things—things lurking in the night, things with twitching tails, things that become unsolved mysteries—satisfies something deep in my soul. I decide not to engage in conversations about mountain lions, to avoid looking at photos caught on trail cams or posted on Facebook. Get over the idea that a mountain lion is just waiting to devour you, I convince myself, and you'll have nothing to worry about when you're sleeping under the stars.
"Camping by yourself???" my friend texts later. "You'll get snatched by the boogeyman!!!! He lives in the middle of the forest waiting for pretty ladies!!"