The State of Higher Ed: Chatham, Robert Morris, Thiel
Part II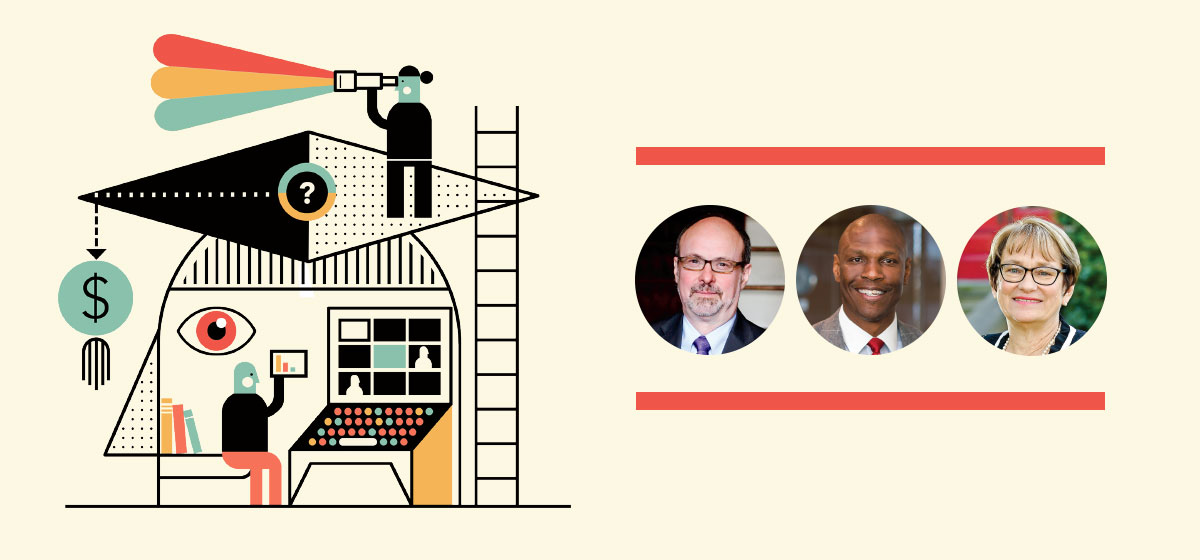 July 14, 2021
We asked the presidents of the region's colleges and universities to answer this question: As we move closer to the end of the pandemic, what strengths, weaknesses, opportunities and threats have become more apparent to you for your institution than they were pre-pandemic?

David Finegold, Chatham University
The pandemic highlighted many of Chatham's historic strengths: our student-centered faculty that quickly adapted to COVID, enabling us to educate students both on campus and virtually, and dedicated staff who selflessly took on new responsibilities (within and on top of their normal jobs) to ensure the health and safety of our entire community.
It has also revealed the challenges that come with an intimate campus environment in a pandemic. While it helped us manage and quickly trace every close contact, it also meant that risk of virus spread was heightened (thankfully, we managed it well).
COVID has created new opportunities: virtual visits and registration days, 24/7 remote mental health support, virtual events connecting alums around the world and new ways of working that give employees flexibility to balance work and home responsibilities while also reinforcing the desire of our students to get back to life on campus. I believe that COVID will intensify the competitive pressures that were already growing in our region due to long-term demographic trends and consequent excess higher education capacity, but that Chatham is well positioned to thrive in this environment.

Chris Howard, Robert Morris University
The pandemic accelerated several trends already under way in higher education, particularly in this region, where the number of college-bound high school graduates is falling. Robert Morris University anticipated these trends: In 2018, we kicked off a strategic plan that expanded online degree offerings, certificates and other "upskilling" programs and led partnerships with corporations and other employers to provide leadership development and professional education to their workforce. Recently, we launched the RMU Gateway program with four community colleges to make a four-year degree more affordable throughout western Pennsylvania.
The pandemic, however, was not the only crisis our nation faced in the past 12 months. The protests that swept the nation after the killing of George Floyd by Minneapolis police reminds us that inequality continues to grip our nation. Several generous donors, including Netflix founder Reed Hastings, have funded scholarships at RMU for under-represented minorities to earn a college degree and develop a professional network. Reed's $3 million donation created the RMU Next Century Scholars Program, targeted at students who want to pursue a degree in STEM-related fields. The prosperity that Pittsburgh has enjoyed in recent years has not been experienced by all our communities and all our people, and RMU means to do something about it.

Susan Traverso, Thiel College
Thiel College's response to the pandemic drew on the college's strong sense of community, with students, faculty and staff supporting each other to ensure the health and safety of our campus. Thiel implemented the required health protocols, making it possible to have students in residence and studying in person. Last spring, the college adapted quickly to provide hybrid and remote instruction and remain closely connected with students. The growth of the college's fall enrollment amid the pandemic validated Thiel's focus on a student-centered education. As the college prepared for students to return to campus in August, Thiel recognized its health center needed to be strengthened through additional staffing and testing services. Those investments were made over the fall semester, ensuring robust medical and mental health resources for students at Thiel. While the pandemic caused campus disruption, Thiel has witnessed tremendous innovation in the face of the emergency — innovation in instructional methods and delivery, innovation in alumni outreach and innovation in campus communication. Thiel is coming out of the pandemic a stronger institution and a stronger community.