Christopher Howard: Living Life in the Moment
A life's recounting in the subject's own words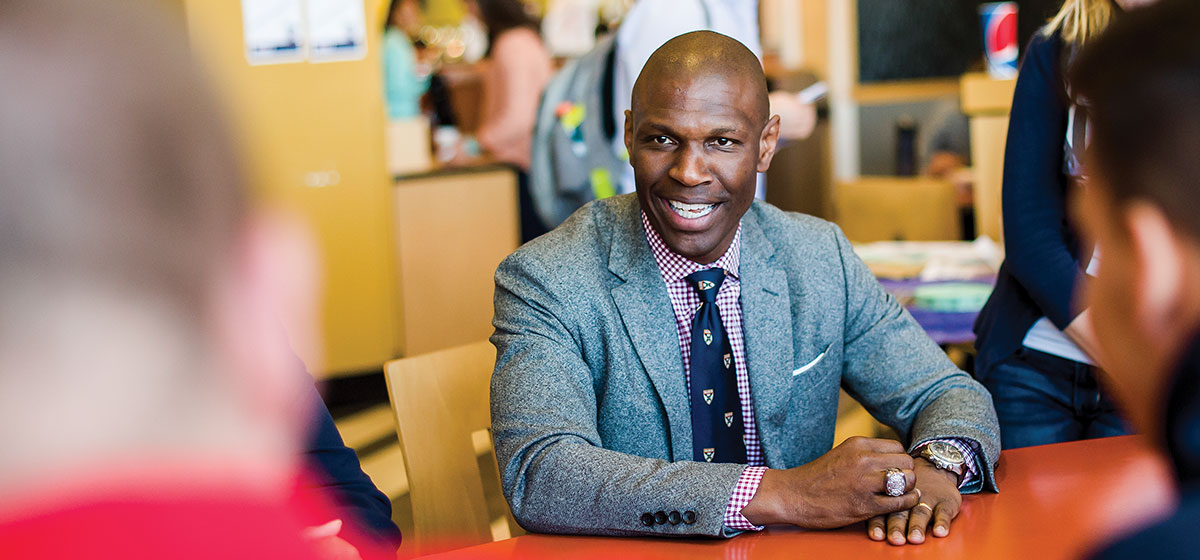 September 20, 2021
I come from a family of proud people who didn't have a lot. My great-great-grandfather started out as an "enslaved human being" in Texas. Later, he and my grandfather were sharecroppers until my grandfather got a job in a factory. It's kind of a Pittsburgh story: Man becomes "blue collar" because of factory work.

My dad was among the first generation in his family to go to college. But he and my mom, growing up, did sharecropping as well, picking cotton in the summer. My mom was valedictorian of her high school class, and my dad was salutatorian of his, at a different school. (Mom loved to tease him about that.) I lost my dad a couple of years ago but, thankfully, my mom is still with us.
My parents actually met in college. My mom started at Prairie View A&M, then got married to my dad, who went into the Army. After that, she took classes on and off for a long time. I remember her taking a business statistics course one year in which she earned a "C+." When she learned of this, she said, "I'm so happy because I did the best that I could." She finally finished college at the University of Texas at Dallas, graduating cum laude the same year that my brother, Reggie, who is one year older than I am, finished high school.
I was born in East Texas, and my mom was eight months pregnant with me when my dad went to Vietnam. Actually, he could have waited, because he had a son, and another child on the way. But he went anyway, and didn't receive a letter about me from my mom until about two weeks after I was born. When my dad returned from the war, I was scared of him at first because I'd never seen him before.
A mathematician by training, my dad left the Army as a captain and went to work for Texas Instruments. We moved around a lot, and ended up in Plano, Texas, where my dad decided to settle us in a bedroom community just north of Dallas, because it had strong schools.
My parents were no-nonsense, tough-loving but wonderful people who told Reggie and me that we had no excuse for not doing our best. Maybe that's why I've continued to pile up achievements — academic and otherwise — throughout my career. Anyone who knows me knows that I work very hard. Those who have asked me about my career trajectory have often said, "I'll bet your parents were hard on you," which wasn't true. My parents expected my brother and me to work hard and do our best, but they never subjected us to what I would call undue pressure.
---
Christopher Howard
Robert Morris University, President

(2016–present)

Hampden-Sydney College (Richmond, Va.), President

(2009–2016)

University of Oklahoma, Vice President for Strategic and Leadership Initiatives; Director, Honors College Leadership Center; President's Associates Presidential Professor

(2005–2009)

General Electric Corporation, Corporate Initiatives Group

(2003–2005)

Harvard Business School, M.B.A

(2003)

Bristol-Myers Squibb, Manager, HIV/AIDS initiative in southern Africa

(1999–2003)

U.S. Armed Forces, training and active duty

(1994–1999)

University of Oxford, Master & Doctorate, Philosophy in Politics

(1991–1994)

U.S. Air Force Academy, B.S., Political Science

(1991)
---
Reggie played football at Baylor University, in Waco, Texas. Today, he manages the call centers for a pharmacy company in Dallas. He and I are very close. He's 6-foot-3 and weighs about 260. He used to weigh 290 when he played nose tackle for the Baylor Bears. But to this day, my mom still calls us her "boys."
I have two sons, 23 and 28 years old. Once, after my second son was born, I had the pleasure of meeting the legendary actor James Earl Jones at a conference for the "Academy of Achievement," in Dublin, Ireland. Mr. Jones said to me one day, "You know, Christopher, I could give you some advice. It's great when you realize that your children are not each other, and that they're not you." That was great parental advice.
Throughout my career, I have given lots of talks to parents and families, and have always stressed that students are on a journey, and their parents are here to help them. And no matter how many children they've had, those parents haven't shepherded as many kids as my colleagues and I have at the university. So, I tell them, "Trust us. We've seen it before." With young people, you have to push and relax at the same time. When you push, you create stress. If you don't push hard enough, their performance won't improve. But if you push too hard, their performance will suffer. Self-mastery and self-actualization come from this kind of tension. I learned this as an athlete and a military officer, and have carried it with me.
Between 1973 and 1976, I grew up in Plano in an ethnically mixed community. Then we moved to Little Rock, Ark. At that point, my dad had become a manager at UPS. He was the first African American industrial engineer at the company, and followed the management track. He was also the only Black manager at UPS in Arkansas, at a very interesting time when it comes to racism in America.
When we moved to Little Rock, the realtor who was working with us to find us housing suggested that, while we might prefer to live in certain neighborhoods, we wouldn't be happy in them because we were not going to be accepted. So, we decided on a more mixed community, and it welcomed us.
The school we attended in Little Rock was predominantly Black, and we were happy there. But then, in 1979, we moved back to Plano to a predominantly white part of town, and lived there from then on. So, you see, Reggie and I had to navigate very different worlds at an early age. And, like my brother, I ended up being a good diplomat. We figured out ways to be comfortable in environments where everybody looked like us — and in those in which nobody looked like us.
Back in Plano, in third grade, I was in a library and picked out a book about Booker T. Washington. I looked at the librarian, who was white, and asked, "Who is this? George Washington's cousin?" She said, "No, it isn't. But you should read it." So, I did. Then one day, I was sitting at the kitchen table while my mom was making dinner, and I said, "Booker T. Washington was a great leader. He was an educator. He started a place called Tuskegee. He met President Roosevelt. And he did a lot of good things for people," to which my mom replied, "Did you know that I went to Booker T. Washington High School?" I said, "Why didn't you tell me?" "Well," she answered, "your dad went to Booker T. Washington High School, too, only a different one. But don't be too impressed. There are a lot of Booker T. Washington High Schools in the South."
When I finally returned that book to the library, I handed it back to the librarian, who told me, "There's also a book about a man named George Washington Carver that you might want to read." So, again, I did — and then started devouring books about "Black history." I read about W.E.B. DuBois, Frederick Douglass, Harriet Tubman, Malcolm X, Dr. Martin Luther King, Jr., Marcus Garvey, and Sojourner Truth. The list went on and on. From those books, I learned that many people who looked like me had done amazing things and had overcome obstacles, even in the face of great pain and strife. This gave me an enhanced sense of cultural dignity, self-worth and self-understanding that many people of color don't get at so young an age.
Later, in fifth grade, I wrote in my "autobiography" that I wanted to be either a firefighter or a civil rights lawyer. I even dressed up as Andrew Young for Halloween one year. Now, fast forward to grade seven. One day, I saw a poster of a West Point cadet and was captivated. Naturally, I started reading all about West Point, thinking, "Maybe it's time for me to serve my country like my dad did." So, I wrote a letter to my congressman: "My name is Chris Howard. I'm a good student and a good athlete. I deserve to go to West Point, so you have to give me an appointment when I turn 18." The congressman wrote back and said, "You seem like a fine young man, Christopher, but I'm not your congressman." I had written to the wrong person! Fortunately, he forwarded my letter to my actual congressman, for which I was grateful.
So, between ninth and twelfth grades, I took and excelled in the classes that I needed to be eligible for acceptance to West Point. I studied hard. By my senior year, I was one of the captains of the football team, commander of my Army JROTC (Junior Reserve Officer Training Corps) unit, and senior class president. One day, I gave a speech to my 1,300 classmates — of which only 28 or so were African Americans — and said, "I thank all my classmates for judging me by the content of my character and not by the color of my skin."
During my senior year in high school, we played in the Texas State Football Championship game at Kyle Field, where Texas A&M is located. The week before that game, I received a letter from West Point saying that I had been accepted. My mom took that letter and showed it to my dad. They told my ROTC commander and my football coach, and all agreed to keep it from me until after the "big game." On Dec. 19, 1986, we won that game, 24-7. When I walked off the field, my ROTC commander said, "Hey, Chris, congratulations on winning the game. And by the way, you got an appointment to West Point." Subsequently, I was recruited to play football by Army, Navy and the Air Force. I visited all three, fell in love with the Air Force Academy and, alas, went there instead of West Point.
From the beginning at the Academy, I played running back on the football team and was singled out as a leader. But I remember, vividly, my first few weeks there. A couple of times I found myself in tears, feeling extraordinarily homesick and wanting to go home. That's when I learned that, even if you want something badly, it can turn out to be painful. Nevertheless, I stuck it out and had a solid career at the Academy, ending up as a stand-out athlete and, because of my good grades, an "Academic All-American."
The Air Force Academy was great for me because there was always a new challenge coming. I wasn't very good in the pool, so I had to take swimming class twice. No matter what you do there, in the Academy, they will find a weak point and have you lean into your fear. In time, I learned how to fly airplanes, and also how to jump out of them. It was a difficult but rewarding experience.
I graduated from the Air Force Academy intent upon going to Harvard to study at the Kennedy School, which accepts only two cadets per year. But people kept telling me, "You should apply for the Rhodes Scholarship," to which I always said, "No, I'm going to Harvard." And then, one day, a colonel approached me and said, "I know you want to go to Harvard, Chris, but we can put some 'Harvard stink' on you later. You really should apply for the Rhodes." So, I ended up applying, and got it. I went to Oxford and did my master and doctorate and, most importantly, met my wife, Barbara, while visiting South Africa between terms. It was love at first sight, for one of us at least. I met her on my second day in her country, and she was not terribly impressed. Actually, when I first saw her, I said to myself, "I'm going to marry that girl." I called my mom that night and said, "She doesn't know it yet, but I've met the woman that I will marry."
For the next year, I traveled throughout Europe. I worked for NATO in the summer, then went back and finished at Oxford. Barbara came to visit me. After that, I went to flight school in Del Rio, Texas. She came and visited me there, too — and we got engaged — but she needed to return to South Africa. About four weeks later, I had a crash in a T-37 Jet Trainer and had to eject. I could have died, but was lucky. I had bumps and bruises, but had to undergo knee surgery. I recovered, got back into the cockpit, and finished my flight training.
Before long, Barbara and I married, just before I was due to start helicopter training. I finished up as a helicopter pilot, and did that for a short while. Then I transitioned to "intelligence" and was stationed at JSOC (Joint Special Operations Command) at Fort Bragg, working with some of the Tier 1 Special Operations Units as an intelligence operations officer.
Barbara is a very disciplined person, so the military part of our life together was pretty straightforward for her. The service creates a family for you quickly. People are very connected, even though, over time, we were stationed all over. We've moved 13 times since we've been married, and no matter where we went, whether it was Alabama, Texas, North Carolina, New Jersey or Massachusetts, we always found a place that made us feel good about ourselves and about America. Like Reggie and me, my wife and I have navigated many different worlds, and have always found a "sweet spot."
After more than a decade of service in the corporate and educational worlds, on Feb. 1, 2016, I became the eighth president of Robert Morris University (RMU) near Pittsburgh. As we say in our strategic plan, "RMU 100," Robert Morris is big enough to matter, yet small enough to care. We're an agile, professionally focused, nationally ranked university, so we can tussle with the "big boys and girls" — CMU and Pitt, Penn and Temple, and so on. But our environment is much more intimate, like some of the smaller colleges in the region. At RMU, I know many students by name. They stop by my office. Barbara and I host students for dinner at our home. I do "Pizza with the President" in each residence hall. So, we've got that "big/small thing" going for us. Unfortunately, the challenges facing higher education have been accelerated by COVID-19, and we know that we must work diligently to attract and retain a greater number of students if we want to be a viable and attractive institution for people who might consider coming here from outside the region.
When you almost die in a plane crash, as I did, you gain perspective. You learn how to live, not for the moment, but in the moment. I don't take anything for granted. I enjoy my wife, my kids and my family more than ever. You must enjoy the moment because the next moment is not promised. We saw this with COVID-19. When I was younger, people kept asking me, "What's next, Chris?" I was always chasing something. But, over the last 20 years or so of my life, while I haven't slowed down, I've made sure to stop at times to smell the roses.