The State of Higher Ed: CMU, Bethany, Grove City
Part I
Illustration by Daniel Marsula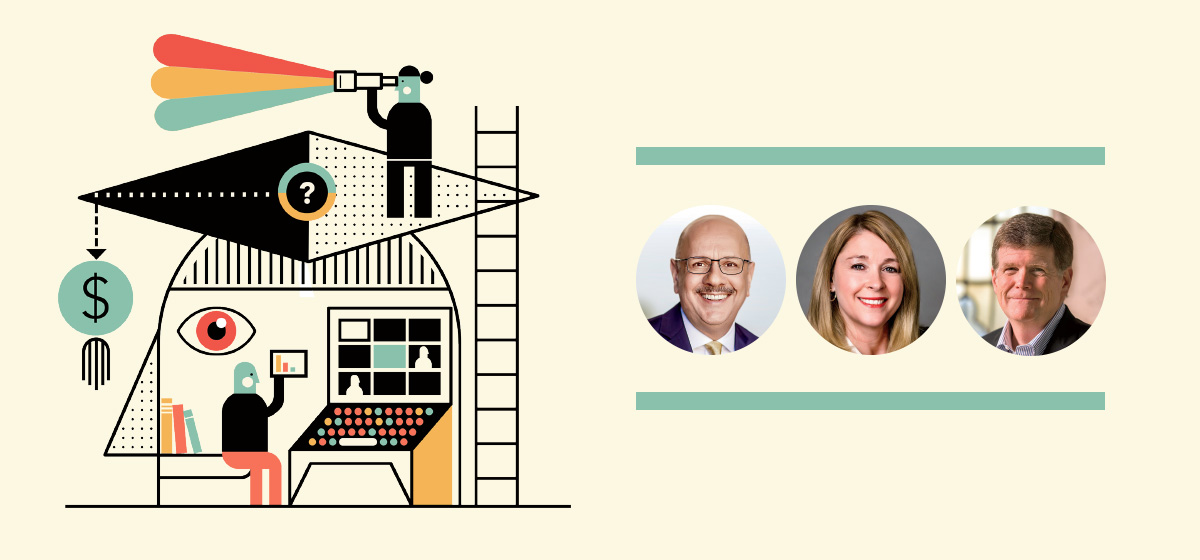 July 7, 2021
We asked the presidents of the region's colleges and universities to answer this question: As we move closer to the end of the pandemic, what strengths, weaknesses, opportunities and threats have become more apparent to you for your institution than they were pre-pandemic?

Farnam Jahanian, Carnegie Mellon University
The pandemic has accelerated many of the trends and challenges facing higher education. For example, concerns surrounding access and affordability have become more pronounced; without aggressive financial aid approaches, COVID-19 will only exacerbate socioeconomic barriers for students, so we are continuing to make financial aid a priority. We are also seeing the transformation of education happening at a faster pace, especially as it relates to the role of technology. While previous conventional wisdom held that technology was simply an educational tool, we see now that technology can be a key driver of pedagogy. We have an opportunity to make education much more flexible and personalized and meld virtual and in-person interactions to improve learning outcomes. And while we are all eager to return to traditional events, virtual events have been powerful tools for maintaining connections to our global community. We have also learned valuable lessons about the feasibility of remote work, and we hope to carry these lessons forward to enhance work-life balance and flexibility for staff and faculty. Finally, the pandemic has underscored the importance of research and the opportunities we have to leverage innovation in tackling society's most significant challenges, including in public health.

Tamara Nichols Rodenberg, Bethany College
For more than 180 years, Bethany College has prepared students to create a world of worth and value, which the global pandemic could not deter thanks to the institution's creative thinking, commitment to student success, and focus on its strategic strengths. Leveraging its idyllic, semi-rural location, the college easily continues to provide a safe, socially distanced, in-person learning experience. Known for its commitment to environmental and public health, Bethany also found itself perfectly positioned this last year to engage its students in analyzing and assessing multiple perspectives on the COVID-19 health crisis. Personalized learning paths for each student further allowed Bethany students to thrive and persist despite the college shifting to online educational delivery during the early part of the pandemic. The crisis also reaffirmed the need for more investments in the college's Student Health Center staffing and mental health care, which Bethany is already pursuing through a competitive grant process. Moreover, the college is working to strengthen its information technology capabilities even more following extensive success in bringing Bethany's community together across generations through a newfound virtual capacity. In addition to re-engaging alumni, the college also developed an online platform to connect students with alumni for internship and future career opportunities.

Paul J. McNulty, Grove City College
Digital equity has been a huge advantage for GCC during the pandemic. Beginning in the mid-1990s, we were one of the first colleges in the country to give every freshman a top-quality laptop with pre-loaded software. Little did we know how critical that would be 25 years later as students took classes from home or on campus during short stints in isolation or quarantine. Our online enrollment soared last summer, and this has sparked our imagination and expanded capabilities for building new undergraduate and graduate programs, such as our new master's degrees in data analytics and systems engineering. Managing COVID has also helped to break down silos between departments. Collaborations have been key in our around-the-clock response and prevention labors. It truly has been a team effort. Finally, and most importantly, we are seeing a stronger and deeper affinity for the college within our current and prospective student and donor communities. Applications have jumped 25 percent over last year. Students were thrilled to be learning in-person this past year. We have also been blessed with back-to-back record-setting years in annual giving, which have been especially critical since Grove City did not participate in the federal stimulus funding programs. The challenge will be to sustain this enthusiasm when masks and social distancing are relics of history.