Bold Action Needed: David Finegold, Vincent J. Delie, Jr., Karen Hanlon
Regional leaders address population loss and Pittsburgh's future (Part VIII)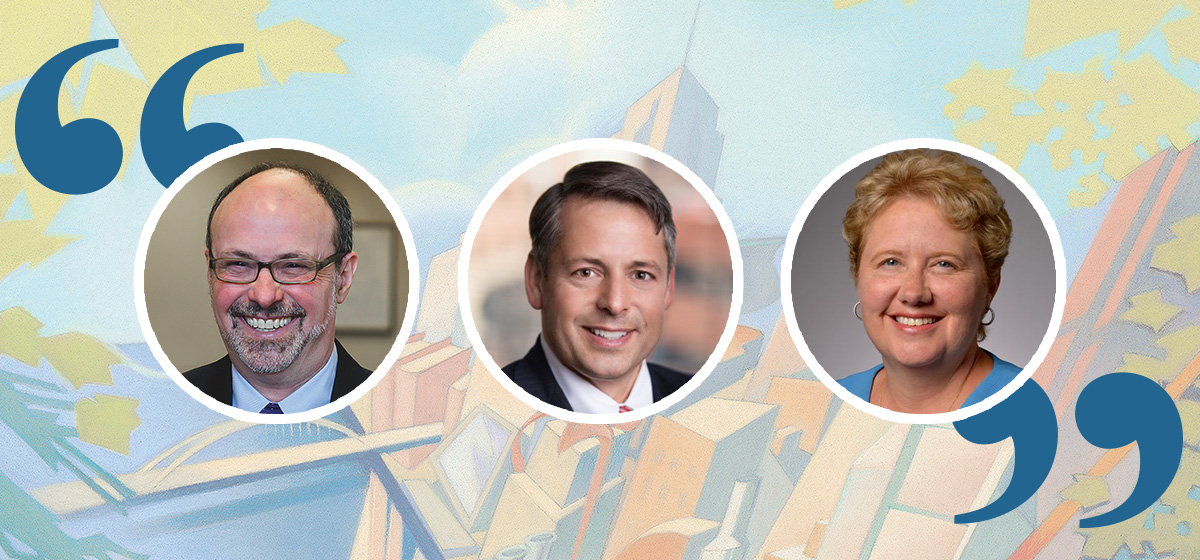 August 12, 2020
At a time when the Pittsburgh region is continuing to lose population and has been seeing regional job losses the past few months, we asked a group of regional leaders to respond, in 200 words or less, to this question: What action do we need to take to create the kind of growth, vitality and dynamism that will stem our population loss and catalyze a strong future?

David Finegold—President, Chatham University
Becoming a Green Talent Magnet—As we enter a new decade, the world and Pittsburgh face many daunting challenges and exciting opportunities. Topping both lists are climate change and the environment. Scientists tell us if we don't achieve dramatic changes in our CO2 emissions by 2030, then we're likely to suffer devastating effects from global warming. But introducing the innovations needed to avoid disaster is also a $30 trillion economic opportunity. Pittsburgh is well-positioned to be a leader in this green revolution, and in the process, become a magnet for attracting those who recognize that climate change will be the defining issue for their generation. To seize this opportunity, we must first tackle the major environmental issues facing our region: improving air and water quality, building a sustainable local food system that captures more carbon than it emits, expanding autonomous vehicles and a smart grid powered by renewable energy. Following the inspiration of our alum, Rachel Carson '29, Chatham is modeling many of these necessary changes at our Eden Hall Campus through the work of the faculty and students in the Falk School of Sustainability and Environment.
Vincent J. Delie, Jr.—Chairman, President and CEO, F.N.B. Corporation, First National Bank
Local leadership must remain focused on business creation and job growth to spur economic expansion, and this should be our number one priority. Economic opportunity leads to success for our region and provides the resources to address other social issues as well as educational and infrastructure needs. This engine drives population growth and retention leading to a much larger tax base. The demands are great, but our ability to provide for others and invest in infrastructure is linked to our own prosperity. This can be accomplished by lowering taxes and better aligning our great academic institutions with businesses.
Karen Hanlon­—Executive Vice President and COO of Highmark Health
Embracing diversity, rather than just talking about it, must become a priority for our region if we expect to attract and retain the best and brightest minds who will shape the future of our region. Collectively, we have a responsibility to welcome diverse people and thoughts into our everyday work lives. All voices matter and different perspectives, experiences, and ideas mirror the world today. We cannot just check the box; we must have substantive outcomes and we must also hold ourselves accountable. Business and civic leaders must commit to building corporate cultures and participating in programs such as the Rooney Rule and The Advanced Leadership Initiative that will create access and opportunities to put minorities in leadership positions. Leaders must also have the courage to step aside and enable our younger residents, both men and women, to become the stewards of Pittsburgh's future. Our very existence, literally, hinges on it.