The Pinnacle of My Time at Quantum
And an invitation – to experience Idaspe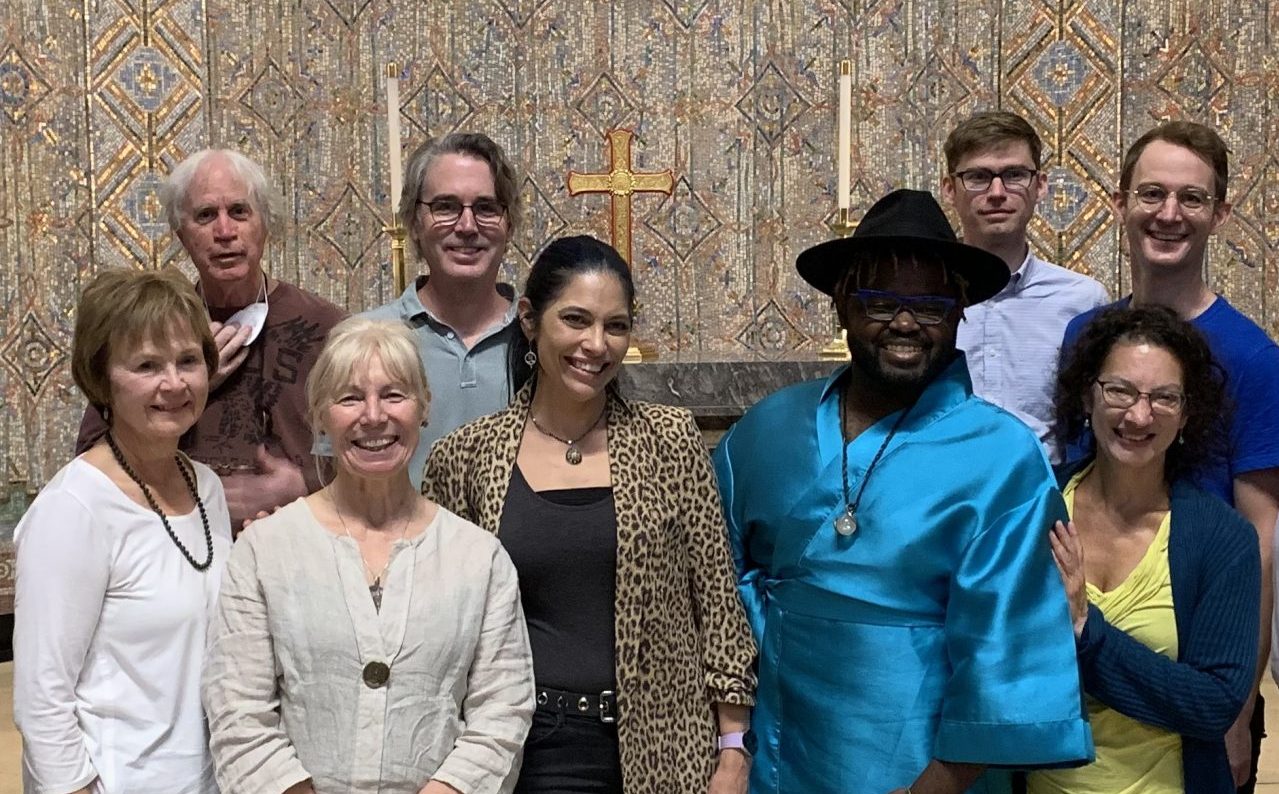 September 19, 2022
Dear reader, I think you may benefit from a pitcher of Bloody Mary's. Or a pot of coffee. Or a screened-in porch with an ancient comfortable chair for a September afternoon, whatever your version of support props. This story has twists and turns that challenge one's staying power. But I appreciate your lending an ear and offer that there's a chance for brilliance at the end of this long road for those intrigued enough to go sit in the Byham Theater for a couple hours next month. I hope to intrigue you that much.



My life's philosophy: there's a thread, sometimes you've got to look for it, and trust it to be leading somewhere. I think on my long road of founding and running Quantum Theatre, I got to somewhere. And that somewhere is Idaspe (eeeDAHSpay).
It started in 2015. The trio of musicians who comprise Chatham Baroque received me into their shabby office when I came down from my shabbier office to say I'd seen this cool thing at The Met called The Enchanted Island. Opera gods and goddesses were on the stage – Joyce DiDonato, Placido Domingo… singing an incredible array of Baroque music under William Christie's baton. Phelim McDermott was the Stage Director. The story was a mash-up of Shakespeare's A Midsummer Night's Dream and The Tempest. The music, also a mash-up of Handel, Vivaldi, Rameau – many famous pieces you would recognize, but set with Shakespeare's text instead of their original libretto. It was exquisite.
I told Chatham Baroque's Andrew Fouts, Scott Pauley, and Patty Halverson that I wanted to do that – our own pastiche, as I came to know it's called, an opera assembled from existing music. Would they collaborate with me to celebrate our companies' mutual 25th anniversaries with a pastiche opera set with Shakespeare's text? I chose The Winter's Tale. I would insist on the theater being as important as the music. To me, theatre that speaks with the language of music is just a more glorious kind of theater. They looked a bit shellshocked, but this we did, and some hilarious 10,000 hours later, with additional collaborators Attack Theatre and conductor Andres Cladera, we performed The Winter's Tale in the jewel-box theater at the top of the Union Trust Building.
The process of creating it involved listening to a ton of music by Baroque composers to, you know, steal things, which were then set with Shakespeare's "lyrics" (in many cases "massaged" by moi… Karla Shakespeare). In our research, we discovered a wonderful aria from Vivaldi's obscure opera Bajazet, which we loved so much that when The Winter's Tale was over, we couldn't get this aria out of our heads. Even though years went by.
As our mutual 30th anniversaries approached, I went over to Chatham Baroque's now-much-nicer office in the Pittsburgh Theological Seminary and asked what they thought about doing Bajazet together. We listened to our aria yet again – Vivica Genaux singing it, as surely no one can, with Fabio Biondi conducting from the violin and his marvelous ensemble Europa Galante. And we said, "Let's do Bajazet." We believed it had never been staged – one of "the forgotten Vivaldis" — operas only recently discovered after languishing in a drawer for some 300 years.
My three friends challenged me: Could we have an orchestra of the best period players from around the country? Might we have… Vivica? She has Pittsburgh ties. She studied here with Claudia Pinza and has performed with the Pittsburgh Opera. She is warm, personable and loves Pittsburgh even though she's opera royalty in general and a Baroque Empress. It was easy to get her contact info, and I wrote asking if she'd be interested in a full production of Bajazet… and she said yes!
We were in business. But I felt I needed to contribute an amazing theatre director who also spoke the rarified musical language of these three Pittsburgh treasures. (I'm always trying to make ultimate theater.)
A person came to mind. I'd have to be devious to get to her. I'd need an ally of some influence to make her read an email in which I would pour out my heart's desire.
Some Pittsburghers have a bit of a relationship with Tony-, Academy-, and Olivier Award-winning actor Mark Rylance, and I am one, thanks to retired Post-Gazette theater critic Chris Rawson. Mark is very interested in the quite Shakespearean story of Andrew Carnegie and his sometime friend/sometime nemesis Henry Clay Frick, stemming from his time playing Hamlet at the Pittsburgh Public Theater in 1991. He returned with his (former) company Shakespeare's Globe to Pittsburgh several times in the early 2000's, and on Chris Rawson's suggestion I spent a wonderful day with Mark showing him steel mill sites. I reminded Mark of all this as I begged him out of the blue to hook me up with his wife, Claire van Kampen so I could ask her if she'd direct Bazajet starring Vivica Genaux.
Claire didn't know me or Chatham Baroque from Adam but she knew Vivica Genaux alright. And after a little conversation with Chatham Baroque, she agreed.
We went to work and planned a fall 2021 production. I started sniffing around the Cultural District. Would someone let us do Bajazet in a building with good acoustics like… a theater, not my usual jam? Kevin McMahon was willing to listen.
In the meantime, Portland was going to put on a production of Bajazet that would spoil our claim of doing it first! But then, a strange thing happened.
On a conference call with Claire, she said, "You know, that aria you love, it's in Bajazet, but it's not by Vivaldi. It's by Riccardo Broschi." Claire might be the world expert on Broschi. She'd made the Tony Award-winning Farinelli and the King, starring her husband Mark as King Phillip of Spain. Farinelli was the great castrato singer, who eased the mental pain of the declining king by singing arias to him every night, much like a caged bird (this is history, you can't make this stuff up folks). Farinelli was born Carlo Broschi, and his older brother Riccardo was a composer who knew that the family had produced something incomparable and rare in young Carlo. So big brother wrote an opera to make him famous. In it, he would compose parts for all the greatest singers of the day, the most acclaimed tenor, soprano, contralto… and then to top them all, a character called Dario for young Carlo, who would be ever after known by a single name – Farinelli. Dario's greatest aria, the one that made everyone's mouths drop open, is the aria with which Vivica Genaux enchanted us in 2015.
And it will enchant you, next month, I assure you. I just heard her sing it in the room next to me. At this moment, I feel a Serena Williams analogy is apt.
What is this opera by Riccardo Broschi? Well, it's called Idaspe. We could look at its original manuscript in the Library of Bologna. There are the notes in 1730 ink. Chatham Baroque could read it very well and pronounced it extraordinary. It's a musical mystery that it languished, though my geeky friends believe it had to do with the dominant rise of Handel in England and indeed, Farinelli hooked his wagon to the rising star of Handel.
The pandemic contributed time which enabled my friends Claire, Andrew, Scott, and Patty to create a performance edition in modern notation. Then we set about casting the other roles, attracting truly great singers who will surround Vivica as a jewel in a gorgeous crown. Kevin McMahon kept listening, and eventually offered the Byham Theater, a perfect acoustical environment for the intimacy of this music. The best period players are indeed coming to join the band conducted by Daniel Nesta Curtis.
Claire's genius is multi-faceted. She makes theater, relevant, contemporary theater, and I've learned that Baroque music is often married to contemporary performance – it was the time of the Enlightenment after all. She wanted a great choreographer, Antonia Franceschi, with whom she's worked many times, incredible designers, and she got them: Narelle Sissons, Mary Ellen Stebbins, and Ilona Somogyi (note the completely female leadership) to make a compelling event attractive to audiences of all kinds.
Did you refresh your Bloody Marys? Claire's treatment of the story and the way it intersects with design is perhaps the most fascinating thing of all. 1730, Enlightenment or no, was a xenophobic time in Europe – no kidding, right? Many Baroque operas feature villains from the East, where white Europe looked with fear to the Ottoman Empire, as they had since the Crusades. So natural to vilify what you don't understand, right? Thank goodness we've changed.
Broschi's Idaspe tells the tale of two siblings, but it's Claire van Kampen from here on: it's the 1960s. The siblings came as children, refugees of war in the Middle East to Mediterranean shores, where the wealthy society of Naples "welcomed" such orphans, but really did not provide for their sustenance, almost assuring that these children could only survive by making alliances with a ruthless, criminal, parallel society. In our tale, they were separated and allied to rival clans who will come to fight a turf war which will determine their destinies. It's a glamorous world, where crime pays the bills, lavish parties are thrown, and the tailoring is impeccable. The soaring music is a fitting language for emotions both dark and light and every color in between. The ending is transcendent and offers hope – welcome hope for troubled times.
The journey to make Idaspe? I wore out my shoes. I am shocked to find myself emerging from the pandemic in my 60's and approaching the end of my exciting working life. I've gotten a fabulous, glittering dress. I will wear it to sit in the darkened Byham, to listen to Idaspe, performed like never before, transported from 1730 to the present, on five magical nights. I hope to see you there. Thank you, Pittsburgh.
Tickets for Idaspe can be purchased at quantumtheatre.com/Idaspe