Now and Then: Artemesia Genteleschi and Kehinde Wiley at the Frick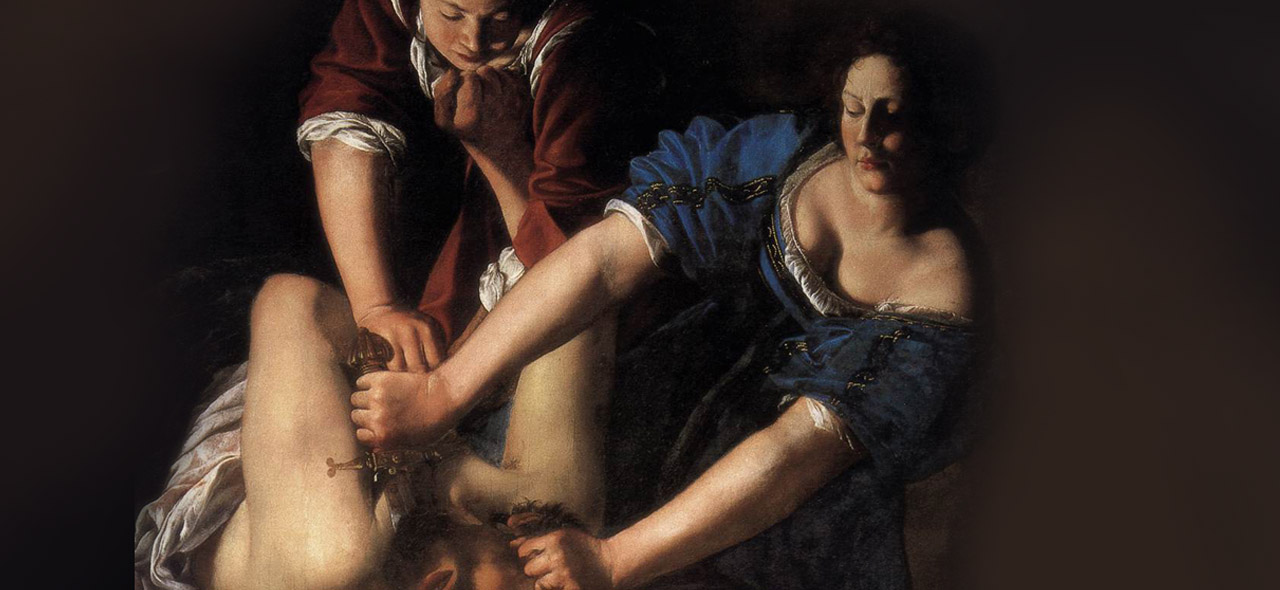 July 6, 2022
The Frick has gifted us with a rare treat: the opportunity to view an iconic work from the 17th century paired with a major work of our century. The two paintings of the Judith and Holofernes story, created four centuries apart, comprise "Slay" which is on exhibit through Sunday.



Artemesia Gentileschi's version depicts the classic story of Judith, a Jewish woman who saves her people by seducing the Assyrian general Holofernes and then beheading him. By the time she created several versions, the story symbolized the struggle between the commune and a ruler, and today the work is seen through a feminist lens, frequently interpreted in relation to Gentileschi's trial accusing an assistant in her father's studio of raping her. (he was not her mentor.)
Kehinde Wiley's 2012 iteration, an even larger work, also has a political gloss that references violence against blacks. He too places the story in a contemporary context with a powerful black woman who has agency, who holds the head of a white woman she has beheaded. Both works illustrate the recycling of art historical narratives and images, revealing how different eras can adapt the images to their own realities., a theme that was popularized in the 1980s in the work of artists like Cindy Sherman and Yasumasa Morimura, who deconstructed the ideology embedded in the canon of art history.
Gentileschi's work is from a time when female artists were not recognized; in fact, history has attributed several of her paintings to her father, Orazio Gentileschi. The feminist recovery of female artists has brought much-needed recognition and led to new scholarship. The sensational rape trial has, unfortunately, colored much criticism, but she was known for painting images of virtuous and powerful women. The juxtaposition of her work with that of a prominent black, contemporary artist, enhances a viewer's experience, adding a different context in which to view art.
Gentileschi's work exhibits the hallmarks of Baroque painting: a theatrical presentation of monumental figures acting in a close environment highlighted by exaggerated effects of lighting. Judith is active, performing in the moment of killing Holofernes after seducing him. Her knife has penetrated his neck as he struggles against the physical control of Judith and her maidservant. The figures, fleshy and sexualized, wear gowns of bright red and blue, the latter a nod to the Virgin Mary, the ultimate virtuous woman of Christianity. A close look reveals a lack of anatomical knowledge seen in similar works by male artists, especially her contemporary Caravaggio who also painted this subject. Yet the emotional intensity, fueled by a violent act brings an immediacy and vividness to the scene. As opposed to many other historical examples, Gentileschi reinforces the interpretation of Judith as a heroine.
Several centuries later, Kehinde Wiley, a prominent African American artist best known, perhaps, as the portraitist of Barack Obama, includes this narrative in his first series of powerful women in a 2012 exhibition called "An Economy of Grace." Wiley has said that "this series of works attempts to reconcile the presence of black female stereotypes that surrounds their presence and/or absence in art history, and the notions of beauty, spectacle, and the 'grand' in painting." In the work at the Frick, Judith, a powerful black woman poses in a field of wallpaper-like flowers, blooms that set a background, creep around the figure, and can be seen through the transparent lower part of her gown, confusing our sense of space.
Royal blue, again the color of Mary's robe, the gown was designed by Givenchy, a collaborator in this project, communicating another layer of power through the status of fashion. Not involved in the violent act itself, Judith is barefoot; still she emits strength and calm as she holds the head of a white woman in one hand, and a knife in the other, telegraphing allusions to Salome as well as Judith. Race, not seen in other depictions of this story, enters the narrative in the lead-up to the Black Lives Matter movement. Seen through the lens of our times, this work also reminds viewers of police violence against blacks.
No matter how a visitor interprets these works, this exhibition provides a powerful moment, a chance to engage in the rudimentary approach of art history: compare and contrast. By looking at two examples of the same subject, we see how context, in this case race, politics, and specific periods, cast through personal experience, shift our interpretation of a known narrative. There is Wiley's haughty look while displaying a bloodless head versus the immediacy of a murderous act with a knife entering and exiting a head, leading to a blood-spattered scene. The dresses, both blue, give a sense of sexuality in Gentileschi and class in Wiley.
The act is contrasted with the trophy of the act. The theatrical and the active oppose the posed and static. While drawing from the same story, the two artists choose different moments of the story, with the freedom afforded when depicting an apocryphal account. The moral is clear in Artemesia Gentileschi's work as Judith becomes a heroine acting on behalf of the oppressed while the message in the Kehinde Wiley raises more questions when considered in terms of contemporary politics but also presents Judith as a woman with agency.
The chance to see these two works in one place is incredible. I have studied and lectured about the Gentileschi work many times but seeing it in person has added a better sense of the artist's talent. The same is true of the Wiley, whose work I have observed both in galleries and the television series Empire. Both works reflect how beliefs about gender and race and, of course, power color works produced by different artists. 

This is an exhibition not to be missed, a rare occurrence in Pittsburgh of the presence of major works of art. At the Frick, it stands in stark contrast to their major show about Romare Bearden that features lots of screenprints rather than his hallmark collages and even includes reproductions of many works.  A visit to the Frick is worth the time, even if only to see Slay, the presentation of the two Judiths, which is free. This exhibition works on so many levels, allowing visitors to look closely at works that rarely travel, from Naples and, noticing formal details not always available in reproductions and giving free reign to interpret an apocryphal account of a biblical story.