Rethinking Education
At Elizabeth Forward, a digital makeover aims to boost learning
Photos by Renee Rosensteel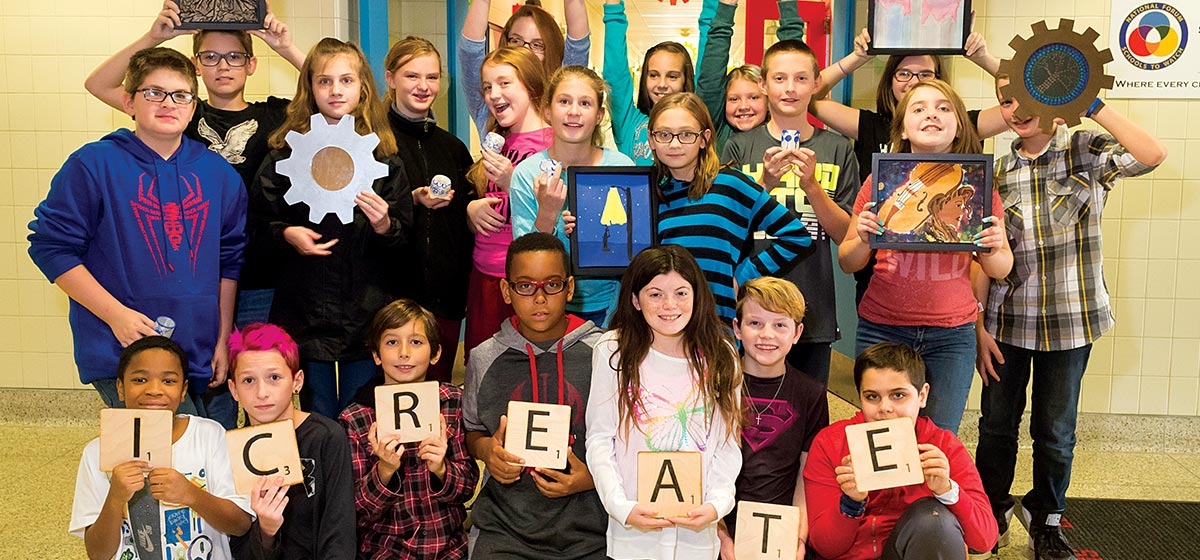 November 20, 2016
Janice Smith's fifth-grade reading class at Central Elementary in the Elizabeth Forward School District was supposed to be working on a book report. Huddled around iPads, the students chatted with one another, pointing and swiping at the screens. No one was being shushed, few were sitting square in their seats, and no one was holding a pencil—yet they were all on task.

---
---
They were experimenting with an "augmented reality" app called Aurasmua, which triggers a link between the physical and digital worlds. In this case, when an iPad camera is pointed at a student's photo on display in the hallway, that student's previously videotaped book review plays on the screen, offering students an interesting, creative way to present book reports beyond the traditional recital in front of the class.
At the district's high school, the library has been transformed into a media center complete with audio and video production studios and a café. At the middle school, there is the Dream Factory, a corridor with an art studio, computer science and robotics lab and a shop equipped with 3D printers and laser engravers.
From Silicon Valley to rural school districts, superintendents are changing their methods, moving past the classic classroom lecture to a technology-centric environment featuring everything from teaching grammar through interactive games to emphasizing digital fabrication or "making," an increasingly popular hands-on approach that encourages students to use technologies new and old to create and build projects with teachers acting as facilitators.
The Elizabeth Forward School District in Allegheny County has enthusiastically embraced such strategies with the hope of increasing student engagement. Its ambitious departure from the traditional classroom experience to become more finely tuned to the sensibilities of today's tech-savvy students has led the district to become a high-profile incubator for educational technology experimentation. But beyond the dazzle of entertaining apps and 3D printing, questions remain about whether—and to what degree— these early technological classroom revolutions actually improve educational outcomes, from graduation and drop-out rates to performance on test scores.
21st-century learning
In recent years, U.S. education has seen an increasing emphasis on standardized testing, with Common Core curriculum and government standards outlining specific skills students should master in each grade.
Running parallel to those trends, however, is an emerging shift toward personalized or adaptive learning, which recognizes each student's strengths and needs and focuses on developing the skills to succeed in the 21st-century workplace. No longer a strictly vocational skill or a subject for math and science students, fluency with technology is now seen as "knowledge valuable for every citizen," writes Stanford University professor Paulo Blikstein, in a recent book examining technology-enhanced learning.
In the Pittsburgh region, the Remake Learning Network has invested millions of dollars to help schools and others implement education projects focusing on technology, digital media and the arts. The Sprout Fund-managed network, which includes more than 200 organizations ranging from libraries to foundations to education technology companies, has developed a set of core 21st century competencies, with skills such as robotics and media making that align with the "maker" movement.
"Kids need to be able to de-construct problems, identify scenarios and solutions, and work together in teams," says Gregg Behr, executive director of the Grable Foundation, a key Remake Learning funder. The new approach, Behr says, emphasizes science, technology and the arts and represent "different front doors" to education.
Remaking Elizabeth Forward
The Elizabeth Forward School District straddles the Monongahela River in the heart of a once mighty steel-making corridor that's long been in decline. But it was the district's ties to the local innovation economy that blossomed after the fall of steel that transformed Elizabeth Forward into a test bed for technology and maker learning.
Efforts began shortly after superintendent Bart Rocco came to the district in 2009, when he and Assistant Superintendent Todd Keurskin heard a speech by Don Marinelli, then-director of Carnegie Mellon's Entertainment Technology Center. Rocco and Keurskin were seeking new ways to engage students, reduce dropouts and stem the loss of young people to cyber charter schools. In Carnegie Mellon, they found a powerful partner interested in creating and piloting educational games for the district. They embarked on reshaping the spaces where students learn, around advanced technologies.
"You know there are issues in your school and you need to solve them," Rocco says. "We knew that kids here weren't engaged."
The district also has built partnerships with private industry, including eSpark Learning, which provides a curated collection of apps and educational games for teachers. And in Elizabeth Forward Middle School, Carnegie Mellon and Chevron created the Energy Lab—an interactive space devoted to education games on energy and space.
Whether to finance such ventures rests heavily on the assessed strength of an organization's leadership, Behr says. "Whether it's a school or a nonprofit organization, we always look for essential building blocks: demonstrated leadership, demonstrated financial vitality, attention to research and data, and a willingness to use it. You can have all those things, but absent the leadership, it's not going to work. Ultimately, it was a bet on Bart Rocco and Todd Keurskin and their school board."
Engaged in technology
The new emphasis on technology and the maker culture made sense to Jake Spagnol. The school media center's video production studio kindled a passion for film for the 18-year-old Elizabeth Forward High School student, who decided to study broadcasting in college. "I had an interest in it, but I didn't really know how to go about it until I started meeting people who gave me tips. It's learning peer-to-peer—someone teaches you one small thing and then you play around and teach yourself things."
Such anecdotes and their own observations lead Rocco, Keurskin, and district teachers to believe that the new approach is dramatically improving student engagement.
The maker movement can be particularly effective in engaging students from low-income families, according Stanford's Blikstein. "Especially in low-income schools, students would often tell me that they used to make and build things with their parents and friends and had jobs in garages, construction companies or carpentry shops. However, that experience was disconnected from their school life, since they did not see a link between the intellectual work in the classroom and the manual labor in the wood shop."
Beyond engagement, however, does a high-tech makeover such as Elizabeth Forward's create better educational outcomes? On that question, available data suggest the jury is still out.
Take the district's Pennsylvania Department of Education's school performance profile. The index, a broad indicator of academic achievement reported for all schools in the state, takes into account state standardized test scores, schoolwide academic growth and other factors, such as graduation and attendance rates. In 2014–15, Elizabeth Forward Senior High School's academic score was 63.7 out of 100, placing it in the second-lowest achievement category. The score is slightly lower than the high school's scores in the two previous years.
On the other hand, the district's already high graduation rates have improved, rising from 94.1 percent of students graduating on time in 2010–11 to 95.7 percent in 2014–15, exceeding the statewide average graduation rate of 84.7 percent.
The district's dropout rates increased slightly from 0.6 percent in the 2008–09 school year to 1.1 percent in the 2013–14 school year. Elizabeth Forward's dropout rate, however, still falls below the state average of 1.3 percent.
Engagement vs. learning
One of the most important distinctions in understanding educational technology and learning is the relationship between engagement and cognition. "At some level, without engagement there is no learning," says Vincent Aleven, associate professor at Carnegie Mellon's Human-Computer Interaction Institute. "On the other hand, engagement by itself is not learning. So it's good not to lose track that just because students are engaged, doesn't mean they're learning."
Interest in adding gaming elements to educational software to make it more engaging is increasing. But Aleven and other researchers have found that not all of those products lead to better learning. And it's difficult for school officials to know which educational games, intelligent tutors and other software are effective at teaching and enhancing learning. Rigorous evaluations that provide such insight remain nascent in the growing new field.
While some of the new programs at Elizabeth Forward are not yet being formally evaluated for their effectiveness, others, such as the games produced by Carnegie Mellon's Entertainment Technology Center graduate students, are play-tested in the district.
Evaluation "is limited to helping them make a better game in terms of the mechanics of the game," says Carnegie Mellon professor Scott Stevens. "Is it fun? Can students do the task? Do they seem to be learning? It's by no means a formal evaluation."
Elizabeth Forward's in-house evaluation involves surveying teachers and students on whether or not they feel a particular program is effective and engaging, Keurskin says. If there's a consensus that a program isn't working, they stop using it and move on. "A lot of schools just continue down the road with whatever software programs they use, but we're trying to analyze that. We're not always going to wait around and see if a program is effective. If there's a startup program we're interested in, we might pilot it with one class."
And Elizabeth Forward officials make it clear that maintaining momentum toward remaking learning around rapidly developing technologies is a priority. "Some of my colleagues in other districts are saying we're going to wait and see how you do," Rocco says. "But the danger is, by the time they decide, we'll be light years ahead and our kids will too."
And in the digital world, being willing to adapt is perhaps the most important 21st-century skill of all.