Eleven Mile Farm
Photographs by Becca Ringham Myerburg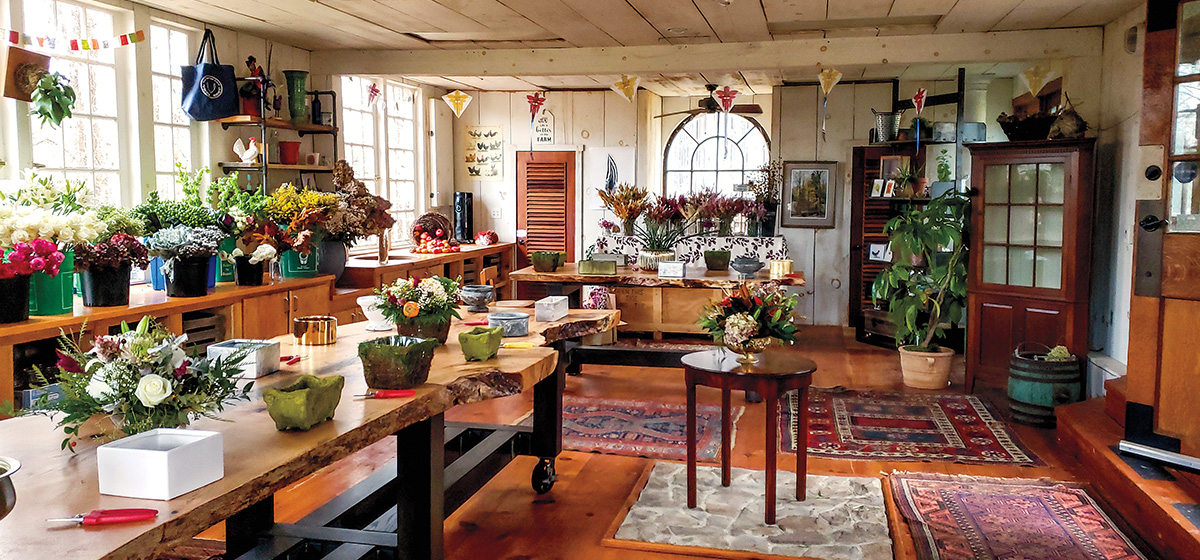 January 25, 2021
"To everything there is a season and a time to every purpose, under heaven." So says the book of Ecclesiastes, pirated by Pete Seeger for a song recorded by the Byrds. Those words come to mind when visiting Eleven Mile Farm, an old sheep farm in Indiana Township that has found new life with new owners.
The scope of their undertaking is daunting. Mike and Becca Ringham Myerburg purchased the 50-acre spread eight years ago after outgrowing their home in Fox Chapel. "We knew we were either going to move into the city or acquire more land to pursue gardening, which turned into farming," Becca says. To be more precise, flower farming. And unlike more traditional crops, growing flowers is pretty much a year-round enterprise.
The farmhouse that sits on the property gives the farm its name. Built around 1874, it is rumored to have been called Eleven Mile House because that's how far it was from Downtown Pittsburgh. Like many of its neighbors, it was a summer home for city folks and may have been an inn at some point. The couple had been looking for a farm for several years—they wanted to stay in the Fox Chapel School District and own the subsurface rights of the property to protect against any fracking or mining.
"Much of the land was overgrown and choked with bittersweet and dead trees. It was in a bit of a shambles, and it took a good year or more just to clear it. I think the land started showing us what could be done when we started clearing out the brush. It was really important to us to take care of a piece of property like this. We wanted to restore its beauty, farm it and do magical things with it," Becca says. "We wanted to be stewards of the land."
Though they had a small garden at their previous home and Mike is an avid vegetable gardener, Becca was more interested in growing flowers. But she didn't want to cut flowers from her personal garden by the house. "I wanted to grow unique varieties of flowers I could freely cut and share with others." Her parents and grandmother had instilled a love of gardening in her, but she felt the need for a more formal education if she was going to tackle acres of land. So three years ago she took an online flower farming workshop with Floret Farm's Erin Benzakein.
"She's a superstar! Attending her in-person workshop was on my bucket list and when she offered it online—that was a game-changer. From there the seed was planted and I thought, can I do this? We built our first 25- by 50-foot plot, cleared the land, made rows and I took my first stab at growing cut flowers in the field."
Bachelor's buttons, anemones, ranunculus, cosmos, amaranth, dahlias, zinnias, sunflowers—she planted more than 50 varieties that first year.
"They were fabulous and it exploded from there. I loved it, I could do it, and I just wanted to go bigger. The next season I became a master gardener through Phipps Conservatory. I'm an avid reader of gardening books and blogs, and from every person I talk to who is a gardener or farmer, I learn something. It's insanely labor-intensive, especially at this stage. And I'm trying to maintain balance personally—I'm also a mom, a wife, a daughter, a friend and a psychologist."
She continues to see patients several days a week, and Becca admits she relied heavily on family the first two years to get the farm running, "much to my two kids' dismay!" But today she has some help as the farm has grown into a business. The old turkey roost is now the Flower Shop, a large, rustic space where Becca holds floral arranging workshops with floral designer Anne Dickson of Fox and Fleur. Becca also provides many of the flowers for the weddings and arrangements Dickson makes, sells her own arrangements and delivers six weeks of flowers to customers' doorsteps as part of a CSA program throughout the summer. Her farm-fresh bouquets and arrangements feature specialty flowers and always include a signature feather from her chickens. Though the farm is closed to the public, orders can be placed online, by phone or by email. A nearby barn is used for gatherings such as garden club meetings and events.
"We approached this with sustainability in mind," Becca says. "The entire farm is on solar and we also incorporate geothermal into it. Our gardening practices are as organic as possible, relying on crop rotation and seasonal planting. We use natural practices to manage pests such as soapy water to kill beetles and coffee grounds to discourage slugs. It's important to me to teach others about unique varieties of flowers and to encourage people to buy what's in season and support local farmers. I think this year with COVID I was a little gun shy. Would people want to buy flowers? All of the weddings and events were canceled, but people still bought flowers. They love flowers because they bring happiness. The feedback and response I got was just incredible."
A flower farmer's work spans the calendar. Seeds are started in the greenhouse in March. Hardy annuals go into the ground in April. In early May the dahlias are planted, and so it goes full on until the end of October, sowing seeds, planting more than 80 varieties of flowers, watering, fertilizing, harvesting, delivering, turning over the fields, replanting, putting in the second crop and lots of weeding. In the fall the fields are cleared and planted with rye or clover and the dahlia bulbs are dug up and tucked away for winter. Then it's on to holiday wreath-making and centerpiece workshops. "It's an intensive cycle. But it's a beautiful rhythm.
"As a psychologist I tell my patients, and I tell my kids, there are four things we need to do to survive this pandemic. Number one, spend time outdoors. It's good for the soul. Number two is to exercise and that can be as basic as pulling weeds or walking your dog, but move. Number three is practice mindfulness. Be aware of where you are, and take in what you see, smell, taste, hear and feel. Be present. And number four is to throw yourself into a project, ideally something that is not work or school, but something that you can take on when you are stuck in your house and that you can accomplish. For me, the farm encompasses all of this and has really carried me through the past several months."