A Pittsburgh Treasure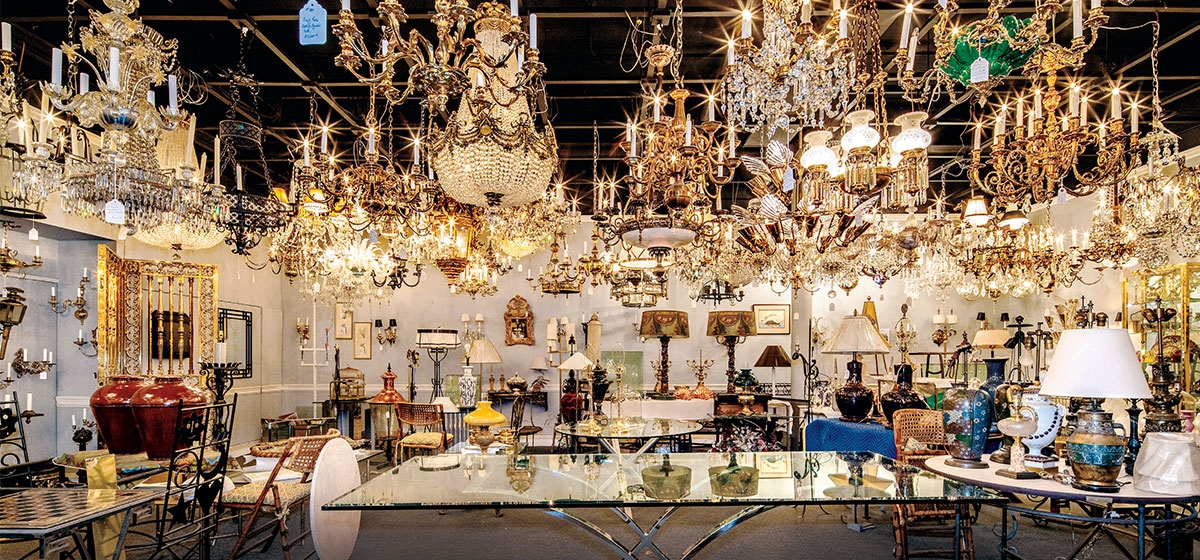 June 19, 2019
At 90, Francis Nowalk has a sparkle that rivals the magnificent crystal chandeliers hanging over his head in room after room. And that's just downstairs. Upstairs in his Bloomfield showroom are the "bigger" things, including a Sicilian donkey cart. "I don't know why I have that," he says with a shrug. One suspects there are more oddities to be found in the cavernous building, a former meat saw factory that also houses Nowalk's workroom. It's an Ali Baba's cave of lighting, a treasure trove of artifacts rich in history and the craftsmanship of bygone eras.
---
---
But then Nowalk points to a contemporary stainless steel and glass table, his own design. He calls it the Pittsburgh Table. Its curved, crossed legs were inspired by the Smithfield Bridge, and the glass and steel are iconic Pittsburgh products. He makes other things, too—an innovative brass rack that can neatly hold 192 ties, a sleek, double-armed lamp he says is perfect between twin beds. It becomes apparent that Nowalk has a mind both agile and creative, and that he likes to solve problems.
In business since 1948, Francis J. Nowalk Lighting is not only the premier source in Pittsburgh for lighting, but for any kind of Old World metalcraft fabrication and repair. He points to a sconce and notes that he has the matching chandelier, and that he installed 125 of them in Heinz Hall when it was being renovated. Leaning against a wall are the brass doors from the Benedum mansion, polished to perfection. Next to them is a floor lamp made for Mario Lemieux. A chandelier from the Peabody estate in Highland Park has crystals Nowalk re-attached using steel fishing line. That's another of his innovations. "Everybody always used silver-covered wire, but silver tarnishes," he says. Steel doesn't, and so it remains invisible through the transparent glass.
His work from the last 70 years can be seen all over town. He restored the giant chandelier from Rodef Shalom, which hadn't been touched since 1907, and created sconces and lanterns for the sanctuary. He's worked on Soldiers & Sailors, St. Paul Cathedral, The Duquesne Club and many other buildings of note. But for decades most of his work has been done for the city's top designers, who wanted lighting and furniture both beautiful and unique for their discerning clients. And the clients themselves come—the showroom is open to the public, as is the workroom where Nowalk repairs and refinishes lighting or metal objects.
Many of his fixtures are antiques dating back to the 1800s and in some cases, converted from gas to electric. He points to an old Waterford crystal chandelier and recalls visiting the factory in Ireland and telling the manager the new ones weren't of the same quality. Surprised at Nowalk's observation, first the man bristled, then he agreed and said, "But let me tell you, we can't make enough."
Nowalk got his first job at 14 at Argo-Lite Downtown. He earned 25 cents an hour hanging chandeliers, working after school and in the summer so he could attend North Catholic and earn the $50 tuition his family couldn't afford. While still a student at Duquesne, Nowalk opened his own business in his family's home in Carrick, later moving to locations in Squirrel Hill and East Liberty. He's been in his present Bloomfield space since 1971.
Though he always worked at least 10 hour days, he cut back to 7 1/2 recently to spend time with his wife, Tess, who is also 90 and was his high school girlfriend. The couple has six children, 20 grandchildren and eight great grandchildren. "When I had my 80th birthday, each child said a little something about me. My daughter said I was like Santa Claus. They'd eat supper and my wife would put my plate in the refrigerator and in the morning it would be gone. I would eat at 11 at night and be gone at 6:30 in the morning, before they woke up."
He says he never thinks about retiring, but he is frustrated that many of today's homeowners are content to buy mass-produced lighting at Home Depot or online when he has so many beautiful things. "People just don't care about quality. It's amazing. And where are the decorators? People really used to spend, they wanted things done well." Tall and courtly in his manner, Nowalk looks around at the lights he loves—­like any good father, he can't pick favorites—and wonders what will become of his extensive inventory of exquisite lights, architectural pieces and metal objects including furniture.
"The only thing that can happen to it is to get sold at auction. But I dream of a man who walks in the door, who is a multi-millionaire who says 'my son is very talented at this, I'd like to see his desires become reality and I'll buy this business.'
I would be extremely happy!"
Francis J. Nowalk Lighting is open five days a week at 4017 Liberty Ave, Pittsburgh, Pa. 15224. 412-687-4017. fjnowalk@gmail.com