Expanding the Strike Zone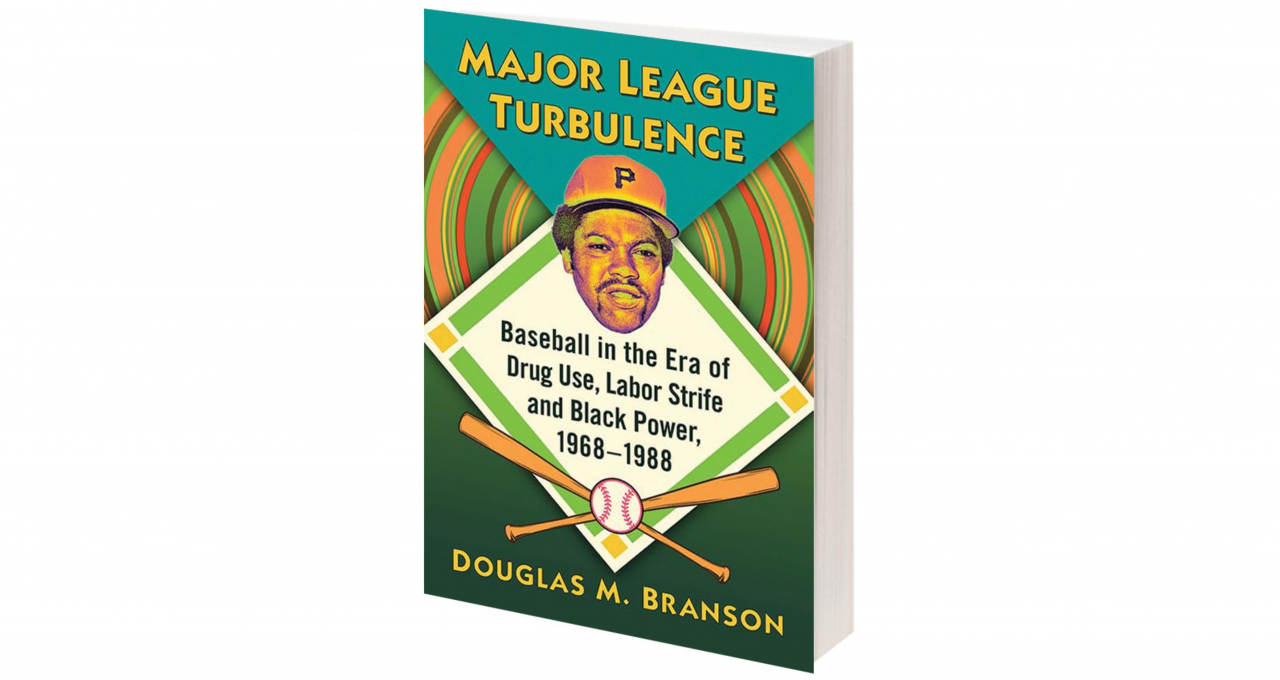 August 31, 2022
Baseball, once considered "America's pastime," has increasingly begun to feel irrelevant as games routinely last more than three hours and options for bored eyeballs abound on the internet. This year's 99-day labor dispute over how to best divide billions of dollars in revenue has further alienated frustrated fans, who in Pittsburgh have only had a glimpse of winning Pirates baseball over the last three decades. For all those negatives, the sport maintains an aura for many as the league celebrates the 75th anniversary of Jackie Robinson's breaking the color barrier in American sports.



In his new book, Major League Turbulence: Baseball in the Era of Drug Use, Labor Strife and Black Power, 1968-1988, Douglas Branson, Law Professor Emeritus at the University of Pittsburgh, uses 251 well-researched, fact-laden pages to explore the social and economic dynamics of baseball during the '70s and '80s. Using a decidedly western Pennsylvania angle, he characterizes each of the points in his subtitle by analyzing the careers of Dock Ellis, the Pirates All-Star Pitcher, Dick Allen, the Phillies slugger from Wampum, Pa. and Marvin Miller, the former head of the United Steelworkers who built the Major League Baseball Players Association into the strongest union in sports.
Major League Turbulence relies heavily on the perspectives of mostly sportswriters and their interviews with players of the era, using past columns to provide perspective on each of the men. Branson writes that, "Once upon a time, baseball…had a purity about it…before television, a Major League park was an oasis where men and women could leave behind cares and worries, immersed in a sport that symbolized the country." It's interesting to note, that while Robinson (and soon after, Larry Doby) would integrate baseball, segregation remained on many teams until the late 1950s and the percentage of black players wouldn't reach the percentage of the black population in the U.S. until the late 1960s.
Ellis, remains a fascinating character because of his claims of pitching a no-hitter on LSD and for being the only player who had a biography written about him by a U.S. Poet Laureate, Donald Hall. "In the country of baseball…many of its citizens are decent and law abiding," Hall wrote. "But there have been others—the mavericks, the eccentrics, the citizens of an independent mind…Some of them are known as flakes." An important cog in the Pirates' 1971 World Series win, Ellis was perhaps more well-known to management as a thorn in their side, pushing boundaries as players of all stripes began to question authority and rebel in different ways. For Ellis, it was wearing curlers (which allowed his hair to be greasy for spitballs) and pitching "every game in the Major Leagues under the influence of drugs."
Since its early days, baseball, because of its long season, extensive travel and down times, has lent itself to heavy drinking, Mickey Mantle being a great example. Amphetamines became an important part of the routine of many players, giving them greater focus and helping them through hangovers. By the late 1960s and early 1970s, marijuana and cocaine became more prevalent, ultimately leading to the Pittsburgh cocaine trials in 1985. A particularly funny scene that Branson employs is the Yankees' Joe Pepitone being caught smoking pot in his hotel room by the legendary Mantle and Whitey Ford, who "each took a hit; next thing I know, they're talking to me about all kinds of shit, and they're laughing at anything I said." Elsewhere, Branson's tone on recreational drugs comes off a bit stiff, but rightly points to them being a gateway to the steroids era of the 1990s.
While Allen was a gifted player who many believe belongs in the Hall of Fame, his winning Rookie of the Year honors in 1964 gets tough treatment in Major League Turbulence. Allen's Black Power stance seems an obvious reply to the power dynamics and incidents of racism that came from playing in Philadelphia, "the last team in the majors to insist on integrated accommodations for their team when on road trips." Allen, because of his big personality, athleticism, and willingness to push owners' buttons over player treatment and compensation, described himself as coming along "'at a time when the country was in turmoil over race relations. I was an easy symbol and an easy target." Indeed, his salary demands became a precursor to challenges of MLB's "reserve clause" that kept players in indentured servitude controlled by white owners.
Ultimately, it took Miller and his shrewd bargaining to expand how players could leverage their talents and fame, leading to court decisions that would stop seeing baseball as a game and recognize it as the big business it is. One example is Mike Trout of the Los Angeles Angels who makes "$221,193 for every game they play where he's on the roster." As a labor lawyer who never played an inning of pro ball, it's Miller who has a good argument for belonging on baseball's Mt. Rushmore as one of the game's four most important figures. Major League Turbulence stands as an important book to help fans understand how baseball got to the place it resides in today's sporting consciousness, for better or worse.