Creative Dinners and More
Cook a month's worth of meals in one night; get your sandals ready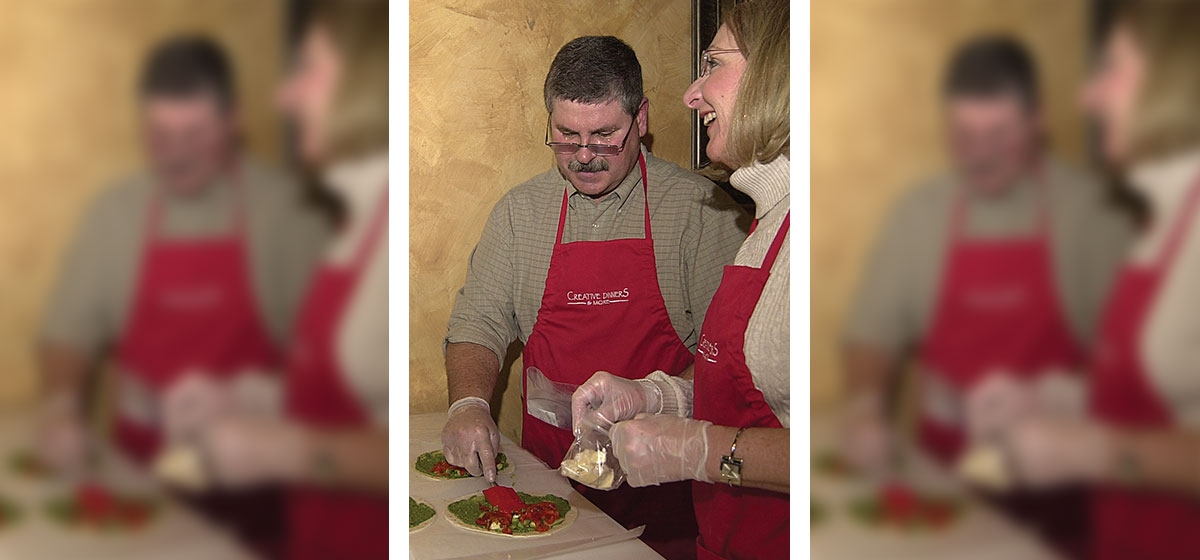 February 20, 2006
With careers, carpooling and volunteer work, making dinner can be a challenge for busy families! If Stouffer's is "home cooking" and at tax time you can claim the pizza deliveryman as a dependant, it might be time for a change. Enter a new concept in cooking — meal preparation centers. Creative Dinners and More provides this alternative that allows you to effortlessly put great dinners on the table each night.

Clients visit a Web site and review menus that include 12 entrees, each of which serves four to six people. The entrees (which change monthly) include a variety — chicken, beef, pork, fish and vegetarian. (Nutritional information is available for each meal.) The cost is about $3 per serving. You select six to 12 entrees, make an appointment and pay online.
When you show up, everything is ready for you. Each facility has workstations where all of the ingredients and utensils for preparing the meals are ready. Put on an apron, follow the printed instructions and assemble each meal in the provided baking pan or freezer bag. Then, apply the sticker with cooking instructions and move to your next station. You leave with dinners ready to put in the freezer. Recipes include individual chicken pot pies, cashew pork with snap peas, salmon with pesto and rice and marinated London Broil.
The staff cleans up after you. It is easy to assemble six meals in about an hour. Owned by local sisters Eileen Burkhardt and Aimee Schmidt and partner Mike McClaine, Creative Dinners and More has an emphasis on fresh ingredients. The facilities are clean and run by friendly, helpful staffs.
You can save a tremendous amount of time because the shopping, preparation and clean up are done for you. Because you are assembling the meals yourself, you can make ingredient adjustments that reflect your personal preferences. Hate olives? Leave them out. For smaller families, most meals can be divided in half. If assembling seems daunting, the staff will even do that, for an additional fee.
The best part about this concept is that delicious family dinners will be easy to put on the table. Bon Appetit!
Creative Dinners and More is located in Wexford and McMurray (www.creativedinnersandmore.com).