Spring Greenery
The bright flavors of spring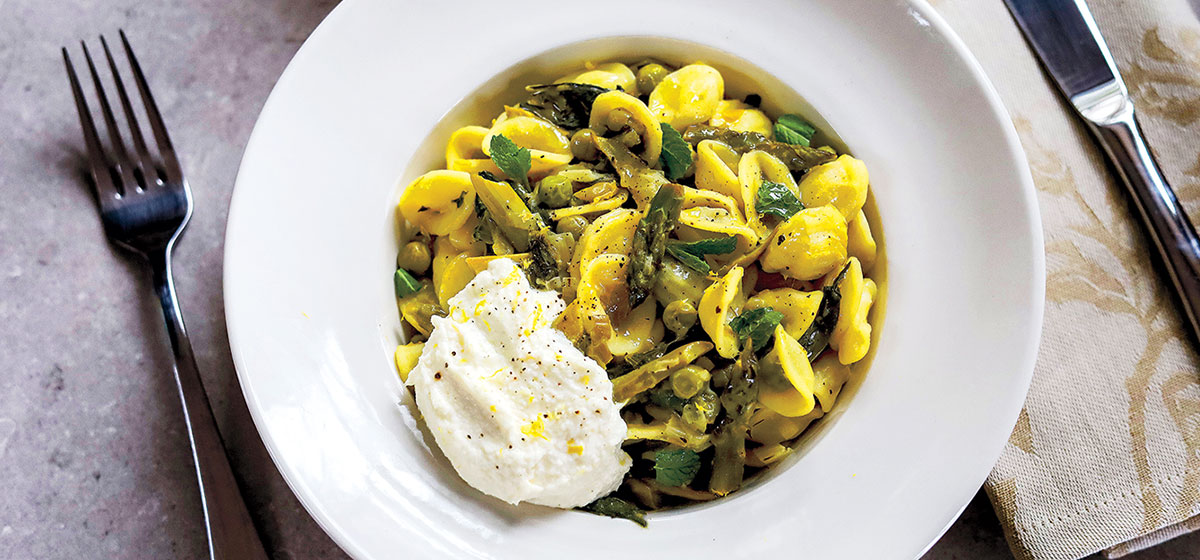 April 7, 2021
After a long winter, the arrival of early spring, however damp and cool, is always welcome. This year especially so, as warmer weather on the horizon promises a reprieve after another pandemic winter. What better way to celebrate the cheerfulness of spring than with a pasta bursting with the bright, crisp flavors of spring's early vegetables?
This recipe for Spring Orecchiette with Lemon and Ricotta is a simple one, letting the stars of the dish—the leeks, asparagus, peas and spinach—take center stage. The vegetables are sauteed lightly in olive oil, then simmered in white wine before being tossed with the pasta. The dish is finished with Parmesan and a big squeeze of lemon juice, giving the pasta a little hit of a salt and acidic edge to bring out the vegetables' fresh, earthy flavor. Finally, a dollop of fresh ricotta seasoned with lemon zest and black pepper adds richness and makes this dish a celebratory one. And any leftover ricotta would be wonderful spread on a toasted bruschetta and topped with sauteed greens.
While this recipe is delicious as written, it can also be adapted to use whatever green vegetables are in season. Fiddleheads, the curly fronds of young ferns that are harvested in the spring, would be particularly special in place of the asparagus. And if you are lucky enough to find spring onions or ramps, try those instead of or in addition to the leeks.
Serve the pasta on its own in shallow bowls, or alongside a simply roasted chicken, with a chilled bottle of Bourgogne Aligoté.
Spring Orecchiette with Lemon and Ricotta
Serves 4–6
1 ¼ cups fresh ricotta cheese (about 12 ounces)
Zest and juice of one lemon
Kosher salt and black pepper
1 pound dried orecchiette pasta
5 ounces fresh spinach or baby spinach
3 tablespoons olive oil
2 large leeks, trimmed
1 cup frozen or shelled fresh green peas
1 pound asparagus, trimmed
¾ cup dry white wine
2 tablespoons unsalted butter
1/3 cup grated Parmesan cheese, plus more for serving
Chopped fresh mint, for serving
Step 1: In a medium bowl, combine the ricotta, lemon zest and ¼ teaspoon salt, and mix gently. Set aside.
Step 2: Bring a large pot of salted water to a boil. Cook the pasta until al dente, reserving 1 cup pasta water, then drain and set aside.
Step 3: Meanwhile, prepare the vegetables. Slice the leeks in half lengthwise, leaving the root intact, then thinly slice them crosswise. Place the sliced leeks in a large bowl of cold water to remove any sand, then lift the leeks from the water with a slotted spoon and set aside. Carefully cut the asparagus stalks in half lengthwise, then slice them crosswise into 1-inch pieces.
Step 4: Heat the olive oil in a large skillet with deep sides set over medium-high heat. Add the leeks and cook, stirring occasionally, until translucent, 6 to 8 minutes. Add the asparagus and cook, stirring occasionally until tender, 4 to 6 minutes. Add the peas, ¾ teaspoon salt and ¼ teaspoon pepper, and mix well.
Step 5: Add the wine and cook, scraping any brown bits from the bottom of the pan, until the liquid has almost completely evaporated. Add the spinach in handfuls, tossing often, and cook over medium heat, just until all the greens are wilted.
Step 6: Add the cooked pasta and reserved pasta water to the skillet, and cook over low heat, tossing often, until the sauce comes together, about 2 minutes. Or, if your skillet is too small to hold the pasta and sauce, you can toss everything together in the pasta pot.
Step 7: Turn off the heat, stir in the butter and lemon juice, then the Parmesan. Add salt and black pepper to taste. Serve in shallow bowls with a generous scoop of ricotta and a sprinkle of fresh mint.