A cookware quest
Buying the best—on sale
Photo courtesy of All-Clad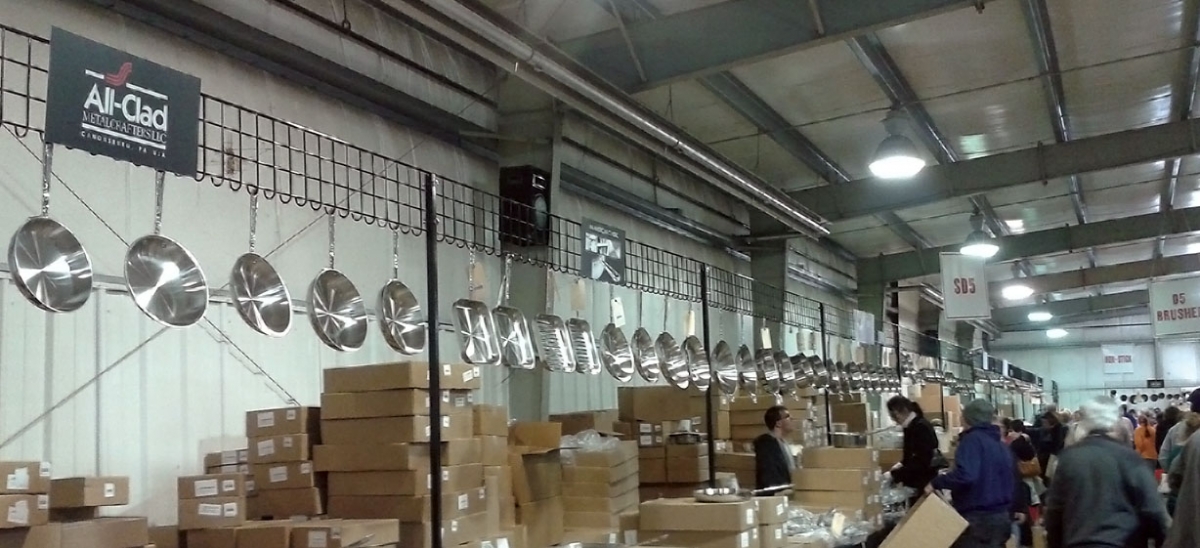 November 21, 2013
Forget about Black Friday. If you're interested in top-quality cookware at great prices, you can sleep off that Thanksgiving meal and make the drive to Washington County on Dec. 6–7 for the All-Clad Factory Outlet Sale in Canonsburg.
The semiannual sale held the first weekends of December and June started as an on-site "factory seconds" sale almost 40 years ago and now features pots and pans that are overstocked or discontinued, as well as those with slight cosmetic irregularities.
The sale has relocated to the larger Washington County Fairgrounds, and enthusiastic shoppers, some driving more than 1,000 miles, descend upon the Expo Center with lists in hand. Devotees with specific items in mind will arrive two to three hours before the doors open to get better selection, though the stock is continually replenished throughout the two days. Some 6,500 bargain seekers descend like locusts on the legendary pots and pans, kitchen tools, accessories and a few items from sister brands Krups and Rowenta. To make the experience more enjoyable and keep things safe, the All-Clad staff now provides a waiting area and limits the number of customers allowed on the salesroom floor.
Why do so many people put such effort into attending this sale? A big attraction is the deep discounts—40 to 80 percent off list price. But lots of stores have sales on cookware. The reason this sale is so popular is the stellar reputation of the products.
The late metallurgist and entrepreneur John Ulam founded All-Clad Metalcrafters in 1967. He had worked extensively bonding dissimilar metals with heat and pressure (cladding) for a variety of industrial uses. From bullet jacket casings to automotive and aviation applications, his experimentation with and understanding of the properties of various metals resulted in his obtaining more than 75 patents. (In fact, when the Coinage Act of 1965 eliminated the silver from dimes and quarters, the U.S. Mint worked with Ulam to engineer the copper core clad with copper and nickel bonded coins we now use.)
Ulam also loved good food and quizzed professional chefs about what they wanted in cookware. He ultimately designed and engineered what many consider to be the finest pots and pans available. For example, an interior layer of stainless steel means that a pot is nonreactive and will emit no taste to food, while a center core of copper or aluminum ensures even heat distribution. Outer finishes of magnetized stainless steel work well with induction cooking, a European standard that is gaining popularity here.
Approximately 300 employees craft All-Clad's bonded cookware at the Canonsburg plant; glass lids are made in Chicago, while kitchen tools are outsourced. All-Clad uses 100 percent domestic materials in its bonded cookware, with most of the metal coming from within 200 miles of the plant. Since Ulam's death, the company has had several owners including Waterford Wedgwood, and is now owned by French housewares company Group SEB. While it receives the benefits of a large corporation, such as purchasing power and more entrée into global markets, All-Clad retains much autonomy and its local, handcrafted feel. Form follows function, resulting in a long-lasting product of exceptional quality often found in restaurants and kitchens of discerning cooks. For fabulous values on sizzling cookware, the All-Clad Factory Outlet Sale is worth the drive. All-Clad Factory Outlet Sale, Washington County Fair and Expo Center, 2151 N. Main St., Washington, PA. Visit all-clad.com.