The State of Higher Ed: Point Park, Duquesne, CCAC
Part IV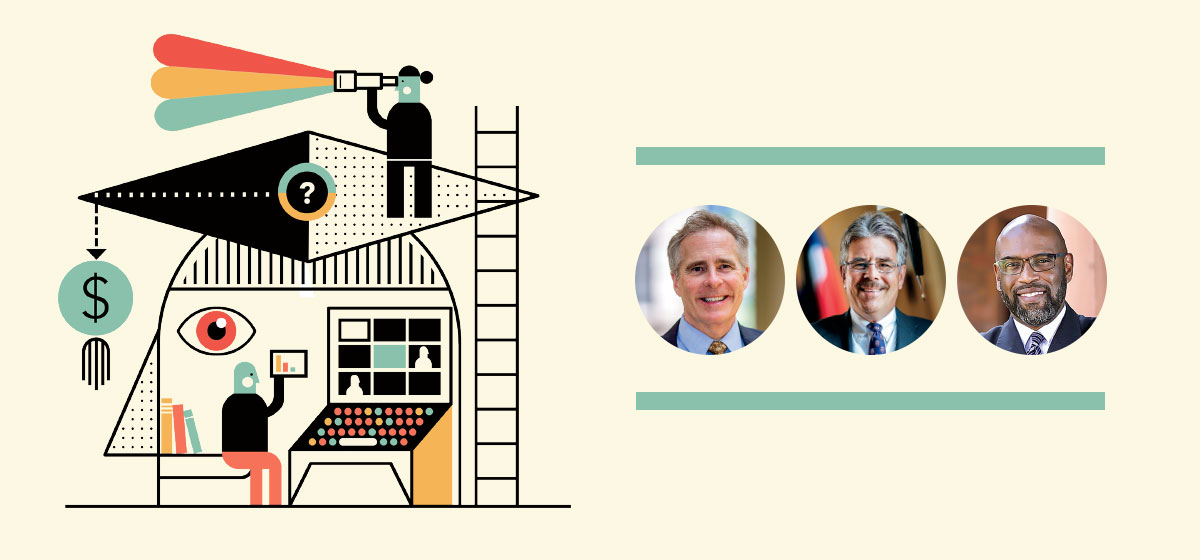 July 21, 2021
We asked the presidents of the region's colleges and universities to answer this question: As we move closer to the end of the pandemic, what strengths, weaknesses, opportunities and threats have become more apparent to you for your institution than they were pre-pandemic?

Paul Hennigan, Point Park University
When faced with a challenge that seems insurmountable, there are two choices: give up or succeed.
Over the last year, I witnessed the Point Park University community respond with an unquenchable desire to take on every challenge the pandemic could throw our way. When faced with sometimes daily or even hourly changes to our day-to-day operations due to COVID, the creativity, resourcefulness and careful planning, as well as the thoughtful, heartfelt concern for the wellbeing of each other showed just what it is to be a part of Point Park. It was a privilege to witness the actions of the students, faculty and staff. While the challenges will continue, so do the opportunities for reinvention. Point Park, and all of higher education, faces a future beyond the pandemic where evolution will be critical for survival. As a new president prepares to take the helm at Point Park University, I am certain the challenges and opportunities ahead will be met with vision, creativity, compassion and an unquenchable desire to succeed.

Ken Gormley, Duquesne University
One thing that jumped out, as a result of the pandemic, was the fact that there is an even more urgent need than we had recognized for the new medical school that we'll launch at Duquesne in 2024. The pandemic laid bare in stark terms the need for more general practice medical professionals, particularly in underserved urban and rural communities. It also shone a light on pervasive inequities that exist in health care generally. Our planned College of Osteopathic Medicine will fill a clear need. Its holistic approach to care and its focus on producing excellent primary care doctors will help transform the region in a dramatic, positive way.
We learned other lessons over the past year. Colleges and universities need to be focused on anticipating what higher education should look like and what will be most relevant to our students in charting out rewarding careers and professions in the decades to come.
The pandemic proved that one of our great strengths is our flexibility. Our new HyFlex technology helped immensely as we created both in-person and remote options for students in the classroom. I told my leadership team that we had to invent something totally new — like building Disney World — and that's what we accomplished. Many of those innovations, from creative outside dining options to hosting virtual events that reach national and global audiences, are here to stay. Going forward, the secret will be to learn from these exercises in innovation and build a new form of Duquesne education that fits a post-pandemic era. We're ready for that challenge!

Quintin B. Bullock, Community College of Allegheny County
CCAC was quick to modify college operations in response to the pandemic to ensure both academic continuity and the safety of students, faculty and staff. With the closure of all facilities, hundreds of credit courses were converted from in-person to online or alternative delivery formats. Over the past year, CCAC's leadership team has closely monitored COVID-19 and the impact it is having on enrollment, delivery of instruction and services, and operations and revenue. The team has worked tirelessly to enhance these services in order to continue to deliver a vibrant student experience. As we move closer to the end of the pandemic, we feel very confident that CCAC is well-positioned to expand the delivery of in-person classes and services, starting this summer and continuing into the fall semester. However, should circumstances change due to the uncertainty of COVID-19, we are prepared to continue delivering courses and programs online while ensuring our students have the support they need to be successful. CCAC's safety protocols remain in place as needed, with all members of the college and wider community required to wear face masks or coverings and adhere to physical distancing and other mitigation measures while on college grounds.