The State of Higher Ed: Slippery Rock, Westminster, Saint Vincent
Part V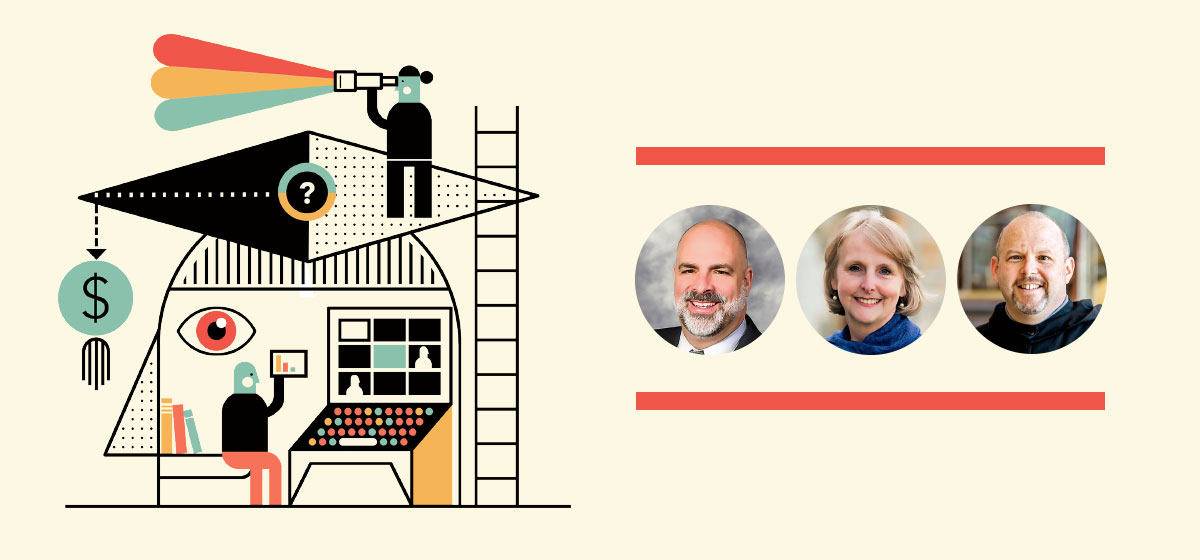 July 26, 2021
We asked the presidents of the region's colleges and universities to answer this question: As we move closer to the end of the pandemic, what strengths, weaknesses, opportunities and threats have become more apparent to you for your institution than they were pre-pandemic?

William J. Behre, Slippery Rock University
The pandemic has confirmed something that we always suspected. Slippery Rock University transcends its physical location. Despite not being able to be in person, we have maintained our close-knit community and have continued the work that changes the trajectory of people's lives. We are very proud of this. Nonetheless, we look forward to the fall and being able to invite all our students back to our beautiful campus and the face-to-face experiences that they crave.
If there is an upside to the pandemic, it is that meeting virtually has allowed us to reconnect with alumni and friends who live at a distance and who would not normally be able to attend campus events. Going forward, we will continue to stage a handful of virtual events to maintain and strengthen those relationships.
While the pandemic has been a trying time for all involved, SRU will emerge as a stronger, more caring community that is ready to celebrate its return and continue the important work that lies before it. No matter what happens, The Rock will always be the foundation for our students' future.

Kathy Brittain Richardson, Westminster College
The strength of the commitment our students, faculty and staff have for the wellbeing of those in our campus community, which I call the "We in Westminster," became even more apparent during the pandemic. We reopened in August with heightened protocols for masking, cleaning and distancing, and those protocols have been followed to keep the number of cases low. The faculty demonstrated ingenuity and commitment as they quickly adapted to virtual, hybrid and in-person teaching. The sudden shift to virtual course delivery in March 2020 demonstrated the necessity of improving our campus technology system, prompting us to invest this summer in expanded internet access and new equipment for classrooms. We have also seen an opportunity to upgrade athletic facilities while our teams were unable to compete. The pandemic raised challenges for student recruitment that required adaptation and creativity, and the need to sustain and grow enrollment in the coming terms poses the largest threat — and perhaps the largest opportunity — as we move forward. Nevertheless, the commitment to community remains strong, demonstrated by the selfless giving of our alumni and friends, who contributed $1.8 million to provide additional financial aid for our students whose families were impacted by the virus.

Rev. Paul R. Taylor, OSB, Saint Vincent College
While we have long known the connectedness of our college community, that bond that exists between students, faculty, administrators, monks and alumni has strengthened during the past year. With feelings of anxiety, isolation and depression impacting so many people, the importance of a strong support system has proven to be more critical than ever. While navigating the incredible challenges, adversity and loss that have come during the pandemic, we can further recognize the fragility of life and appreciate the sacredness of each person.
Our entire college has risen to meet these challenges, taking the opportunity to not only learn but also optimize new modes of course delivery, and developing new methods of supporting and engaging our students. Our students have also committed themselves to being good neighbors, exhibiting discipline and following the protocols in place that allowed us to maintain in-person learning and a residential campus.
As we look to the future, we pray that we may never experience this hardship again. However, despite so much difficulty, we take the lessons from this with how each of us goes about our daily life — at school, work, home and as members of society — and search for opportunities for growth as family, friends, neighbors, colleagues and children of God.