The State of Higher Ed: Pitt, Penn State, La Roche, IUP
Part VII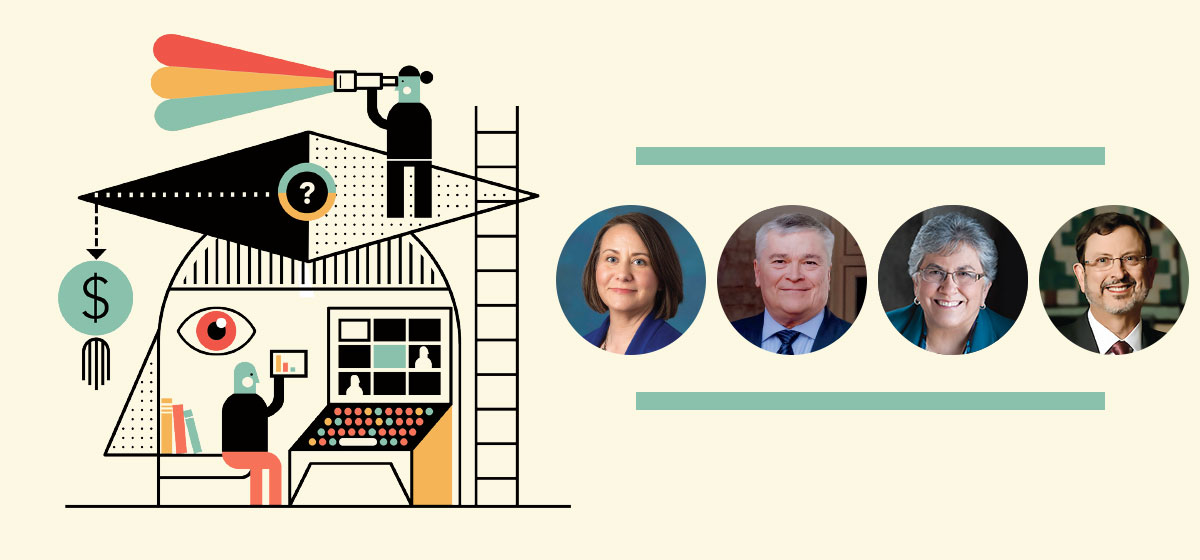 August 23, 2021
We asked the presidents of the region's colleges and universities to answer this question: As we move closer to the end of the pandemic, what strengths, weaknesses, opportunities and threats have become more apparent to you for your institution than they were pre-pandemic?

Lina Dostilio, University of Pittsburgh (Associate Vice Chancellor)
The pandemic has heightened our attention to where we succeed and fall short as a society. For instance, this global health crisis has exacerbated unequal access to such essentials as health care, secure housing and broadband internet. At the University of Pittsburgh, we recognize the responsibilities that come with our role as a major community anchor and embrace the opportunities to address these issues. As stay-at-home orders took effect last year, we brought together engagement teams across the university and tapped public-private partnerships to support our neighbors. With our partners, we provided thousands of families with computers and set up a technology help desk. We installed an antenna array on top of the Cathedral of Learning to test out new strategies to provide communities with internet access. We repurposed our Community Engagement Center in Homewood as a remote learning hub. Our volunteers connected families with rent relief assistance, school lunch programs and vital social services. And, when COVID-19 vaccines became available, we mobilized to vaccinate our front-line workers and some of our region's most vulnerable residents. This is only a fraction of our capacity to effect transformative change in our communities. If our city is to thrive post-pandemic, it is clear that our university—all of Pittsburgh really—must continue to identify novel ways of leveraging our resources for our neighbors' benefit.

Eric J. Barron, Penn State University
The resiliency of our Penn State community, including their hunger to help support each other and continue delivering a world-class education, has been inspiring.
Creative forward thinking has allowed us to be agile and meet students where they are – through innovative curriculum adaptation by our dedicated faculty, investment in technology, increased virtual resource delivery, reshaping remote work, and a better understanding of our students' varying needs. Collectively, these changes have enhanced our ability to provide students with a seamless and flexible learning experience, regardless of their location in the world. This will serve us well into the future.
While devastating, the novel coronavirus has also reinforced the critical role research institutions play in addressing global crises. With one of the largest clusters of infectious disease, data and policy scientists, we refocused much of our research enterprise in a matter of weeks – and even days – to study all aspects of the virus. The University's significant infrastructure investment will have a lasting impact on disease treatment and prevention well beyond COVID-19 — an important pillar of our land-grant mission of outreach and service to society.
I am grateful to lead a university that steps up to challenges.

Sister Candace Introcaso, CDP, La Roche University
La Roche University's flexibility and will to survive are more apparent than ever. Our students, faculty and staff proved to be resilient while demonstrating a commitment to each other and their institution. In record time, we modified class modalities, adapted to remote work and implemented effective health and safety precautions. Our swift actions and decision-making enabled us to continue our mission of making a difference in the world through education.
Unfortunately the pandemic exposed disparities in student wealth, including inequitable access to Wi-Fi, technology and private space. COVID-19 also emphasized the importance of mental health and revealed how fragile community can be, as the social isolation took a toll on many of our students.
We are now mindful of the need to be on guard for the unexpected. This past year significantly changed how we do our jobs, how we interact with others and even how we see the future. La Roche now has the opportunity to reflect and better prepare students for new opportunities in the growing fields of health care, technology and education. We also learned a valuable lesson in the feasibility of remote work, which will allow us to enhance work-life balance among faculty and staff moving forward.

Michael Driscoll, Indiana University of Pennsylvania
COVID-19 reminded us of the strength and creativity of our faculty and staff and the resolve and resilience of our students. All of IUP focused its energy on keeping our students and community healthy, safe, engaged and successful.
In just 10 days, IUP moved our academic offerings — more than 1,500 courses taught by 650 faculty members — to online learning, which won recognition from the Pittsburgh Technology Council. We continue to provide coursework to our students and maintain connections via technology.
Outside of the classroom, IUP enhanced its partnership with Indiana Regional Medical Center, resulting in access to same-day, accurate COVID-19 testing for Indiana County and ultimately, development of new, less costly testing protocols.
The IUP family demonstrated its generosity during the pandemic: As of April 2021, 3,000 donors contributed more than $477,000 to help 700 pandemic-impacted students. IUP's Imagine Unlimited comprehensive campaign exceeded its $75 million goal, raising $81.3 million six months ahead of schedule.
The pandemic accelerated the urgency of addressing IUP's financial challenges and under-enrolled programs, resulting in IUP NextGen, which prioritizes our student-centered focus through a redefined college structure offering in-demand programs and majors built on a financially sustainable base. IUP is ready for the future — for its 150th anniversary in 2025, and beyond.